Mrittika's expedition to Mount Kilimanjaro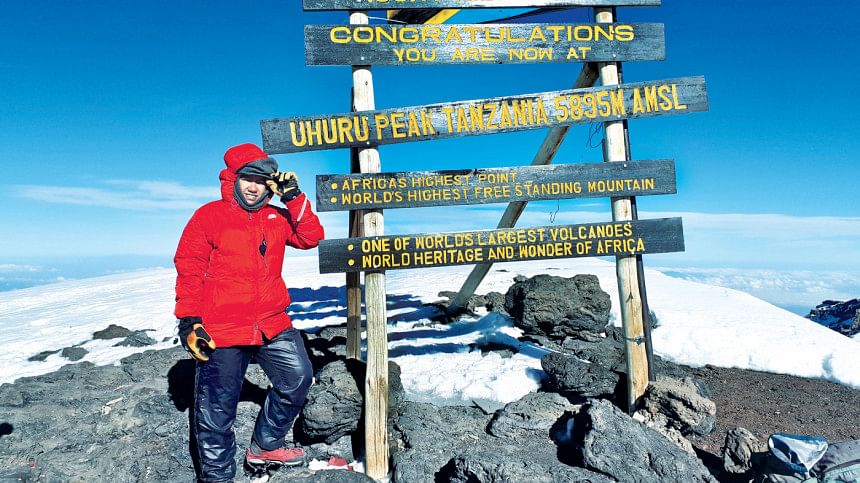 We all remember Mount Kilimanjaro from our general education books as Africa's tallest peak, and the world's tallest free standing mountain. For Mrittika Barua, however, it proved to be much more.
While she was in the eighth grade, Mrittika climbed Bogalake in Bandarban with her cousin Moinak Kanungo, who is a passionate mountaineer. "I regretted it because he teased me about my falls and being unfit, but I had a purpose, which I never revealed to anyone," Mrittika recalled. Later on, she climbed Bogalake again with one of her friends.
Mrittika studied Computer Science with a minor in Development Studies from Asian University for Women in Chattogram. She enjoys humanitarian work. Currently, she is a consultant for Workplace Culture in the World Food Programme.
Mrittika travelled to Tanzania for work in December 2020. She stayed with her former colleague Sheila Makindara, who lived in Moshi.
At the back of her mind, Mrittika knew she was closer than ever to Mt Kilimanjaro. "I felt at home with Sheila's family. Nicole, Sheila's daughter, had a lot of faith in me regarding my journey to Kilimanjaro," Mrittika recalled.
Moreover, she contacted the company Joining Safari, and met Frumance and Porter-Farmer, who guided her through the expedition in early 2021. The mantra she was told to remember was, 'Pole Pole Kilimanjaro' or slowly, slowly to Kilimanjaro. Mrittika heard the name Kilimanjaro at a young age. Although she did not know where it was, the name stayed with her, and life eventually took her there.
 "I had one cook, two porters, a guide, and his assistant with me. I thought I was set for a sole journey, but I had five people to help me reach the top!" Mrittika laughed.
"The first day was an eight-hour journey to a rainforest; it was raining. We reached a hut in the evening."
"The guides and the cook took care of my meals rather luxuriously, despite my loss of appetite," she added.
On the second day, Mrittika had to cross quiet, muddy and rocky roads. She also faced a hailstorm. "The guides told me that these journeys are always different for each person. It is how the mountain tests your integrity. Those are the times when you start to question your decision, but I enjoyed the challenges," said Mrittika.
Her third day was at Kibo, which is the basecamp. "There is also a peak called Kibo. As we started walking towards the peak, it appeared to move further. The roads were rocky and dry. The altitude sickness hit at this point. I had a few steps to go, but I began to throw up. Not only did that break my confidence, but I also saw fear in the eyes of my guides. It was also freezing cold and I could not sleep," said Mritikka.
"We began the journey at 11 in the night. I was slow, taking one step at a time. I saw others surpassing me, and I had zero energy. While I was still climbing, others were on their way down. I felt the pressure, but they were encouraging, and told me to keep pushing. I learned that small appreciations can help a person go miles."
For anyone who aims to climb Mt Kilimanjaro, Mrittika recommends renting equipment from local stores in Moshi because the community thrives on tourism. The climbers can also donate their equipment to the stores.
Mrittika's former supervisor Sheila Grudem, Senior Emergency Coordinator, World Food Programme, Cox's Bazar, provided her with much needed encouragement and practical suggestions. "She is my go-to person for any advice. She gave me an emergency kit and a jacket. I am grateful to her," said Mrittika.
"I had no doubt that Mrittika would reach the top. If she sets her mind to something, she gets it done," said Sheila, who climbed Mt Kilimanjaro herself when she was posted in Tanzania.
 "I climbed it when I didn't even like hiking. It is mind over body. Kilimanjaro is endurance--the altitude, the freezing cold. But after the summit, it is a whole different story," Sheila asserted.
Mrittika is thankful to her brother, parents, and former boss Peter, who had similar emotions about Mt Kilimanjaro as her. She wishes to encourage people to support and sponsor mountaineers, as it will not only help them climb mountains and fulfill their passions, but also help entire communities that depend on mountaineering.
"Once I reached the zenith, I felt empty," she reflected. "This was something I wanted for so long, and getting to the top meant the end of it all."
Her regime included regular physical activity like walking and swimming, which also kept her mentally strong. On her return, her skin was dry, tanned, and scarred— but Mrittika did not mind the scars.
"You cannot stay at the top for too long because the weather is too harsh. I had the realisation that success in life stays for microseconds, and you must move on to your next journey," she concluded.
The author is an art researcher and writer in the making. Email: [email protected].