With Monash and UCB, the keyword is "partnership"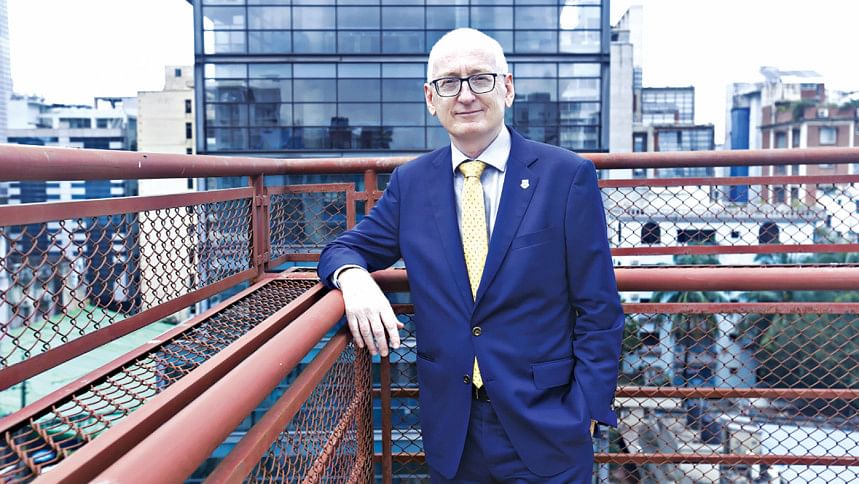 In conversation with Andrew Walker, Pro Vice-Chancellor and President of Monash University Malaysia, about the quality of higher education, opportunities of Bangladeshi students to pursue higher education abroad and also the impact of the pandemic on exploring the opportunities.
Professor Walker recently visited Bangladesh and talked about the Monash University partnership program for prospective Bangladeshi students through Universal College Bangladesh (UCB), who provide two different paths – the Monash University Foundation course, which is an equivalent to the 12th grade of school, and the Monash College Diploma, which is an equivalent to the first year in Monash University.
Given your experience as an educator, why do you think a prospective Bangladeshi student should consider higher education in an institution that follows a global curriculum?
The future of the economy of Bangladesh, like so many other parts of the world, is global. Bangladesh is a rapidly growing economy with great potential for future growth, and so much of that is going to depend on the relationship with the global economy. And so, to prepare students, and to prepare graduates who can effectively operate in that global economy, is a high priority.
However, by the global economy I do not mean that students or graduates going overseas to work. I mean them working in all the sectors of the economy here in Bangladesh, where they will be dealing with people across boundaries, learn about other cultures, languages, and systems.
When you study in a global university like Monash, you are exposed to that from day one. You are learning in a diverse, international, global environment from a university that has got campuses in a number of different countries, so, you are preparing the graduates for the future global workforce of Bangladesh.
Since Monash has been operating in Bangladesh through UCB for the past year, in your perspective, what are the prospects for Bangladeshi students through this program?
I think it is a wonderful opportunity for Monash to work with a fantastic local partner like UCB, to set up a pathway to higher education for students here in Bangladesh. Students around the world exploring different ways to attain access to higher education may find it difficult because at times it can seem very remote, inaccessible, expensive, and even a long way away.
Now, they have a doorway to a first-class global degree, right here at the heart of Dhaka, through our partner UCB.
Due to the Covid-19 pandemic, many students could not follow through with their plans to go for higher education abroad. What options do they have in terms of current circumstances?
Covid-19 has certainly made people reassess the directions they want to take with education, and I think there are two key things we see.
A lot of people in the Asian region seem to be feeling they want to study a bit closer to home, and that's one of the real advantages of Monash. Not only do we have a pathway partner right here in Bangladesh, but we also have a major campus nearby in Malaysia. So, we are seeing a lot of interest from students in Bangladesh and other parts of this region, coming to study with us in Monash in Malaysia. It is nearby, it is culturally familiar with familiar food, and is religiously familiar as well. It feels like a safe and secure option.
The other thing the Covid-19 crisis has taught us is that we can work flexibly with students wherever they are, no matter what emerges. At Monash University, we have not missed out on anything as a result of the pandemic. We have continued educating and graduating our students. Students have been working with us online, they are now coming back to campus.
But who knows what the future holds? However, I think Monash has been able to demonstrate that we will maintain the continuity of our students' education regardless of what happens.
According to you, what roles do institutes like UCB play in establishing quality education and creating a pathway for students through this program? What values do you think they provide to their students?
The keyword here is partnership. When you are a big global institution like Monash University, you need really good local partners. Being global is not about being the same everywhere, Monash is a powerful and strong university, but when we get involved in individual countries, we want to really relate respectfully and meaningfully with local culture, local experiences, local knowledge, and local values.
That can be done with partners like UCB, where we have people who understand both the Monash system, the local education system, and the needs and aspirations of students here. I think UCB really combines and springs together the themes that I have been talking about. It really combines the local and the global. And that is the combination that graduates are going to need in the future workforce.
Therefore, what I think they are bringing to this wonderful formula, is that real understanding of local and global, and opening those pathways and forms a wonderful bridge during the transition to university, because the transition to global curriculum from a local is often difficult. What we have here is a very careful guided pathway where they are introduced to learning in a gradual and gentle way.
So, when they move into university, they are much better prepared because university learning is different from school learning. And to have this bridge is a really valuable asset.
Syeda Afrin Tarannum is sub-editor of SHOUT, The Daily Star.