GPA exhibition brings new tech startups to the limelight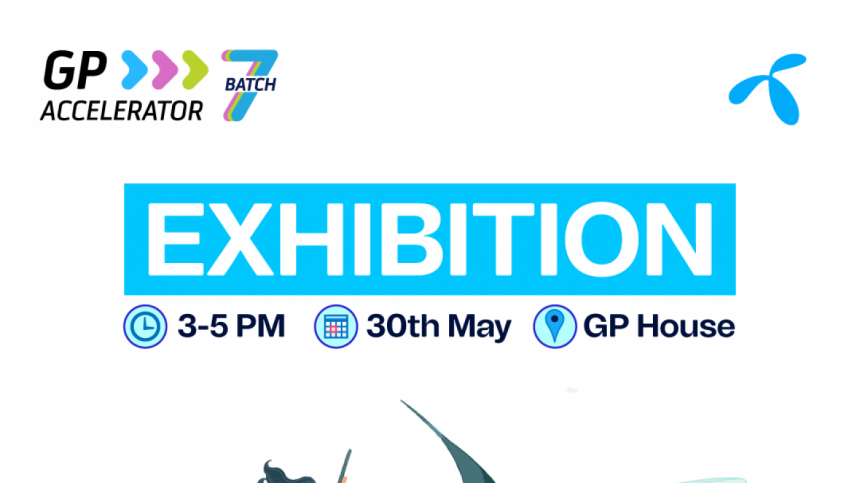 The Grameenphone Accelerator (GPA) recently hosted a startup exhibition including six teams from their current cohort. The event took place at the GP House on May 30, 2022. GPA is an open innovation platform that provides tech entrepreneurs with the resources they need to establish, grow, and exceed their potential. It is a cohort-based, mentor-led, curriculum-driven platform. GPA also offers equity-free loans, skilled mentors, world-class curricula, in-house development tools, investor access, and many other benefits.
The start-ups displaying their ideas at the exhibition included Airwrk, a global talent marketplace for Bangladeshi software developers with integrated payment systems; Gameof11, a fantasy sports platform; iPage, a startup democratising value-added data to farmers and FMCGs; Lilac, a digital wellness website that focuses on women's health and hygiene; Onnow, an internet restaurant platform that promises to empower SME eateries; and Onethread, a project management tool.
Airwrk is an invite-only tech talent marketplace that connects top Bangladeshi talents with high-paying, full-time, remote jobs. Their vision is to build a comprehensive ecosystem where employers can, with the help of Airwrk's partners, provide health insurance, lease office spaces, purchase equipment, and organise events for their remote team. So far, they have successfully placed 3 talents in 3 USA based companies.
Gameof11 is one the biggest fantasy platforms in Bangladesh. Fantasy sports are online games where participants build imaginary teams consisting of real-life players of a franchise sports league. Participants are ranked on the leaderboard based on their accumulated points and based on the fantasy league they are competing in, they can earn weekly rewards as well as huge prizes at the end of the season.
iPAGE is an agri-tech startup intending to provide farmers with easy access to all required agricultural information for a better productivity and enhanced profitability. They are interested in partnering with farmers, producers, governments, NGOs and any other stakeholder in this industry in order to offer their information services. Till now, they have served over 1,000 smallholder farmers.
Lilac is a holistic wellness digital platform for women. It aims to cater to women's health as a whole by providing them support through various services ranging from wellness packages, ovulation tracking, e-shop, blog, and medical expert consultation. The team is constantly working towards destigmatising women's health and hygiene through their interactive content and campaigns.
Onnow is an impact-driven internet restaurant platform that utilises technology, virtual menu concepts, digital branding and training to help existing SME restaurants unleash their cloud potential and drive additional revenues while improving bottom-line. Primarily, it functions as a ghost kitchen as it supplies raw materials and recipes to decentralised cooking spaces thereby creating virtual food brands.
Lastly, Onethread is a SaaS startup providing seamless multi team project management solutions for efficient collaboration. It is providing this solution at the most affordable price to make premium Project Management Solution accessible to SMEs and growing startups. The platform allows users to efficiently organise their projects, manage tasks, and communicate with members on a single platform.