YOUNG ACHIEVER
Faizah's 'Moner School' making strides through global recognition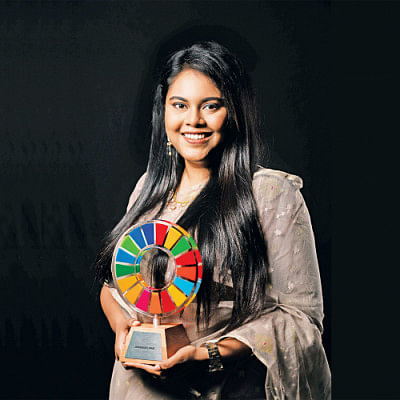 Fairooz Faizah Beether of Bangladesh is a recipient of the 2021 Goalkeepers Global Goals Changemaker Award by the Bill & Melinda Gates Foundation. She received the award for her work in promoting good health and well-being under SDG-3. She is a student of Business Administration from Khulna University.
Faizah co-founded Moner School, an online platform that aims to raise awareness about mental health and ensure equal access to mental healthcare across the country.
She attended a training session conducted by BRAC's youth platform, where seven participants were asked to form a group, choose a social problem, and design a community project. This ultimately led to the formation of Moner School, through which five members of the original team are still promoting mental health and wellbeing. 
Launched in 2018, Moner School is an initiative to educate people as well as give them non-judgmental spaces, where they can talk about mental health freely, and get help whenever they need. "We are currently working towards equipping people with the necessary tools to help take care of their mental health through various trainings and workshops," Faizah explained.
Moner School's team celebrates World Mental Health Day through their annual event, Spreading Happiness. "In Khulna, we distribute yellow balloons, along with a positive notes. This year, we also distributed food packets amongst underprivileged communities," Faizah shared. "The balloons depict the carefree days of childhood, reminding people to keep their inner child alive even amidst their chaotic responsibilities of an adult."
Their training sessions have benefitted over 500 people as they addressed topics like the first stage of mental health care, stress-management, mindfulness, and self-love. During the pandemic, Moner School conducted several online workshops and training sessions to address anxiety, stress and depression caused by lifestyle changes and losses due to Covid-19.
Their Facebook group and page provide active listening help through messaging. They have an anonymous sharing space, where they connect mental health professionals with patients. So far, Moner School has served around 1,000 people through primary mental health help.
Faizah addressed the fact that there are not enough skilled professionals to cater to people's mental health needs in Bangladesh. "It was difficult for us to find the right professional psychologists to help us with proper knowledge. The number of psychologists outside Dhaka is scarce. So providing proper help to peripheral regions is a major problem," she said. 
Moving forward, Faizah intends to work with school children while ensuring a healthy lifestyle for them.
The author is a medical student and a freelance journalist who likes reading, scribbling, and blogging. Email: [email protected].