English Olympiad Grand Finale 2020 held in Dhaka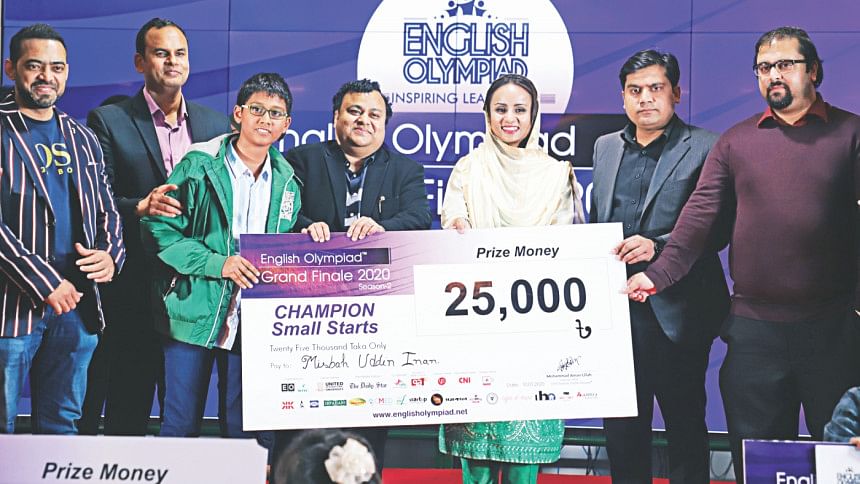 The English Olympiad Grand Finale 2020 was held at United International University on January 9 and 10.  On the first day, Deputy Minister of Education, Mohibul Hassan Chowdhoury, MP, inaugurated the event. As the keynote speaker, Dr Atiur Rahman, the 10th Governor of Bangladesh Bank and Brand Ambassador of English Olympiad, spoke about the needs of leadership and how Bangladesh has been enriched with the contributions of the youth. Chowdhury Nafeez Sarafat, the Chairman of Padma Bank Ltd and the chief guest for the second day of the event, handed over the cheques to the winners. Mohammad Aman Ullah, the chief organiser of English Olympiad, Prof Dr Chowdhury Mofizur Rahman, Vice-Chancellor of United International University (UIU), Solaiman Shukhon, Head of Market Development of NAGAD, Prof Sukanta Bhattacharjee from the English Department of the University of Chittagong, Associate Prof S M Arifuzzaman, Head of the School of Business at the Canadian University of Bangladesh, M Nayeem Hossain, President of Nagarik Dhaka, also addressed the audience.
Out of 50,000 participants from 8 divisions and 30 districts, 380 finalists were selected through a rigorous assessing system for the Grand Finale. Over 700 finalists attended the event for the final round. Out of the 380 finalists, 3 participants from each of the six groups, were selected for the face-off. The judges' panel consisted of five professional adjudicators on the stage.
The top three contestants from the six groups received prize money of a total of BDT 3,00,000  and the rest of the participants received golden medals and gifts, with respective ranks in divisional and district levels. Furthermore, all of the grand finalists were awarded with certificates of recognition and 4C Band score.
Among the honourable guests present at the event were Tina F Zabin, Investment Advisor to Startup Bangladesh at the ICT Division, Tanvir Shahriar Rimon, CEO of Rangs FC Properties Ltd,  Emran Hossain, prominent singer, Dr Mosharraf Hossain, FCA, Member Life at IDRA Ministry of Finance, Dr Prashanta Kumar Banarjee, Director of Research and Development at BIBM, Prof Gautam Roy, Curriculum Specialist at SESIP, Md Parvez Sajjad Chowdhury, Curriculum Specialist at NCTB, Md Nasir Uddin, Curriculum Specialist at SESIP and others.
The winners were:  Mubassira Ibnat (Darland International School, Dhaka), Zaima Jahin Wara (William Carey Academy, Chittagong) and Omera Fidan (Cantonment English School and College, Chittagong) from Kids group, Misbah Uddin Inan (Chattogram Cantonment Public College, Chittagong), Khalilullah (Khulna Zilla School, Khulna) and Rudaina Haque (Paramount School & College, Rajshahi) from Small Starts group,  Mehnoor Shamima Haque (Chattogram Cantonment Public College, Chittagong), Madhurzo Rahman (Mymensingh Girls Cadet College, Mymensingh) and Rawshan Tabassum Jaima (Mymensingh Girls Cadet College, Mymensingh) from Juniors group. On the other hand, Tahia Aswad Arony (The Millennium Stars School And College), Rangpur, Zaid Ekram (Mangrove School, Dhaka) and Muntasir Monowar (Jhenidah Cadet College, Jhenidah) won from High Flyers group, Rifah Tasnia Shuprova (Scholarshome, Sylhet), Nafeesah Tasneemah (Sylhet Government College, Sylhet) and Ziaul Haque (Barishal Cadet College, Barishal) won from Trailblazers group, Rahagir Salekeen (Khulna University, Khulna), Mirza Ifat Noor (RUET, Rajshahi) and Progga Paromita Bose (University of Barisal, Barisal) won from Seniors group.
The partners of this initiative were The Daily Star, United International University, WOC, Social Islami Bank Limited, CKH Network, Youth Opportunities, Cable News International, CMED, Ispahani, Start-Up Chattagram, Bombay Sweets, Smart Family, Red Brick, MF international, Colors FM, Samakal, Talisman, Light Of Hope, UrBack Offices, Aamra, Ekattor TV and others.