International Day Of The Girl Child Special
Enabling girls through mapping and leadership skills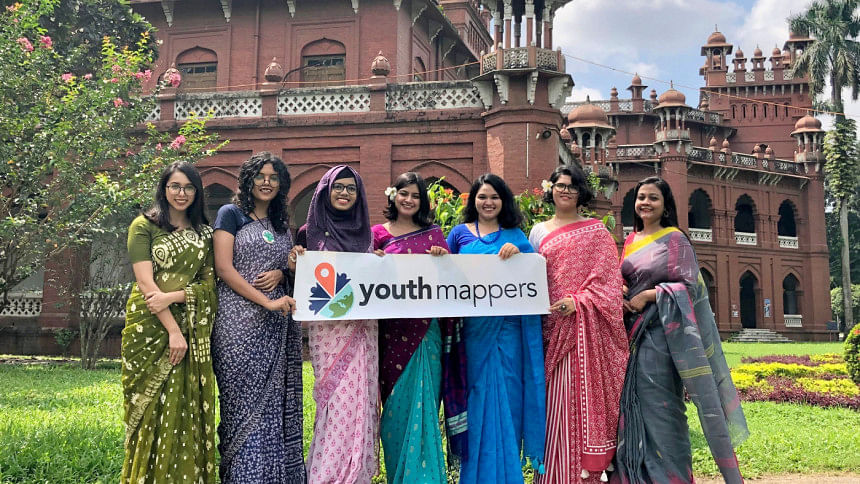 YouthMappers is a network of universities which provides students with the opportunity to learn mapping skills, develop leadership experiences and create new geospatial data for development projects in places that are vulnerable to natural and social disasters. Let Girls Map is a YouthMappers campaign with special emphasis on International Women's Day (March 8) and International Day of the Girl Child (October 11)
With over 2,000 female mappers from across the world, it features mapping efforts that support women's  issues and strives to build inclusive mapping communities for female mappers. Aiming to motivate and encourage female mappers to participate in mapping, the campaign also promotes sustainable gender-inclusive mapping communities, and emphasises on how the act of mapping can support the needs of women and girls around the world.​ Currently, over 500 female students are a part of the YouthMappers community in Bangladesh.
The increasing threats from climate change, natural disasters and migration are placing great pressures on women. The enormity of these challenges and their long term implications of achieving sustainable development goals through the development of geospatial technological skills further strengthen these mappers' dedication towards humanitarian mapping. "From my experiences, I have learnt that mapping should be taken as one of the biggest tools to help in humanitarian services during emergencies and in building resilient communities," shared Nawshin Afrose, President, YouthMappers Dhaka University (DU) Chapter.
They also analyse spatial data about the location of schools and clinics to improve knowledge and access to quality education and health services. "Adding specific attributes about these features helps education and health providers, as well as the government," shared Maliha Binte Mohiuddin, Regional Ambassador, YouthMappers Network. Maliha has been actively working to generalise mapping among female enthusiasts. "While working on the field, I found that women are considered to be extremely vulnerable. Through my work, I intend to empower more women by means of capacity building and promote economic development by combining the divergent areas of disaster management with the humanitarian mapping aspect," she added.
With increasing concerns over women's safety, correct maps are regarded as an essential tool while moving. "Since I'm not good with directions, the thought of moving alone across Dhaka scares me. I've been using different mapping services,  but they are not always accurate and I have faced many problems due to wrong information. Mapping allows me to make people's everyday life easy," concluded Fariha Jahin Biva, a member of YouthMappers DU Chapter.