CSC looks out for vulnerable communities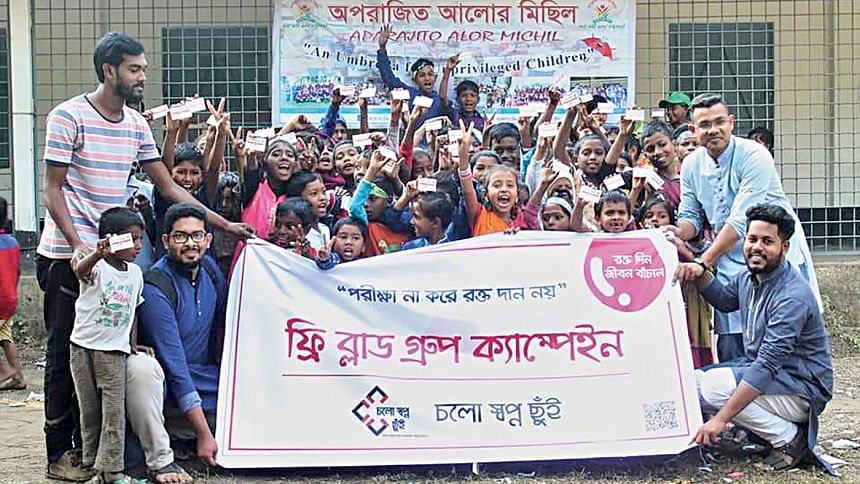 Cholo Swpno Chui (CSC), a youth-led social welfare organisation founded by Muhtasim Abshad Zisan, a student of Khulna University, supports orphans and people with physical disabilities, through their different projects. At their first event, 'Hashi Futanor Utshob', in 2019, they distributed food, dresses and school bags to around 65 underprivileged children. They also provide monthly financial aid to two individuals in need.
CSC arranges annual programmes, including winter clothing and blanket drives, for underprivileged communities. Last year, they distributed blankets to 175 orphans at a madrassa. "These children find happiness even in the simplest things, and they inspire us to keep working," added Zisan. Team members and volunteers of the organisation also plant close to 100 trees every year, during their tree plantation drives.
Competitions, arranged by the organisation, are aimed at raising awareness on different issues. "Our recent online drawing contest for kids, focusing on life during the coronavirus pandemic, had several enthusiastic and creative participants," Zisan said.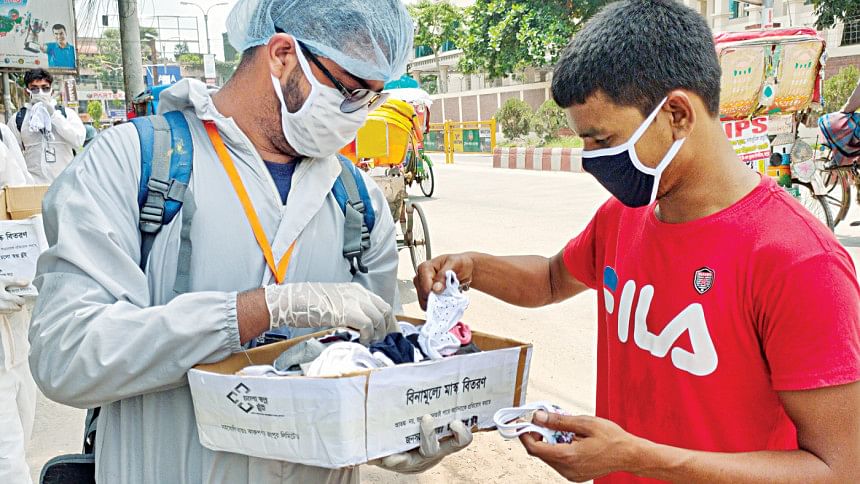 The organisation's response to the coronavirus crisis is commendable. They distributed iftar packets to over 72 underprivileged families across Rangpur during Ramadan this year, with their event, 'Shobar Jonno'. On the other hand, through their project, 'Khete Khawa Rojdar, Pothei PabeIftar', they served home-cooked meals to over 1,500 people. In collaboration with Ispahani Limited, they distributed 50 grocery packets to vulnerable communities in the region. During the last week of Ramadan, CSC handed over food packets from Bidyanondo Foundation to over 500 people in Rangpur, Lalmonirhat and Pirgacha. Volunteers and team members of the organisation took all necessary precautions when they stepped out. They celebrated Eid at different orphanages in the area, serving the children with food.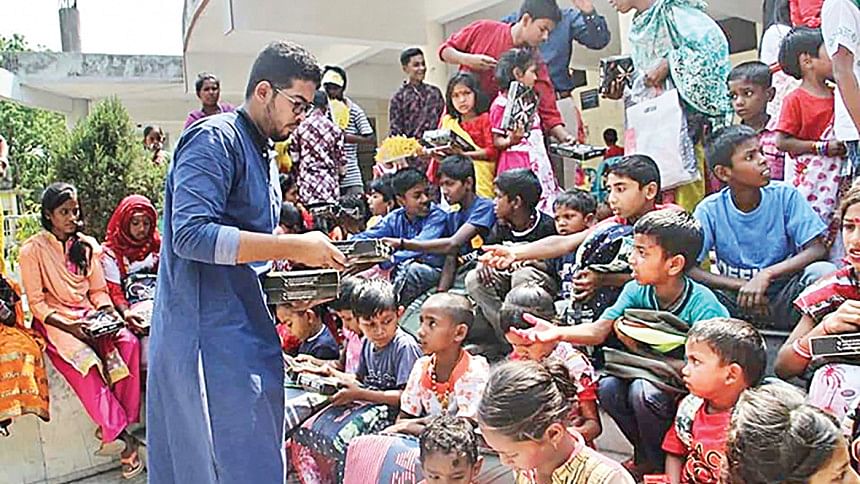 Many of their projects are focused on healthcare.  "It is crucial for rural women to have proper knowledge about reproductive health and menstrual hygiene, to minimise risks of diseases," said Ilma Hossain, a student of Rangpur Medical College and the secretary of women and children's welfare affairs at CSC. With their project, 'Aparajita', they intend to distribute sanitary napkins to hundreds of women in rural areas across the country. "We want to install sanitary napkin vending machines in village schools and run campaigns to normalise talks about menstruation," added Ilma. CSC plans to conduct at least five healthcare campaigns every year.
Through their distribution event, 'ShamorthoDan', they extended their support to over 52 families in need, with groceries, medicines, soaps and masks. Additionally, they ran awareness campaigns on the coronavirus with posters and leaflets. "Our volunteers disinfected public places and drew circles in crowded areas, for people to maintain social distance," said Mohammad Nurunnubi Juwel, a student of Rangpur City College and the publication secretary of CSC. In a recent collaboration with Shunte Ki Pao, CSC also provided groceries to 15 physically-challenged individuals in Rangpur. "As a part of our awareness campaign, we have started wall art as well," added Juwel.
In response to recent floods in the country, members and volunteers of the organisation plan to distribute food packets, medicines and sanitary napkins to affected families. "To curb the spread of water-borne diseases, we will conduct virtual medical campaigns as well," said Zisan.
Moving forward, CSC plans to establish a school for underprivileged children, providing them with talent pool scholarships, and expand their operations throughout Bangladesh.