Combatting the stigma around menstruation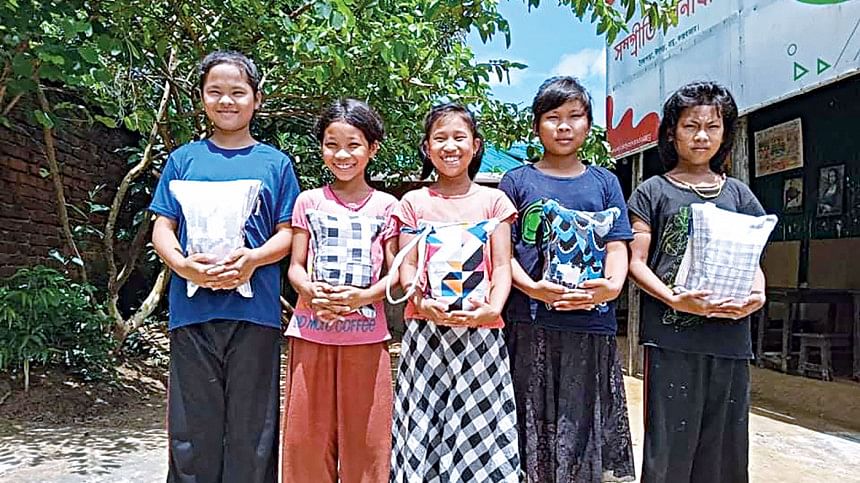 Foundation 21 was initiated by a group of friends in March 2018. It aims to combat period poverty, and create awareness about menstrual hygiene. Abreshmi Anika Chowdhury, Arish Islam, Mashrukur Rahman Khan and Sayem Ibn Alam, founded the organisation.
Foundation 21's Talk Period, Bangladesh, is a Facebook group with around 1,800 active members, who regularly engage in discussions about menstrual health. Professor Rashida Khanom, a gynaecologist, conducts interactive sessions with the group, live on Facebook.
Foundation 21 has collaborated with platforms like Swayong, Put A Period, TransEnd, Project Purple, Safe Pad Bangladesh, and Fashion Park on different initiatives.
The organisation's monthly webinar, 'Mashik Adda' was launched during menstrual health week this year. They collaborated with Swayong for a campaign called 'Keeping Up With The Cups' through which they shared the experiences of menstrual cup users.
"We also shared infographics on how to use a menstrual cup and a guide with links to online pages selling these cups in Bangladesh," Abreshmi added.
During the pandemic, the organisation donated 60 reusable pads to students of OBHIZATRIK Foundation under 'Project Mashik'. Through this project, they plan to conduct workshops to create safe spaces for discussions about menstrual health. They will also train women and marginalised groups on the production of reusable sanitary napkins. Their recent initiative, Moner Reetu, is a platform created in collaboration with Project Purple to focus on mental health and menstruation.
Abreshmi, a student of UWC Atlantic College, started a Foundation 21 chapter at her institution. "We held multiple fundraising events for Foundation 21, and hosted a special week where we took over different councils to discuss period policies, sustainability, mental health, and current issues surrounding menstrual health," she said. 
The organisation received a major funding for Project Mashik from Go Make A Difference, a grant scheme available only for UWC students. They received another grant from UWC Lighthouse for workshop equipment. Lastly, the team also won the Lighthouse Prize 2021.
#PeriodBeyondGenders is their campaign in collaboration with Put A Period and TransEnd, which intends to bust myths about menstruation, and emphasise that periods are beyond gender identities. The organisation collaborated with Dhaka Doctor and DaktarBhai to arrange discounted appointments and fees for people who have had unpleasant experiences with gynecologists and those who simply cannot afford appointments with gynecologists. 
Foundation 21's Project Red Kit provides basic hygiene products that would last a year. Each red kit consists of 4 reusable sanitary pads from Safe Pad Bangladesh, 3 underwear pants from Fashion Park, 2 soaps, a sanitiser, some wipes, and a pouch. Recently, they sent out 156 red kits to orphanages under Bidyanondo Foundation.
The author is a freelance journalist who likes reading, planning, and scribbling. Email: [email protected].