A beacon of hope for those struggling with mental health issues
Moshal aims to spread awareness about different mental health issues, by providing people with useful information and by connecting them with counsellors and therapists on the basis of their needs.
Founder Maria Mumu completed her A-levels recently. At such a young age, she has managed to find a way to help people who may suffer like she once had with her mental health. The dearth of an official university degree did not deter her from following through with her idea as an entrepreneur. The idea, however, came to her at the cost of her own suffering.
Maria lost her father when she was just three years old. As a result, she had to start working from the age of 12. She worked at a departmental store, tutored kids and started modelling when she was 13. In 2017, she stumbled upon familial and financial problems, and her best friend died by suicide. Eventually, Maria spiraled into clinical depression.
She didn't even realise she had mental health issues until one of her brothers took her to a graduating student of Psychology.
"I felt an ache in my stomach, I was incapable of eating and sleeping. I stayed awake for seven days. I struggled with my studies a lot until one day, I experienced a panic attack. I was unaware of my condition. I felt like I was being choked," says Maria.
She does not properly remember what happened to her afterwards, but she does remember the phone call from her brother. She gradually asked for help through regular appointments with a professor at Maryland University, who is also a professional psychologist. With the psychologist's help, Maria created a healthy routine for herself.
She wants Moshal to help people find the light at the end of their tunnels, in the same way that she did.
In 2018, she found the motivation to enter the Miss Universe Bangladesh competition. Her intention was to use the platform to speak about mental health for there still remains negligence in the accountability of mental health issues. She successfully made it to the Top 5, following which she attracted funding for her foundation.
Moshal was inaugurated in February 2020 at Uttara Club, where Road Transport and Bridges Minister Obaidul Quader made an appearance. 300 students from various schools in Dhaka were also present.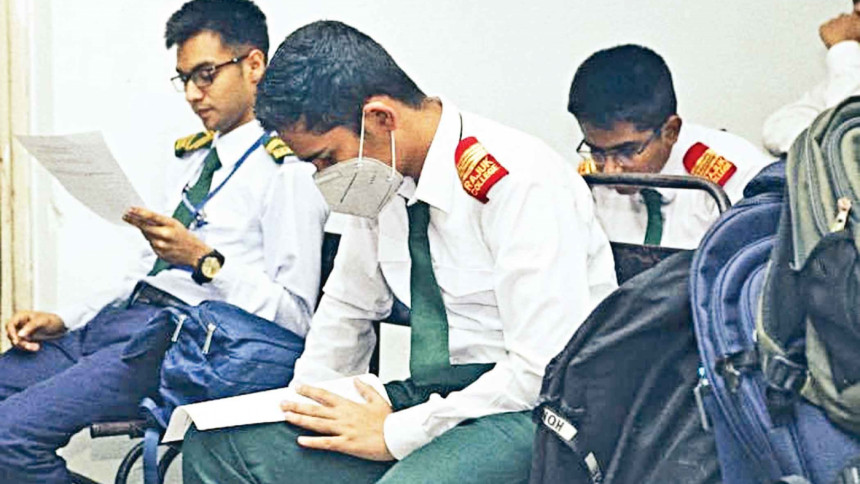 The first major event following the inauguration took place in Maria's college, Rajuk. 600 students participated in the event. The principal also asked Maria for suggestions about appointing a psychologist at the institution. As a former student, Maria proudly helped them out.
Moshal consists of 12 active, young psychologists and assistant clinical psychologists from DU, New York State University, Maryland University and India. During the pandemic, the foundation provided free first sessions to those in need. Moshal also focuses on communication via platforms like Zoom and WhatsApp. So far, they have catered to around 200 clients.
Recently, the foundation arranged a group therapy session with students who have been gravely affected by academic uncertainty due to the pandemic. It was an exclusive session with 20 students from all over Dhaka. Moshal partnered up with Amal Foundation for the 'Rukhe Darao' campaign, which connected girls at Women's Dreamer Cricket Academy with a clinical psychologist. They also organised an open dialogue about the past, present, and future of mental health with some professionals.
Maria hopes for Moshal to become more accessible to people beyond borders too. "As youths, we are the strongest generation. So, keep talking about your mental health problems to help yourself and inspire others," she concludes.
The author is a freelancer. Write to her at nawarzareen@gmail.com.