Markpolo:Changing marketing through AI
Automating marketing using artificial intelligence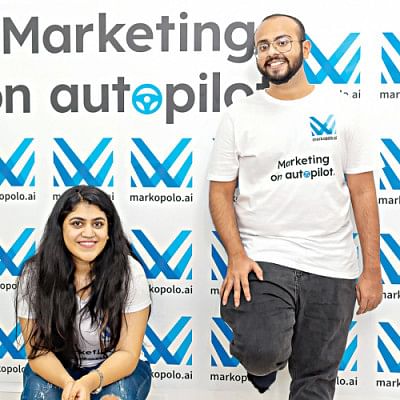 Digital marketing has been more important in the success of small and medium-sized enterprises in recent years. With markets changing to a virtual medium and a rising number of individuals purchasing online, companies must establish a strong digital presence.
This is a time-consuming activity that entails monitoring many social media accounts, connecting with customers on a daily basis, and eventually investing in the correct marketing strategy.
In order to solve this dilemma, Tasfia Tasbin and Rubaiyat Farhan founded Markopolo, a one stop solution for affordable and efficient marketing automation. The duo had the experience of running a pro-bono consulting service in growth marketing. When the pandemic began, they left their jobs, in search of better opportunities, and formed a data analytics related service company.
"This allowed us to work with some of the largest agencies and companies in South Asia, which helped us identify this opportunity from their existing workflow. We created a product based on our customer interviews and launched that in Product Hunt. From there, it really took off," Rubaiyat shared.
Marketing automation is a relatively new idea that entails technology ßthat would help firms to successfully sell across many web platforms. Markopolo's artificial intelligence (AI) software uses the first party data as input and generates ad campaigns, creatives, and copies for placement on multiple platforms such as YouTube, Facebook, Instagram, and Google.
It helps firms to fully automate their digital marketing efforts, from campaign planning to creative and copy production, A/B testing and ad budget optimisation, basic ad maximisation to running numerous ad campaigns across many platforms. Finally, it provides a comprehensive overview on a single dashboard.
The platform also has an in-built suggestion engine, Nucleus, that acts as a professional marketer. "Till now, we've trained the software's algorithms with 3 million datasets, to make decisions like what ad rules to apply, switching between automatic bidding to manual bidding, and understanding the user's campaign performance," he explained.
The SaaS startup currently has a global user base of more than 4,700 people from 81 countries. They now plan to focus on the enterprise tier, serving FMCG and retail companies, while integrating retail media within Markopolo. "Regionally, we're also looking at launching an Android version of our web-app, with a simplified interface, to help millions of MSME entrepreneurs with their digital marketing," he concluded.