Travel
Clouds aren't fluffy and other revelations at Meghalaya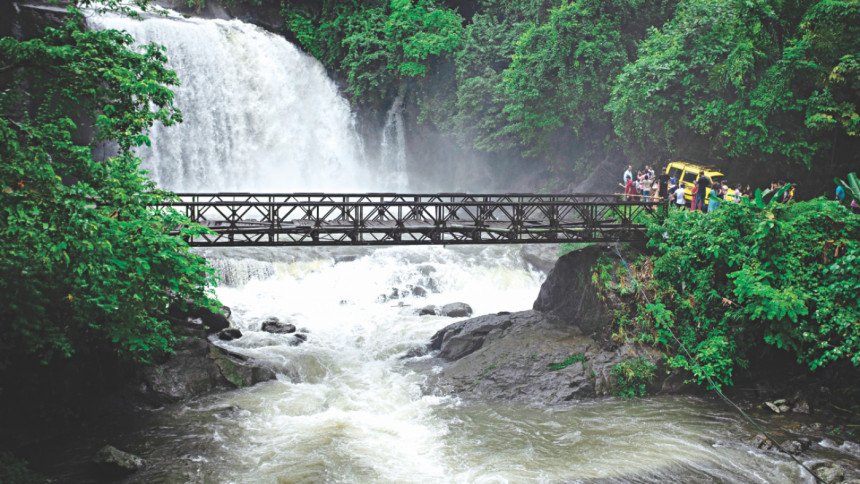 During the Eid holidays, I went to Meghalaya through the Tamabil-Dawki border with seven friends. On our way to Sylhet from Dhaka, I was telling one of them that I had never seen a waterfall and that this trip's itinerary seemed to have a lot of those. A day later, while we were standing on a cliff facing Nohkalikai Falls, my friend came up to me and said, "From not having seen a waterfall in your life to this—how do you feel?"
At that moment, I couldn't quite put my feelings into words. I have not been the biggest fan of water, or wet places in general. I despise rain and I am quite scared of all types of water bodies because, first of all, they're wet, and second of all, I am not sure I know how to swim. These [irrational] fears have stopped me from appreciating beautiful feats of nature even from afar—whenever I see a glorious water body, I find myself imagining how horrible it would be to drown in it.
So I was not expecting to shed a few emotional tears after seeing the Nohkalikai falls. I remember the very moment I first saw it—our driver, Dammar ji, parked the jeep right near the cliff and told us to get back as soon as possible. We hurried up the stairs, only wanting to take a quick look.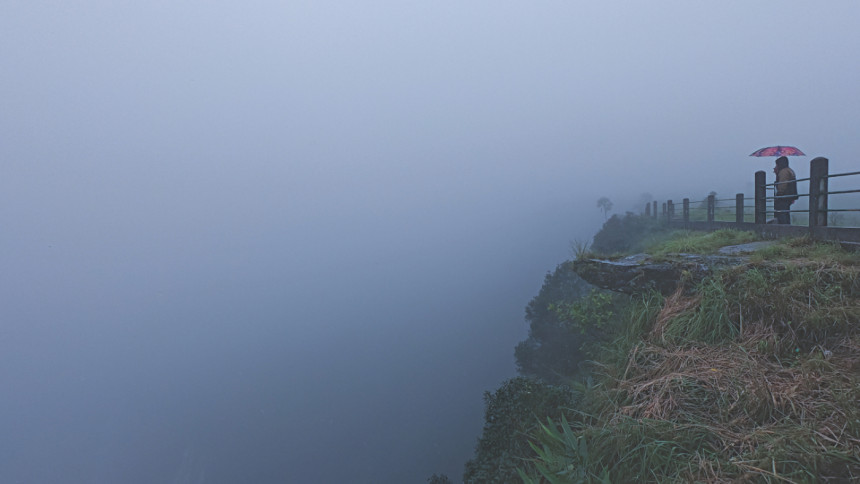 I looked down, and I could barely make out a waterfall among the clouds. I could hear the sound of water constantly flowing and splashing. After I stood there with my mouth wide open in wonder for a few minutes, the clouds suddenly cleared.
Nohkalikai falls is the tallest plunge waterfall in India. Superlatives are quite difficult to fathom when you read about it, but when you see it in person, you know that it's an absolute privilege to be able to witness this majestic phenomenon. There were a few waterfalls going at the same time, plunging into a pool, and I was standing on the nearby cliff, feeling small and insignificant, but content. I, very reluctantly, went back to the car as my friends and Dammar ji insisted, but I genuinely wanted to spend the rest of my vacation just standing there, staring at the Nohkalikai falls.
We later found out that it was by a pure stroke of luck that the clouds had parted and given us a perfect view. It was monsoon in Meghalaya, and while the many waterfalls in Cherrapunjee are beautiful during this season, they are very rarely visible. We went to Seven Sisters falls later in the day, but all we could see were clouds. We could hear it though, and it sounded just as beautiful.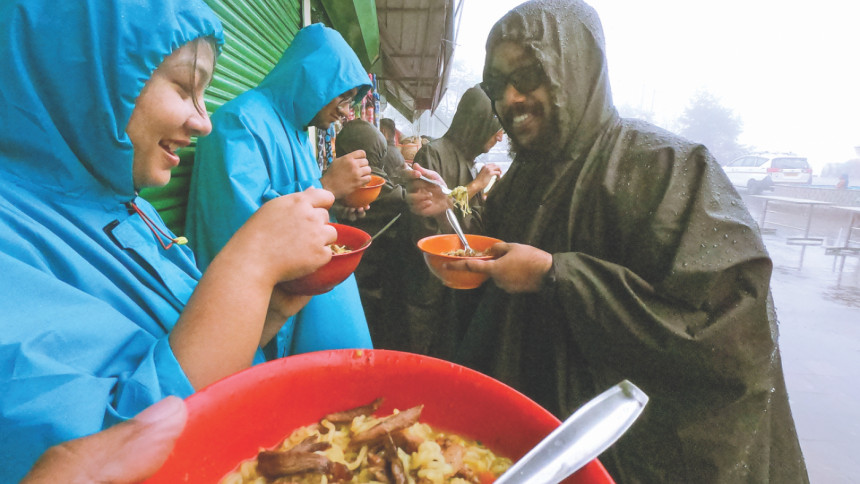 This day-long excursion to Cherrapunjee (or Sohra) had started with Elephant Falls, which is near Shillong. So technically, that was the first ever waterfall I saw, and I was thoroughly unimpressed. This three-tiered waterfall is very accessible because there is a walking path, but you have to make a long uphill climb from the bottom tier to the parking lot. The falls are pretty, but it's not worth the physical effort.
After that, our first stop in Cherrapunjee was Mawkdok viewpoint, which was completely shrouded in clouds. We had been told that Cherrapunjee is the "wettest place on Earth," and once again, this is a legitimate superlative. It is inside the clouds and the rain never stops. For the first time in my life, I genuinely enjoyed the rain, but that might be because we were very well prepared.
If you are planning to visit Meghalaya, buy a raincoat or a poncho. The latter is not the most flattering of outfits but my bright blue poncho was my best friend on this trip. It covered my bag, I could keep my arms inside, and not one droplet of water could penetrate that strange-looking piece of apparel. Do not wear shoes, because they will get wet and heavy. Take a pair of quick-drying sandals with good grip.
So we donned our ponchos, flexed our extreme travel preparedness at other tourists, and stared at the mist in Mawkdok viewpoint while eating a warm bowl of Maggi noodles. The little shop there serves large portions of soupy noodles with chunks of roasted meat and lots of coriander, and I will always crave that beautiful bowl of noodles whenever it rains.
Our last stop in Cherrapunjee was Mawsimai cave. The only information I knew about this cave was that it was "slightly dangerous", and this came from our travel agency's local contact. I was sure it was just a nice limestone cave, albeit wet, but I was used to that by then.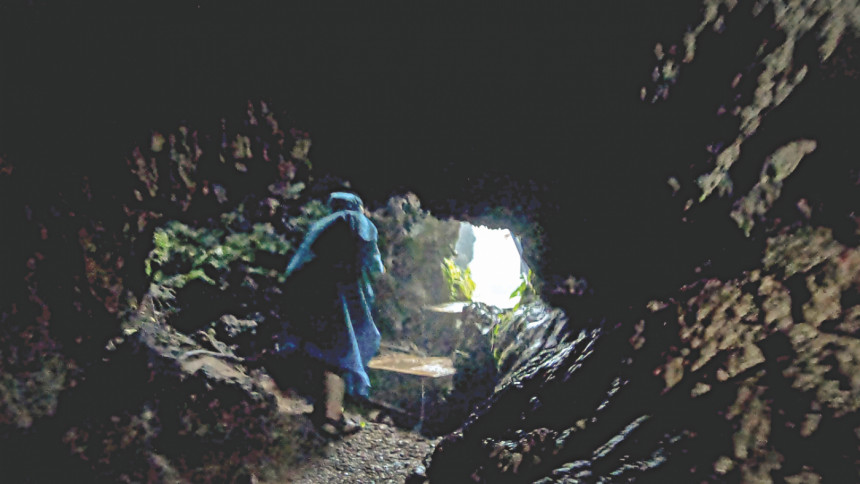 The entry point of the cave was dark, damp, and full of people, most of whom were aborting the mission. One saree-clad lady from West Bengal seemed quite annoyed as she hurriedly crossed the shallow waters on the floor, saying "Boddo shoru poth re baba ekhane keno jabo bolo dekhi!"
My curiosity got the better of me. Along with my friends Erad and Shams, one nonchalantly chewing a Chupa Chups bubblegum-filled cola flavoured lollipop, and another with an action cam, I decided we had some shoru poth to go before we sleep. That cave made me feel like a video-game protagonist, because I had to jump, crawl, and perform strange aerobics with all four limbs to pass through the obstacles.
Mawsimai cave is beautiful. The smooth limestones glimmer when sunlight streams in, and while you're inside the cave, it feels as if you have been transported into some strange world straight out of a storybook. I am writing all of this in hindsight—I was actually quite shaken while we were inside the cave and my sole purpose was to get out of there. We bumped our heads a few times, Shams caught me flailing around in my poncho because he filmed the entire journey, and Erad never let go of that lollipop, even when we felt like we would be stuck down there forever.
Many times we thought we were near the exit, only to discover more cave. When we finally made it out, I felt particularly accomplished, because I am extremely un-athletic and I can injure myself simply by existing. But even I got by with a little help from my friends.
We made the mistake of not staying the night in Cherrapunjee, because we had booked a pre-planned tour. Transportation is easily available in Meghalaya, the people are friendly, and places are safe and clean. If we had a little more time, we could've planned the itinerary to our own liking with a little research online. However, I have no regrets about staying in Shillong's Police Bazaar every night, taking long drives around Meghalaya in the day.
The next day, we made the nearly three-hour journey to Jaintia Hills, which is right near Sylhet. This part of the tour was initially planned for the day we had reached Meghalaya, but immigration at Dawki border on the day after Eid was nothing short of a nightmare. Tamabil border is dominated by third-party "brokers" who make it impossible for general tourists to pass through, while the Indian side was too understaffed to handle the huge rush of tourists. After a staggering seven-and-a-half hours at the border that day, all we could do was binge on street food at Police Bazaar.
So we decided to make the long journey to and from Mawlynnong, determined to find out whether it really is the cleanest village in Asia. We ended up not going to the village due to fatigue from another pointless uphill climb, but it was a wonderful day regardless. We visited Bophill falls, and I remember thinking we were way too close to the waterfall, it couldn't be safe. Dammar ji said the next waterfall was even better.
Then we saw Pangthumai falls, a sight like no other. The water was falling with incredible force, making the same patterns over and over again, splashing all around us as we stood on the bridge. It wasn't raining, but you would need a poncho just to get close to the falls.
The long drive to Shillong from Dawki is one of the most beautiful journeys I have ever been on. It makes you realise that Meghalaya is a very literal name, it's the abode of clouds. On this return journey, Dammar ji stopped in the middle of the clouds for a cup of tea.
Right there, at a shop by the clouds, we sat down and had the best chicken momos I have ever had, accompanied by tea in colourful cups. I was shocked to find out that clouds aren't fluffy when you're inside them, they're quite watery, but certainly very pleasant.
I have completely gotten over my fear of water. Dhaka rain can no longer faze me for I have returned unscathed from the wettest place on Earth and I am now equipped with a poncho. I am also incredibly sad to have left behind the land of non-fluffy clouds and waterfalls, but I am almost certain that I'll go back on a day when the clouds clear at Seven Sisters falls.
You can send your thought clouds to aanila.tarannum27@gmail.com.