The Endangered Shangri-La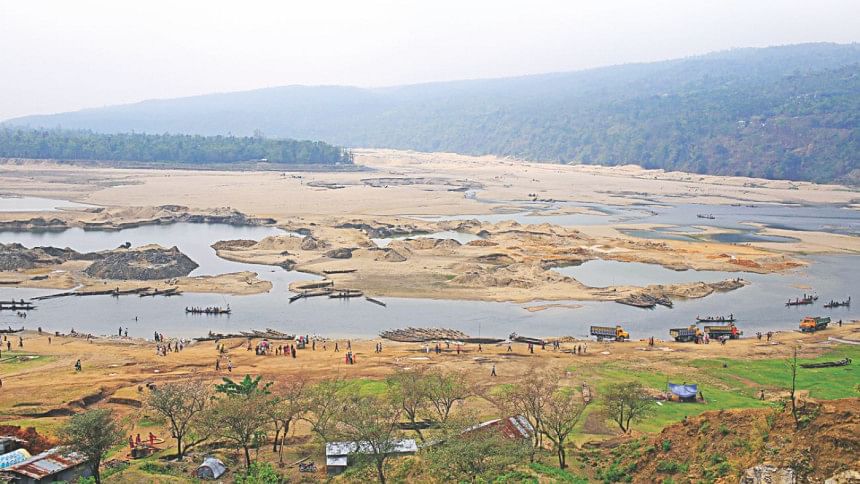 Jaflong, one of the most beautiful natural spaces in Bangladesh, is becoming inhospitable for tourists due to a lack of adequate facilities.  
Once upon a time, Jaflong, a popular hill station in Sylhet's Gowainghat Upazila, was called the lung of Sylhet. Hills covered with rainforests and cascades, crystal clear waters of the scenic Dauki River and picturesque hillside Khasi villages have made it one of the most beautiful natural tourist spots in Bangladesh. 
Dauki River is one of the cleanest and most scenic rivers in the country. The water is so clean and transparent that anybody can see the riverbed and catch fish frolicking in the river with bear hands. Its mineral rich water comes from the waterfalls in the mountains of Meghalaya. In many places the depth of the river is less than five feet, and it's cool and clean water of soothing 18 to 20 degree Celsius makes it one of the best places for swimming and bathing.
However, another significant property of this river has seriously endangered its natural beauty. While flowing from the mountains across the border, the river brings millions of tons of boulders with its torrential current. As a result, hundreds of stone quarries have grown like mushrooms all along the river banks. 
The quarry workers used to extract stone with illegal dredger machines and crush them with heavy stone crushers called 'Boma Machines' which are also illegal. Usage of these illegal machines in industrial scale has damaged the natural environment and ecosystem of the river. Once, the riverbed was covered with pebbles of different colours, now there is not a single pebble in the sand covered riverbed.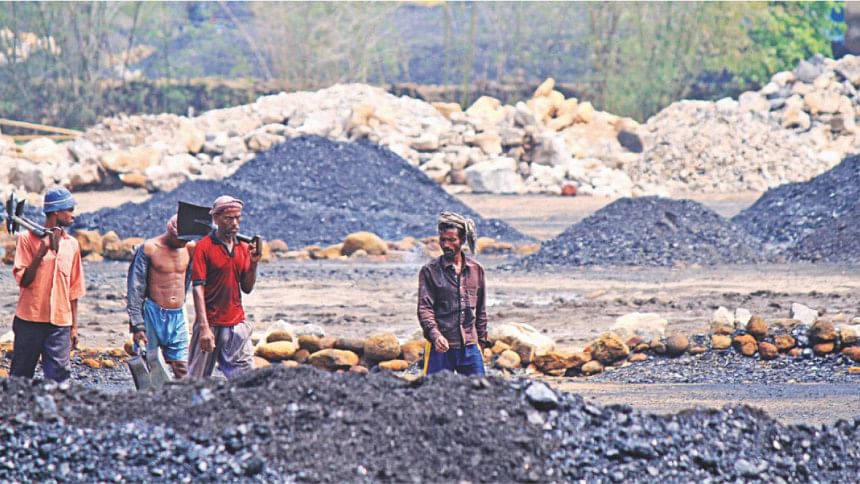 Deafening sounds from these machines used to erode the riverbanks. Open stockpiles of fuel to operate these machines such as coal and diesel have also polluted the river. After much criticism in the mass media and protests from environmental activists, usage of these machines has been stopped finally from March, 2015. 
Abdul Gafur, a quarry worker says, "When the media starts to report against the quarries, they stop using the dredger and boma machines for a while. After some days, they start to use them again. However, this year, during the raid, the police damaged many of those machines and still none of the quarries are using them anymore."
However, thousands of people in Gowainghat upazila are dependent on stone quarries for their livelihood. Now they have to extract and crush stone manually. Although usage of illegal machines is currently stopped, unplanned extraction and crushing of boulders are still harming the natural environment of this serene place. 
Despite being a popular tourist attraction, the government has not taken any step to provide any kind of tourist facility. Huge craters and numerous pot holes on the sixty kilometres road from Sylhet to Jaflong have made it almost unusable. During every rainy season, flash floods from the hills turn the river into a torrential stream. Every year, several tourists go missing and drown while swimming in the river. However, there are no life guards or rescue services there. 
Abdul Hakim Chowdhury, chairman of Gowainghat Upazila says, "We have applied to the government several times to declare Jaflong as a tourist spot. Tens of thousands of visitors come here every year but there is no hotel or restaurant of good quality here. Ensuring safeguard of the tourists is also a big challenge for us."   
"If the government declares it as a tourist spot, tourist police will be deployed here to ensure safety for the visitors. More effort will also be made to protect the natural beauty and ecosystem of the Dauki River," he adds
Jaflong is one of the most beautiful places in Bangladesh where thousands of tourists go to refresh themselves by coming close to the serenity of nature. If government takes steps to run eco-tourism here, then a lot of revenue can be earned from the local and international visitors while the place's beautiful natural environment will also be protected.