Entertainment
Television for the bibliophile
6 on-screen adaptations we're excited to see this season
It is often said that the book is better than the movie, and it is certainly not every day that a movie improves on the novel that inspired it, or that a masterpiece like Rashōmon springs out of the mind of Ryūnosuke Akutagawa and into the hands of Akira Kurosawa to mould into the vivid piece of storytelling and cinematic brilliance that it is. With filmmakers determined to take a shot at breathing new life into literary greats, here are six exciting on-screen adaptations you don't want to miss this fall.
Murder on the Orient Express
In the dead of night, the Simplon-Orient Express is stopped in its track by a snowdrift in the middle of Vinkovci, Croatia. Come morning, the millionaire Samuel Edward Ratchett is found dead in his compartment. Detective extraordinaire Hercule Poirot, also on the train, must find the murderer among the passengers before the killer can strike again.
This November, seasoned Shakespearean thespian Kenneth Branagh takes on the role of actor and director in the new cinematic reproduction of Agatha Christie's 1934 eponymous murder mystery. Branagh will have to live up to the impressive moustachioedness of the previous Poirot, played by David Suchet in the television series that spanned over two decades, as well the hype left by BBC One's skilful adaptation of Christie's And Then There Were None back in 2015. A star-studded cast, consisting of Johnny Depp, Michelle Pfeiffer, Penélope Cruz, Dame Judi Dench, Willem Dafoe, and Daisy Ridley of Star Wars fame, join him on the Orient Express as it travels from Constantinople to Paris. As Christie fans will know, the beloved detective (played by Branagh with a new moustache) will be faced with an ethical dilemma as he tries to solve the case of the night-time murder on the luxury convoy. 
Out November 10
Rebel in the Rye
As private as he was popular, J D Salinger remained shrouded in mystery in American literary history throughout most of his life. In 2010, the enigmatic author of The Catcher in the Rye became the subject of Kenneth Slawenski's biography, J D Salinger: A Life. Brimming with rich details collected from interviews, correspondence, and public records, Slawenski took an unprecedented look inside Salinger's world—from his privileged youth and time serving in World War II, to his encounters with literary luminaries and rise to fame (which would later speed up his retreat into the hills of New Hampshire). 
Directed by Danny Strong (who you might remember for his cameos as Paul in Grey's Anatomy and Trey in Mad Men), Rebel in the Rye brings to the silver screen Salinger's unforgettable story as told by Slawenski. With Nicholas Hoult from cult favourite Skins in the role of the title character and Kevin Spacey as his mentor Whit Burnett, this is one biopic no lover of literature would want to miss.
Out September 8
It
In mundane, small-town Maine, seven teenagers stumble upon 'It'—a phantasmagorical monster that feeds on the nightmares of its victims to disguise itself when hunting prey. This guise often appears in the form of the quintessential spook-film freak—the murderous clown Pennywise—in order to attract its preferred prey—little children.
Bringing to life Stephen King's well-loved, chilling tale of terror is second-time Argentine director Andy Muschietti. With the screenplay safe in the hands of the masterful Cary Fukunaga (director of the first season of True Detective), horror-novel buffs can be sure to expect only the worthiest rendition of King's psychological tour de force that tore down the façade of small-town charm. Fans of actor extraordinaire Stellan Skarsgård will be excited to know his youngest son Bill Skarsgård has is filling in the jumbo-sized shoes of Pennywise. With his son Alexander playing a two-faced, psychopathic socialite in Big Little Lies and Gustaf an outlandishly talented screwball in Vikings respectively, high hopes are pinned on Skarsgård's youngest.
Out September 8
Strike
With TV miniseries Strike, JK Rowling enters a new stratum of literary stardom, joining Jane Austen as one of the few British authors to have all of their novels adapted for the screen. The first two books of the Cormoran Strike series (The Cuckoo's Calling and The Silkworm), written under Rowling's nom de plume Richard Galbraith, have been adapted for the first season, while Career of Evil is slated for a later instalment.
Tom Burke from The Hour and State of Play plays Cormoran Strike, the tragic detective-hero with "a grumpy, philistine act" and a lugubrious past, while Holliday Grainger, the infamous Lucrezia Borgia of The Borgias, fills in the role of the bright, slightly square, but overall well-adjusted sidekick-foil character (a Watson meets Scully sort of deal). One holds high expectations of detective fiction as of late, and the unabashed smattering of breaking and entering and usual suspects may position the show as only subpar cerebral, but what Strike lacks for in suspense and drama, it makes up for with superb pace, grit, humour, and well, Britishness.
Since August 27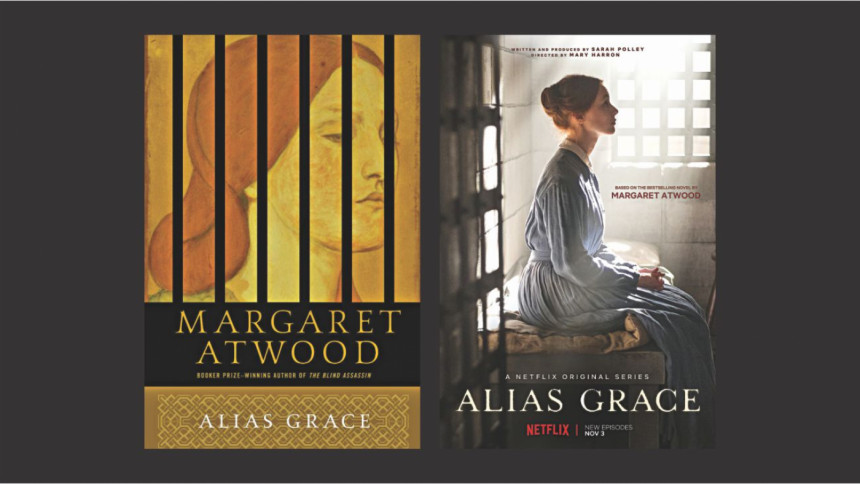 Alias Grace
In 1843 Canada, a housemaid, Grace Marks, is convicted of murdering her employer and his housekeeper-mistress. Some believe Grace is innocent, and she herself claims to have no memory of the killings. The Methodist church decides to employ an alienist to unravel the mystery in hopes of obtaining her release. Margaret Atwood fictionalises this account in the 470-page whopper Alias Grace, her second novel to be televised in 2017. 
Recent TV adaptations, Atwood's The Handmaid's Tale included, show that the move from page to screen doesn't have to disappoint, which shoehorned movie reproductions often tend to. While straight, faithful adaptations are a rarity if the plan is for a longer dramatisation, the six-episode miniseries may stick closer to the text than its Emmy-winning predecessor. 
Out September 25
Mr Mercedes
Stephen King and his clowns are certainly having a moment. In Mr Mercedes, one of at least five on-screen adaptations of King's this year, a man in a clown mask drives a stolen Mercedes into a line at a job fair, gruesomely killing eight people, and then disappearing without a trace. When retiree detective Bill Hodges, played by Brendan Glesson, receives a letter from the killer, the ex-cop decides to take up the unsolved case instead of handing it over to the police. Hodges must catch the killer in a deeply sinister race against time to avert his own death that might cost the lives of others. 
Will 2017 be the year of brilliant mentalists, murders, and mysteries? With veteran actor Brendan Gleeson, Harry Potter's much-loved Mad Eye Moody, confronting Harry Treadaway, the romantic drug-addled Victor Frankenstein of Penny Dreadful, in Mr Mercedes, we certainly hope so.
Since August 9