Extracting stones at the cost of lives
2018 was supposed to begin on a positive note for 65-year-old stone worker Jahur Ali. Jahur had received an assignment to extract a huge pile of stones—more stones than he had collected in the recent past and that meant more money.
As such, on January 2, he took his younger daughter Sakirun Begum and his son Mujahid Ali to work in a pit at the Mandir Jum area of Jaflong. Tragically, while the family was rummaging through the pit, a huge chunk of earth collapsed on them. Jahur's family members and two other helpers died on the spot.
The next day, a distraught Jakirun Begum, Jahur's other daughter, filed a case against 23 men allegedly involved in luring poor workers to this dangerous trade. Two months on, there are no signs of progress regarding the case.
This incident that annihilated Jahur's family is by no means a one-off. The call for urbanisation demands more stones for more structures and that compels traders to instruct those at the bottom of the chain to collect stones even from illegal and unsafe areas.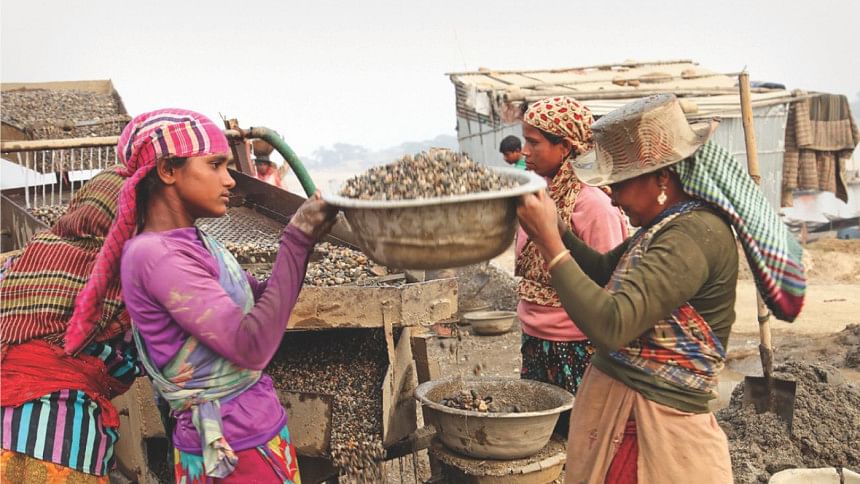 Official figures state that at least 32 individuals were killed while extracting stones from dangerous regions last year. The actual number, according to environmentalists and rights activists, is much higher. There have also been cases where the dead bodies of the workers were hidden by the stone traders. This year, in the first two months alone, 17 stone workers have been killed, with the most recent incident being on Sunday night when a landslide killed five workers in a pit in Companiganj, Sylhet. The most appalling aspect is that a large section of the victims are children, who are persuaded to undertake the risk because of the attractive financial returns. 
For instance, on November 7 last year, six school students were seen extracting stones from a dangerous cliff on the banks of the Lovachhara river in the Bangla Tila area of Kanaighatupazila.
The father of one of the children was informed of their activities. A stone worker himself, the father knew of the risks involved in extracting stones from such an area and rushed to the spot. While he managed to save his son—the child had apparently run away from the scene upon noticing his father—five other children and the father himself fell into the river along with a large chunk of earth and were killed.
Speak to some of these children living near the pits, and you immediately realise how unscrupulous traders take advantage of them. I ask a child in the Babuler Jum area of Jaflong why he isn't in school. His answer is quite crisp and astounding: "I can earn BDT600 every day by working in a stone mine. Why should I study in school?"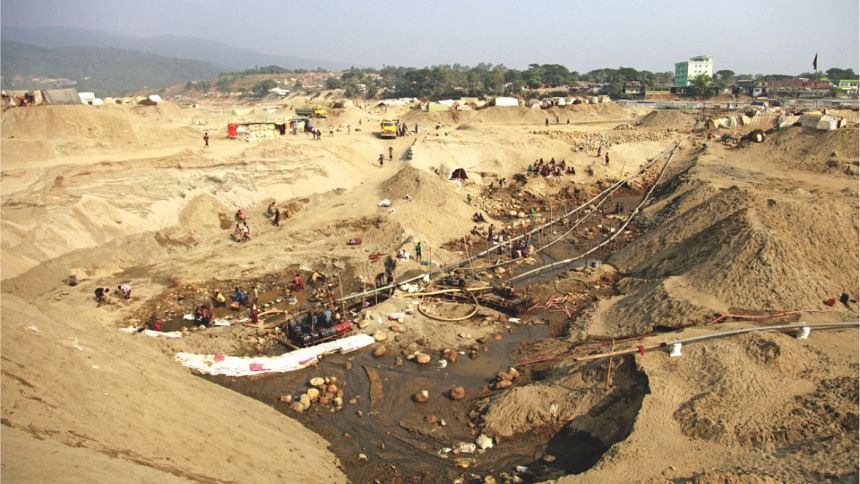 Locals say that children aged between 12 and 18 are regulars at the stone mine. They go to these mines along with their entire family in order to earn more money.
Mahfuzur Rahman, the headmaster of the Ballapunji Government Primary School, says that a large number of students are dropping out of schools because of this profession. "Around half of my students don't show up to class during the stone extraction season. Many of them work in the mines," he says.
The stone extraction season he talks about generally begins in mid-September and continues till the beginning of monsoon.
The locals' over-reliance on stone mining in the region is perhaps best explained by Monesa Begum, an elderly stone worker of Jaflong who has been in this business for close to three decades.
"It's been 26 years since I started working as a stone labourer. My son, daughter and even my grandson are now working the quarry. Who cares about safety or education? We have to continue working even if it means that we die in the quarry," she says.
In areas such as Jaflong and Sreepur, the process of stone collection has been going on for several years. In the past, stones used to be collected manually by Barki workers. These workers used to collect stones from rivers by diving to collect them from the riverbed and bringing them back to the shore on boats.
Buoyed by an additional demand, machines entered the scene in 2008. These machines, dubbed as 'boma machine' had engines and wide pipes which would suck stones from underground. As time progressed, the quality of the machines improved and stone traders managed to go as deep as 200 feet. The powerful machines even managed to pull out boulders which would eventually be broken into smaller pieces by other machines.
The role of workers shifted slightly with the advent of machines. Their duty today is to physically go into the deep holes created by the machines and carve out the stones that the machine is not able to pull out. These pits, needless to say, are not safe.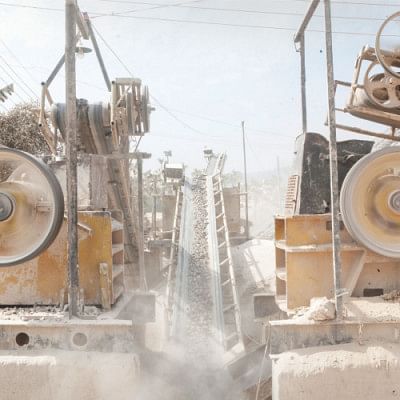 "When you dig down to 200 to 250 feet the earth in that area is bound to loosen up a bit. And so when the workers go into these pits, many a times the earth gives in and falls in on them. Even if a two-kg stone falls on a worker, there is no chance for the worker to survive," explains Abdul Karim Kim, who works for Bangladesh Paribesh Andolon (BAPA)in Sylhet.
Not only has the entry of machines threatened the lives of workers but it has also endangered the environment as a whole. As a result, various judgements from courts in the last few years ordered the stone traders to stop using machines in a number of sites.
In 2010, for instance, a court banned the use of machines in Jaflong and stated that stones may only be collected manually. In 2012, another judgement deemed a bridge, which was built by stone traders in Jaflong for the smooth transportation of the stones, illegal. The court also asked the concerned authorities to classify certain portions of the river Dauki in Jaflong as Ecologically Critical Areas (ECAs). In an ECA, stone collection, whether manual or through machines, is banned altogether. Both these judgements were made following writ petitions filed by the Bangladesh Environmental Lawyer's Association (BELA).
It took the concerned authorities three years and a Gazette was finally published in 2015 to deem 14.93 kilometres in Jaflong as an ECA. However, three years on, the government authorities are yet to mark the ECA boundaries. According to advocate Shah Shahida Akhter from BELA, the process of marking the ECA boundaries began just last month.
"An area is recognised as an ECA only when it is at its worst stage. It's like when a patient is in the ICU," explains Shahida.
It is not just Jaflong. The court gave similar orders and banned stone collection through machines in Lovachhara, Bholaganj and Bichnakandi in the last 10 years. However, a mere glance at the areas tells you that stone traders are still openly using machines to collect stones even today.
And the reason behind that is stone traders themselves have petitioned writs against such judgements.
"Whenever we move to stop illegal stone extraction at the stone quarries, the stone traders show us a legal order of the High Court that gives them the authority to extract stones," explains Syed Mohammad Aminur Rahman, former additional deputy commissioner (revenue) of Sylhet.
"We are confused about the different laws and the directions of several ministries and departments. The confusion must be cleared legally to protect nature and to stop such extractions," he adds.
Shahida, however, believes that the administration's statement regarding the 'confusion' is merely an excuse.
"In Jaflong, there are many writs filed by the stone traders. When they file a writ, they hide a number of crucial details. They say that they are not allowed to collect stones manually from certain areas. They don't say that they are using machines. It's not illegal to get stones manually and that's why the court says that they shouldn't be stopped. That is the state of the situation," she explains.
"At the end of the day a lot depends on the Upazila Nirbahi Officer and District Commissioner of the region. They should actually be responding to their writs, but I have never seen them taking the responsibility," she adds.
Another aspect that Shahida stresses is the lack of monitoring by the government agencies. She believes that this is the prime reason why so many meet their deaths in these pits.
"If a trader gets a lease of, say, one acre to collect stones, they almost always end up exceeding the permitted area and at times even include hillocks, which is illegal. This is an act that can actually nullify their contracts for that piece of land, but there's no one to stop them," she says.
"The leases of these lands are given without any field research or measurements and that can prove to be really dangerous for the environment," she says.
Abdul Karim from BAPA echoes Shahida's sentiments. "The police say that they are working towards catching traders who use illegal machines, but they never manage to get the owners. Most of their raids are not secret and as a result the good machines are moved before they arrive. Sure, they burn a few machines and issue a press release the very next day about their work, but they don't even check whether the machines they burned have been destroyed. Many such machines are painted and used again the next day," says Karim.
One of the reasons that officials tend to turn a blind eye towards these activities could be the fact that many of these stone collecting businesses are backed by powerful people who are members of the ruling party.
For instance, last Monday a murder case was filed with the Companiganj Police Station against Ali Amjad Hossain, president of the upazila Awami League unit in relation to the case which involved the death of five workers on Sunday.
Last year, a case for illegal stone extraction against Shamim Ahmed, Paschim Islampur Union Awami League president, and his elder brother who is the panel chairman of the Sylhet District Council and the joint secretary of the Companiganj upazila.
According to locals, the stone extractions sites in Jaintiapur and Gowainghat upazilas are backed by Liaquat Ali, the general secretary of the upazila. He is now in jail because of a murder case filed against him in connection with a land dispute related to a mining site. He has also been accused of attacking two journalists in the Sylhet court area.
Illegal mining is also hurting the country's tourism industry. Some of the most scenic regions of the country lie beside the Bangladesh-India border in Sylhet. Places such as Jaflong, Sreepur, Bichnakandi, Lovachhara and Bholaganj have attracted tourists for long due to their natural beauty. However, these places have also attracted the attention of stone traders and are now in danger of being ruined.
Recent visits to stone extraction areas in Sylhet reveal the pitiful conditions of these places. For instance, the road Mamar Bazar that tourists used to use to go to Zero Point in Jaflong has been ruined. Tourists now are forced to travel to Zero Point through a route located behind the Border Guard Battalion's camp there. And travelling through that road is not a pretty sight. Similarly deteriorating conditions can be witnessed in Bichnakandi and Bholaganj.
"Over the last few years, the number of tourists visiting places like Jaflong or Bholaganj has decreased quite a bit. People are now more interested in staying in resorts with artificial beauty instead of witnessing the mess outside," says Mistu Datta, general manager of a hotel in Sylhet.
Shofiqul Islam, a restaurant owner of Jaflong, is contemplating the closure of his business. "There was a time when thousands of people would flock to my restaurant after visiting Jaflong, but, as you can see, you are the only one here today," he laments.
Speak to government officials, and they will all give you clichéd  replies.
"We are regularly conducting drives and filing cases but there is no separate environment court. We find a huge log of cases in the court that waits for years," Salah Uddin Chowdhury, deputy director of the Department of Environment in Sylhet.
Md. Rahat Anwar, the deputy commissioner of Sylhet, sings a similar tune stating that the administration is working on taking new measures against these illegal stone extractions.
But judging by the current state of affairs, there are not too many people who would vouch for these statements.
Shahida from BELA perhaps best describes the current situation. "I don't know what's going to happen in the coming days. Already 17 people have been killed and it has just been two months. Judging by current signs, it won't be a surprise if many more die in the coming days." 
Dwoha Chowdhury is The Daily Star's Sylhet Correspondent