Why do many women shun shared motorbikes?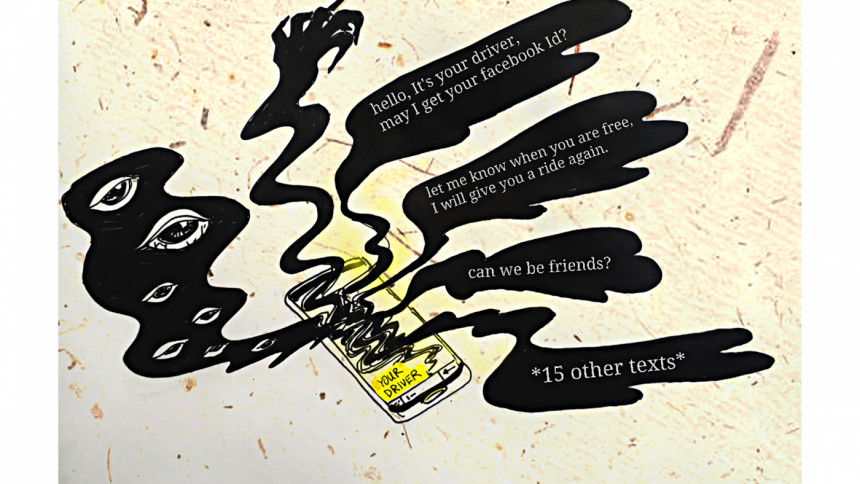 Sahera Khatun Shimul, a young working woman, has to travel from Dhanmondi to Khilgaon regularly to attend her office. A client relations executive, she also has to travel frequently within the city to meet her clients. For Shimul, getting around in a ridesharing motorbike is the only feasible option, one she uses regularly.
Unfortunately, Shimul's experience while using these services even forced her to think about leaving her job. "Many motorbike drivers drive roughly and press the brakes so hard that I fall on his body. Most of the times I can easily understand that they do it intentionally and unnecessarily just to create physical contact. Some of them even take a needlessly longer route. Many of them don't have any sense of manner and etiquette. If I protest against their rough driving, they use abusive words because they know that I shall not be able to argue with him on a crowded, busy road," she says.
Although motorbike ridesharing services have gained surging popularity in Dhaka in the last couple of years, these companies are still struggling to solve one basic issue—how to provide a safe trip to their customers, particularly females. Motorbike ridesharing services are still particularly inaccessible to many female commuters. Although many women are using shared motorbikes to move around, they do not have as easy an experience as their male counterparts. Like Shimul's, we have received many reports of sexual harassment, stalking, and use of abusive and provocative words, from women who use motorbikes through ridesharing apps.
Parisa Kabir, a university student, has also been subjected to abusive words from motorbike riders frequently. "I am a bit overweight compared to most Bangladeshi women. Because of this, I get insulted frequently by motorbike riders," she says. "After seeing me, many of them refuse to take me, cancel the ride, and make comments about my body. Today, a rider told me, 'You should marry and ride your husband's bike. Otherwise please reduce your body weight'."
Nusrat Jahan, a school teacher, also frequently uses motorbike sharing services to reach her school on time. Besides rough driving, she faced another form of harassment. Several riders stalked her for months and used to send abusive messages on her phone and through WhatsApp. She says, "I did not want to use ridesharing services because I knew my phone number would become available to many unknown people. However, when I did not find any alternative and started using the services, my apprehensions became reality. I started getting calls and offensive messages from unknown numbers. I realised that these numbers belonged to motorbike drivers with whom I commuted. One of them went as far as sending me offensive proposals and photos. I contacted the company and sent his contact and the photos he sent. It has been three months and I am still waiting to know what steps they have taken."
Many female passengers said they prefer to sit side-saddle while riding motorbikes. But the drivers urge them to hold onto them and if they refuse, the drivers drive so roughly that they do not find any alternative to holding on to them to maintain balance.  "We have to sit side-saddle because our attire does not allow us to sit on the motorbike comfortably. This is why I always request the drivers to go slowly and carefully. But, very few pay heed to my request," says Jahan.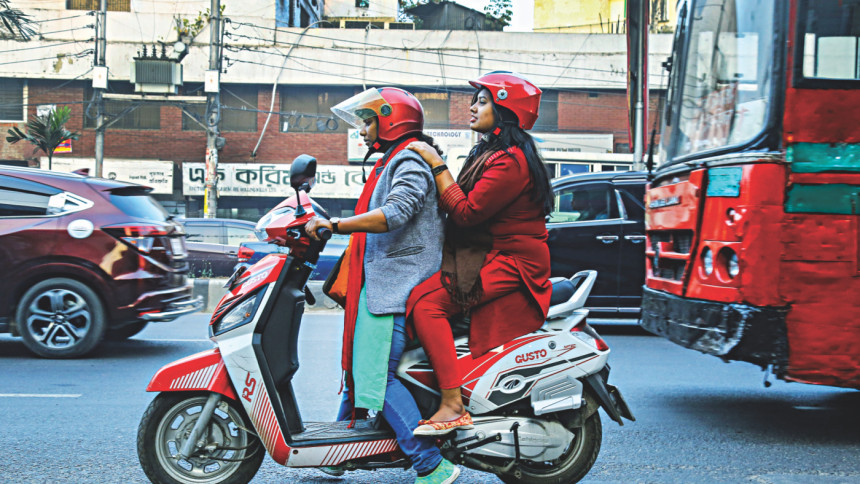 Silence of the ridesharing companies after the filing of complaints is one of the most common objections shared by female users of ridesharing services. Ridesharing companies claimed that they take immediate action and introduced various features to prevent such incidents. For instance, they have introduced a "live location sharing" feature through which a passenger can share her location with her friends and family members, in-app safety toolkit, emergency hotline number, and round-the-clock in-app customer support to ensure safety of their customers. 
Maliha M Quadir, a prominent female entrepreneur and managing director of Shohoz, says, "We take immediate action against our partners (drivers) if we get complaints of sexual harassment or assault. However, in some cases, we can do nothing more than blocking their account and removing them from our platform, because they are not our employees."
"The motorbike drivers are also entrepreneurs and they should be aware that if their passengers are not satisfied with their service, they will lose their business," adds Quadir. She also requests female passengers to take some precautionary measures such as sitting carefully on the bike, wearing helmets, and checking the registration number of the bike with the number showing in the app.
To ensure safety and comfort of female commuters, one ridesharing company, Obhai, introduced a motorbike sharing service exclusively for female passengers, Obon, where only female motorbike drivers can register to share their bikes. However, this company is also struggling to make any impact on this prevalence of cyber and sexual harassment via ridesharing apps.
"More than 600 female bikers have registered with our company," says Syed Fakruddin, assistant manager at Obhai. "However, very few of them drive their bikes on a regular basis. They too don't feel safe while riding bikes on the busy streets of Dhaka. Bus drivers and helpers often harass them. Maybe our society is still not ready to accept female bikers. But we are trying to increase the number of female bikers by offering them financial assistance and driving training." It is not just female commuters who are affected, but drivers too—meaning that the most obvious solution to the problems facing female commuters is rendered useless.
Rowshon Akhter Urmee, manager, gender justice and diversity department of Brac, believes introducing technology and registering more female drivers will help solve this crisis. "When a motorbike driver insults a female passenger, he actually practices hegemonic masculinity, which means, he thinks he is superior to that woman only because of his male identity. He does not consider that the woman may have better education and economic background. This hegemonic masculinity is practiced in all parts of our society," she says.
"The ridesharing companies must provide behavioural training to their driver-partners to break this hegemony if they want to make their services accessible to women. They also need to monitor their driver-partners' attitudes to assess effectiveness of their training. The behavioural training has to be a continuous process, just one training at the beginning of the service can hardly make any impact."
App-based motorbike sharing services have become one of the most important modes of transportation for millions in cities due to its cost and time efficiency. Its rapid expansion and escalating importance in Bangladesh's urban lifestyle require that that this new, tech-based transport sector take immediate and pragmatic measures to make their services accessible, safe, and comfortable for female passengers.
Md Shahnawaz Khan Chandan can be contacted at shahnawaz.khan@thedailystar.net