Restorying Partition
Restorying Partition: Manju Chakraborty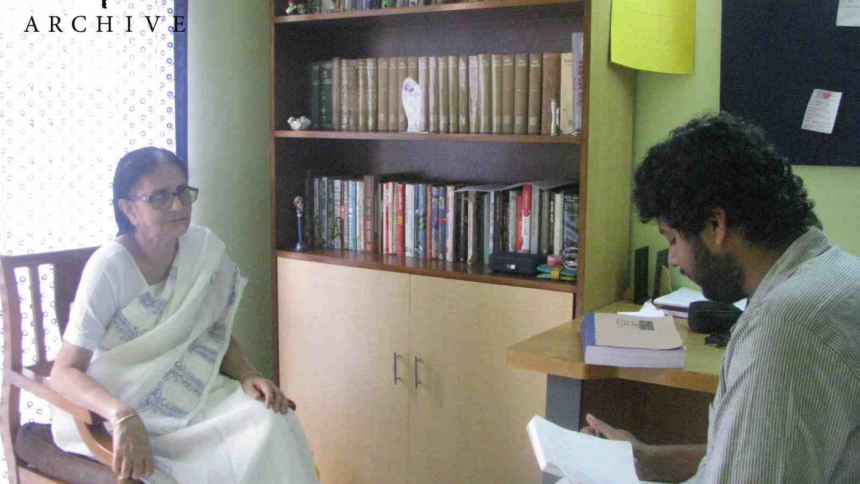 Currently Residing: Kolkata, West Bengal, India

Age in 1947: Not available

Migrated from: Noakhali, Bangladesh

Migrated to: Kolkata, West Bengal, India
Manju Chakraborty was born in a village in Noakhali District in 1942. Her family had quite a large house in the village. They moved to the city of Noakhali when she was young, following her father's work, and lived there for the next few years until Partition. She remembers that Noakhali town was very beautiful and had some colonial architecture. Every year, she used to go to her ancestral village during Durga Puja. She claimed that in the village the relationships between different communities were cordial, but in Noakhali town she missed the warmth of the communal relationships that she felt in the village.
She has a memory of the 1946 Noakhali riots: during this time, her family used to take refuge in another area of the town if they heard any news of violence. Her landlord's house was broken into and looted, Mrs Chakraborty recalls. During these violent days, she says that Mahatma Gandhi came to their ancestral house and rested for a day. Her ancestral house in Chaupali came under attack but it was defended by a group of Muslim men who were students of her grandfather.
A few years after Partition, Mr Chakraborty's family decided to leave East Bengal. She is unsure of the exact year. Their new life was challenging, Mrs Chakraborty recalls. They came to Kolkata by train and lived near the Sealdah station in the Beleghata area. They left behind their home and all belongings, and were split from many relatives. In Kolkata, all five family members used to live in a single room and her mother used to cook in the hallway of the house. She believes her mother had to sacrifice the most.
From Beleghata, they shifted to the Narkeldanga neighborhood in Kolkata. In Narkeldanga, her elder brother saw a man killed in front of his eyes while he went out to purchase milk. She said it was the most horrific moment when her brother narrated to her that incident. From Narkeldanga, they moved to Howrah. She recalls the day when they got news of riots and her younger brother went out to see what was happening. He saw a household was being looted and he entered and took a leather diary with him. When he returned, he was severely scolded by her father and he returned it the next day. Meanwhile, her ancestral house in the Noakhali countryside was exchanged with a house in Barasat, on the outskirts of Kolkata. Her relatives from Noakhali crossed the border and moved into the home, along with Mrs Chakraborty's family. In Barasat, she completed her schooling and college, before getting married. 
Her in-laws' house was in Vijaynagar colony in northern Karnataka state and her husband was also a migrant. She moved there and started teaching in school. She continued teaching until the age of sixty, when she retired. Now she lives with her son's family in Kolkata. 
Regarding Partition, Mrs Chakraborty shares that she feels deeply unhappy about it. She says that when she visited Noakhali recently, she felt that both East and West Bengal are part of same culture. She would like to do away with the complex wires and visa system between two Bengals, she says.
Interviewer: Deborshi Chakraborty

Camera Person: Deborshi Chakraborty

Archivist: Shounak Chattopadhyay

Story Donor/Sponsor: Silicon Valley Community Foundation (Donor Advised Fund)

Copyright, The 1947 Partition Archive, all rights reserved.
---
See

States of being divided

for the full list of articles on this special issue of the Star Weekend.