Public Safety
Public works or public sufferings?
Photos: Prabir Das
A few days ago, 42-year-old wood carver Swapan died in the most tragic of circumstances at the Moghbazar-Malibagh flyover construction site. 
A 36-metre long girder weighing 70 tonnes fell from the flyover and killed him. The accident also seriously injured two others—Palash Baran Dhar, an LGED assistant engineer, and Noor Nabi, a concrete mixer truck driver. 
A week before this incident, Shanu Miah, a middle-aged man, died after falling into an uncovered box culvert in the Paltan area of the capital.
Like Swapan and Shanu Miah, there are many cases of pedestrian casualties that occur due to unsafe city construction sites or uncovered sewer lines. However, many of these incidents go unreported, since they do not always appear in the media. Public works become synonymous with public sufferings. 
Prof Moazzem Hossain, director of Accident Research Institute (ARI), BUET, informs that it is unfortunate that minimum safety precautions are not taken in most of our public works. The authorities are not even being able to take fundamental safety measures of their own workers.
"In order to start a construction work (be it a flyover, a foot over-bridge or a new road) in an urban area, it is mandatory for the authorities to ensure an alternative but functional traffic management system for the people," he says. 
Also, the system should be an uninterrupted one, having retro-reflective fencing that can be sighted from far away, traffic cones and hard barriers where necessary, and no uncovered drainage or standing water," says Hossain. 
"And it is the policy that the cost for all this is included in the whole budget for the construction," he adds.
He also argues that the construction equipment should not be placed on the road in a way to interrupt public movement. Loose soil should be kept protected. Sand used for the construction covered, and the dug-up drains demarcated to keep pedestrians safe.  
But unfortunately recent incidents reveal that such fundamental safety precautions are mostly ignored in construction areas. In another case similar to the Moghbazar-Malibagh flyover accident, there was a High Court verdict in March last year that ordered the authorities to ensure public safety, following the death of a construction worker Rabbi Ahmed Emon. Emon died when an iron rod fell on his head at the same construction site near Eskaton.
According to project director Sushanto Kumar Biswas, in spite of the risks faced by workers and pedestrians, they are bound to work on the road, since it is tough to manage any alternative diversion route there due to huge traffic.
However, Prof Moazzem Hossain says that project costs of Bangladesh are satisfactory, in some cases equal to those of developed countries like the US and England. As such, we should be able to afford an alternative diversion route. "If contractors of other countries can make profits within their budget even after ensuring required safety for their workers and pedestrians, then why can't we? There may be two things at play—either there is a huge profit-making tendency, or there are high levels of corruption and extortion!" 
In the recent case of Shanu Miah's death, it is surprising that the Dhaka WASA authorities refused to take liability for the entire incident and marked it as a mere accident. Taqsem A Khan, managing director of Dhaka WASA, informs that since the box culvert system is not environment-friendly (these culverts remain clogged causing water stagnation) and it needed to be cleared, they gave the job to contractors. "When a contractor takes over a site, he signs a document where it clearly states that safety and security will be maintained by him," claims Khan. 
Khan says that they have taken a lesson from Shanu Miah's death and that from now on, when it comes to the criteria for selecting a contractor for such works, they will be more careful in assessing contractors' professionalism, experience, prior working history, and reputation. But the lessons they have learnt from the deaths of four-year-old Nurjahan who fell into a manhole at Shahidnagar in the capital's Lalbagh in October 2004, three-year-old Jihad who fell into a 600-foot deep shaft at Bangladesh Railway Colony in Shahjahanpur in December 2014, or four-year-old Ismail Hossain Nirob who fell into an open manhole in the city's Kadamtoli in December 2015, remain unclear. 
Another public project of the government - Dhaka Mass Rapid Transit (DMRT) - has been subject to public criticism for the trouble it has already created. Due to roads being dug up for placing utilities, both sides of the roads have become narrow, coupled with the fact that the sidewalks are occupied by illegal vendors. All these problems have created intolerable traffic congestion and dust pollution in many areas of Mirpur—which has been covered in different news media. Md Mesbahul Islam, chief executive officer of the Dhaka North City Corporation (DNCC), says that despite constantly spraying water at their sites, due to the limitation of equipment they are unable to cope with the problem in its entirety. 
According to Md Mofazzel Hossain, project director of DMRT, they too are concerned about this matter. "We told the utility departments to dig up a single drain and shift all the utilities at a time, so that people do not continuously face the same trouble," he states. 
"Our funds include all sorts of costs for maintaining public safety and security measures," he adds. When asked about soil erosion of the drain due to rainwater which has created risks of accident, he assures that he was informed about it and is trying to solve the problem with the help of the respective authorities. 
With authorities caught up in this blame game, the general people are the ones who keep suffering and their problems aren't going away anytime soon. They are instead, constantly being made the scapegoats here. Though there are policies for them to take action against the authorities, most people are not aware of them and don't even know that they have the means to raise their voice against such irregularities.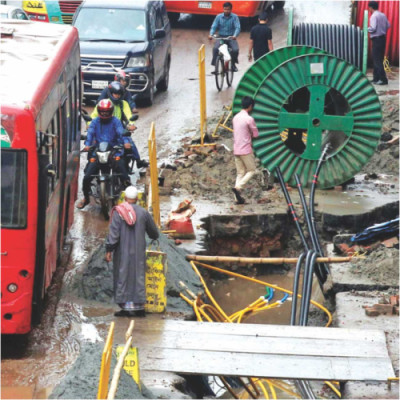 Advocate and policy analyst, Syed Mahbubul Alam, who is also the secretary of Centre for Laws and Policy Affairs, believes that such practices of construction authorities must be stopped immediately. "We have provisions in our Constitution to ensure public safety in construction sites. For example, we can take action through the City Corporation Act 2009, Motor Vehicles Act 1983, Dhaka Metropolitan Police Act 1976, Bangladesh Environment Conservation Act 1995, to name a few," says Alam. "Also, in terms of death due to negligence of the respective authorities, families of victims can sue these authorities and get compensation decided by the High Court," adds Alam. 
Repeated accidents indicate that authorities are little concerned about public safety. If such incidents keep occuring with such frequency, and the authorities keep getting away with it, there is no hope for change. The only way to bring about some much needed change is if the people to take legal action and perhaps only then the situation will start to improve.