Opinion: Draft of Digital Security Act
The same old story with a new twist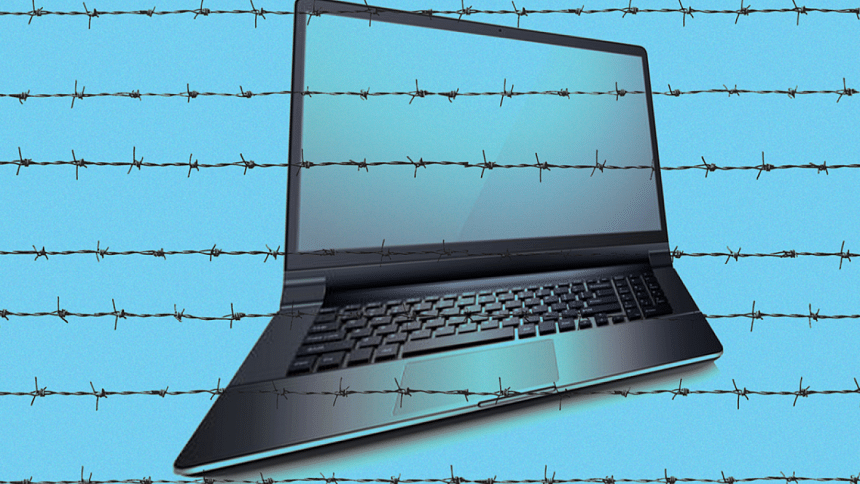 The other day, a friend of mine wanted to write a Facebook status about how poorly a particular hospital in the capital had treated her mother. She had apparently been taking the wrong medicines prescribed by a doctor working in that hospital. She realised that those medicines weren't required once she took her mother to Singapore for treatment.
In fact, she wrote the status, published it on Facebook and tagged the said hospital as well. A few hours later though, she deleted it. She told me that an official from that hospital had called her and told her that if she didn't remove her status, they would file a case under Section 57 of the Information and Communication Technology (ICT) Act.
As far as problems related to Section 57 of the ICT act is concerned, the above story merely represents the tip of the iceberg. Move away from the capital and you will find many more victims who have suffered because of this act.
Shoaib Chowdhury, a journalist from Habiganj, for instance, was jailed for 84 days in 2017 only because he had written a story, which said that one of the MPs from his region might be replaced ahead of the next elections.25-year-old Dilip Roy, a member of the Biplobi Chatro Moitri from Rajshahi University had to spend three months in jail because he had written a Facebook status criticising some of the points made by the Prime Minister in relation to the Rampal Power plant. The case was filed by the president of a powerful student political party from the same university against him.
Several other cases follow a similar tone. Section 57 has been criticised since its inception as a "draconian law," so when it was announced that Section 57 was going to be revoked, there was a collective sense of relief.  
However, the draft of the draft of Digital Security Act, which was approved by the cabinet last Monday, does not provide a lot of hope because the new draft has similar sanctions as that of Section 57. The section has been split into four sections in the new draft—25, 28, 29 and 31. Section 21 talks about punishing anyone spreading negative propaganda against the Liberation War or the Father of the Nation. Section 25 says that a person may face up to three years in jail or BDT 3 lakh fine or both if he or she is found to have deliberately published or broadcast in the website or electronic form something that is attacking, intimidating or false or humiliating. Section 28 talks about hurting religious sentiment, while Section 31 warns against publishing something that can spread hatred or create enmity.
Journalists and activists have vehemently criticised the draft, highlighting that they don't believe that there's going to be any change in the situation at all. The main problem that they pointed out, as they did during the enactment of Section 57 of the ICT act, was that "feeling humiliated" or "insulted" is something that is subjective. And since there are no boundaries mentioned in the law, there's a chance that almost any status on Facebook or any article published in the online media might be considered as defamatory or hurtful. It must be kept in mind that a similar proposed law was struck down by the Supreme Court of India in 2008.
The new proposed law may, in fact, be a lot more dangerous for journalists. That's because of Section 32, which states that a person may be sent to jail for 14 years or fined BDT 20 lakh on charges of spying, if the person enters the offices of government, semi-government or autonomous bodies to gather information or use electronic device to record something secretly.
Now it's not as though journalists go around with secret recorders or plan secret recordings every other day at work. In fact, going undercover or using secret recorders is an option that is used by journalists when that is the only way to uncover a corrupt practice and bring it to light.
For instance, if a journalist secretly shoots or records someone taking a bribe or performing some other illegal activity, will the journalist be charged based on the new proposed law? In the end, the journalist may not be in trouble, since his motive was obviously positive.
However, lawyers and journalists believe that Section 32 can actually lead to journalists' self-censoring themselves when it comes to acquiring information. Rights activist Nur Khan Liton for instance believes that the door for discussion on some specific topics will be shut down and free voice will be muzzled.
Also, based on cases from the past, one can't also completely alleviate the possibility of Section 32 being used as a tool against journalists.
If senior journalists like Prabir Sikdar and Siddiqur Rahman have been victims of Section 57 in the past, it won't be a surprise if Section 32 yields more victims.
Similar to Section 57, the other aspect of the new digital security act is that the police will not need an arrest warrant from the court. They can search or arrest anyone that they feel has broken the law.
In this regard, public prosecutor of the lone Cyber Crime Tribunal Nazrul Islam Shamim had said that the police should be trained to know what kind of cases they can accept under this act and that they need to be clearer about the details of this section. Several victims of section 57 allege that they were arrested because those in control of the region have a good relationship with the law enforcers there.
Government officials have repeatedly said that there's a huge difference between Section 57 and the new proposed law; however, a simple analysis suggests otherwise. Only time can tell as to how this new law will play out, but if we take the past cases as an indicator, one can't help but remain tense.
Follow Naimul Karim@naimonthefield