Opinion
The Bangladesh We Speak of, 45 Years on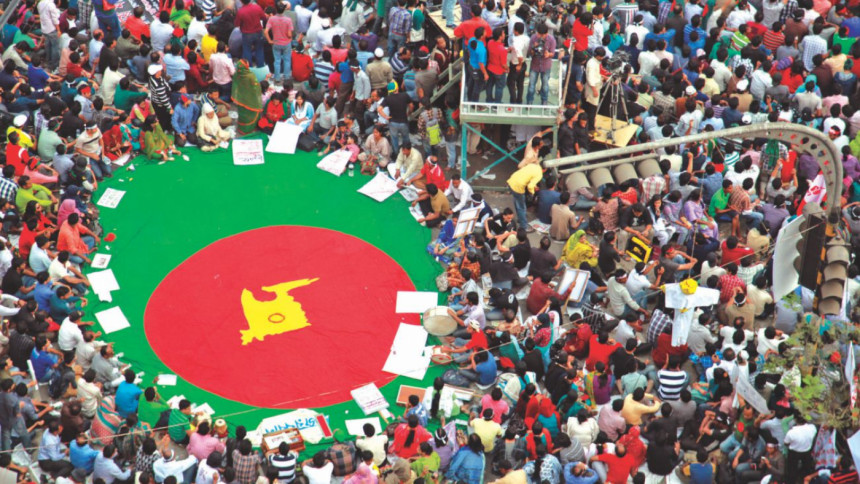 PHOTO: KAZI TAHSIN AGAZ APURBO
Picture a scenario where Mustafizur Rahman, the mercurial new addition to the Bangladeshi cricket team, claims a hattrick in the penultimate over of a game, bowling out the opposition with an awesome display of clever bowling. The aftermath of this will no doubt be an explosion of joy and nationalistic pride among the burgeoning 16 crore Bangladeshis home and abroad. It might not be unrealistic to expect a few celebratory rallies on the streets, though these have diminished with Bangladesh's growing stature in the game. 
But picture, too, a certain political leader taking a walk along the side of the cricket field, waving to an already overjoyed crowd, comprised mostly of urban men and women. This individual may bask in the warm glow of a sporting victory and, in that euphoric state, we all come together as one nation under one cricket team (not before, of course, selectively leaving a few out subtly for not being 'Bengali' enough). 
The following day, there may be an official announcement in a leading newspaper that could read as follows- 'In an effort to bring the country up to speed with the rest of the world, the state has decided to build a state-of-the-art airport in Munshiganj. The construction is to get under way soon and it will only take away a small pond called Arial Beel.' Still feeling giddy about ourselves and our patriotic vision to become a First World Country, we decide it is of course in the best interest of everyone in the country to build an airport in that exact location. Just as it is of course in the best interest of everyone that a special economic zone (SEZ) be built on the tea worker's farmlands in Habiganj. We may all (urban dwellers) sit down over some tea and biscuits and discuss that while there may be some opposition from the locals in these areas, they are mostly short-sighted and do not know what is best for them. And with that irrepressible vision of a utopian future, we tune into the next Australia vs Bangladesh match. 
There needs to be a sustained discourse on what we say when we speak about Bangladeshi-nationalism. More importantly, if we speak about Bangladeshi-nationalism at all, or if it really is Bengali nationalism that leaves out the tribal population of the Chittagong Hill Tracts and the teaworkers' of Sylhet and Chittagong. When we utter the words, 'it will be beneficial for all of us' do we mean imagine the kind of democratic and secular state that we had intended to be, or do we think of one state under one monolithic religion? 
Nationalism remains to this day, the one topic that cannot be touched. We still smart from the scars of our liberation and it is debatable whether we as a collective community can or should ever most past those wounds. But those painfully long nine-months in 1971 have since become a site for much distortion and much expediency. Who among us dares say no to a new economic zone when its announcement is juxtaposed alongside the rhetoric of 1971, or the rhetoric of national greatness that our cricket team brings us? Would we still press on with the kinds of industrial projects that have been earmarked for specific minority-regions, had we been in full possession of all the facts, and the entire catalogue of misery that it would inflict on them? Do we not care because they're either poor, or non-Muslim or non-Bengali, or is the fact simply that we are made to forget to ask questions, because once the image of a liberated Bangladesh is invoked, everything else fades to the background? 
Perhaps next time we are caught up in the patriotism invoked by a cricket match, we will think twice before carrying it over into politics. Maybe, next time we might ask the question, whose Bangladesh are we proud of?