Cruelty before sacrifice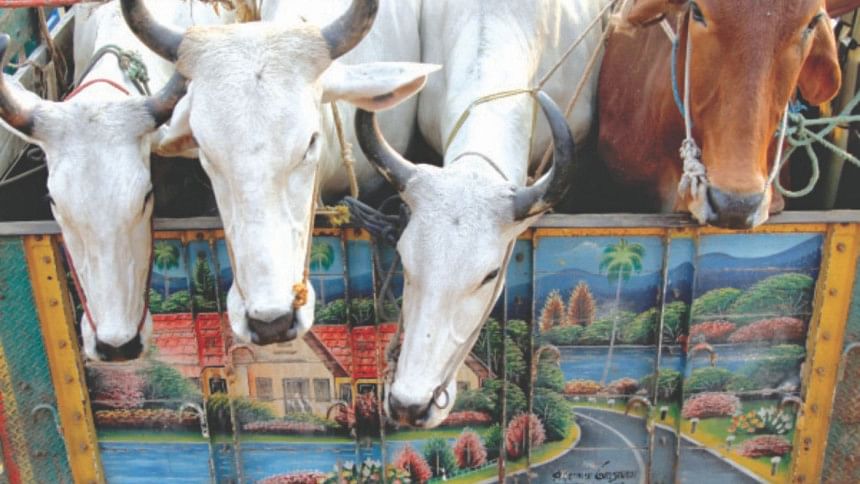 Dhola Babu was the most prized possession of cattle farmer Abdus Sabur. At only two-and-a-half years, Dhola Babu, the Friesian bull had gained a staggering 1200 kilograms of muscle. His huge 11-feet body, with delicate reddish-white skin, had to be washed two times a day to avoid overheating and infection from parasites. Abdus Sabur, the owner of Dhola Babu, says, "Dhola's mother Selina produces 30-40 litres of milk per day. But after Dhola's birth, I did not milk Selina for two years—Dhola used to consume all the milk. Besides, he would eat 7-8 kilograms of grass, corn and molasses." Sabur also bought two fans to keep Dhola cool during hot, humid days. 
All of his efforts were aimed towards this year's Eid-ul-Azha. He had thought that hard work and sacrifice over the last two years would pay off when he would sell Dhola for at least BDT 8 lakh. On August 26, Sabur took Dhola to a cattle market in Kushtia town. Buyers quoted up to BDT 4 lakh for Dhola and finally advised Sabur to take Dhola to Dhaka where Sabur could get his expected price. 
In a hired shared truck, Sabur boarded Dhola with 16 other cattle, and among them, Dhola was the biggest. There was no room for the cattle to sit, feed or stretch their legs. They could only eat some dry straw and sip a little water. Besides, they were also tied up with tough nylon ropes to keep them lined up properly. In the farm, a pen of 50 square feet was allotted for Dhola and now in the truck, 16 bulls were crammed into a 36 square feet carriage. 
It took 17 hours to reach Gabtoli from Kushtia due to long tailbacks in the highways. Dhola's feet could not support the weight of his massive body. When Dhola was about to be released from the truck, Sabur noticed that his bull was limping abnormally and suddenly fell to the ground. The veterinary surgeon on duty at Gabtoli cattle market found untreatable fractures in all four legs and declared Dhola unfit for sacrifice. It was a mortal blow for Sabur. With a heavy heart, Sabur had to sell crippled Dhola Babu to a butcher only for BDT 1.5 lakh. 
The tale of Sabur and Dhola is not unique. Hundreds of sacrificial cows die every year from suffocation and exhaustion in the congested cattle trucks. Many of the cattle develop major injuries that make them unfit for sacrifice. And the farmers, who invest all their belongings to rear these cattle, suffer from irreparable economic loss. Last year, when three of Saiful Islam's bulls died from suffocation, Saiful could not accept such loss. While burying his cattle, he suffered a heart attack, breathing his last on the way to the hospital. 
Before every Eid-ul-Azha, millions of cattle are transported from all corners of Bangladesh. Around three million cattle are brought to Dhaka to be sold for sacrifice. This year, according to the Department of Livestock Services 11,557,000 cattle will be sold all over the country.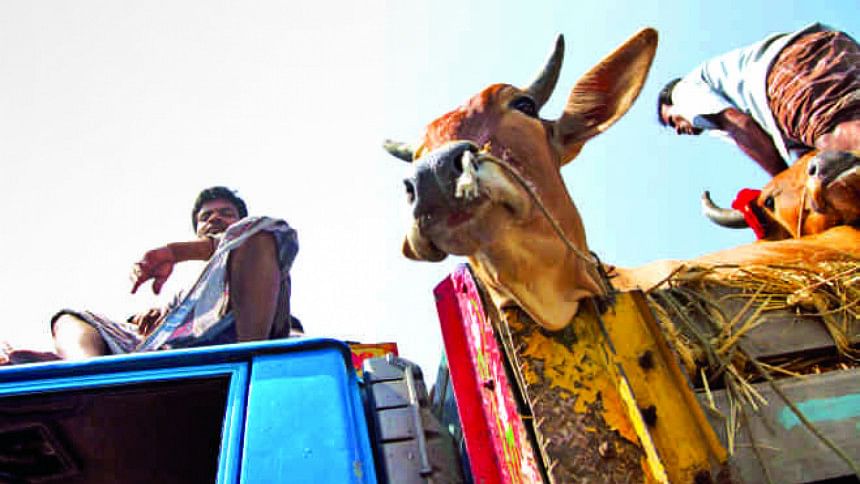 The only mode of transportation to carry this huge number of cattle is cargo trucks. Originally designed for carrying goods, these trucks are not at all suitable for transporting livestock. In the open carriage of the truck, all the cattle are placed in such a congested manner that the poor creatures hardly find any space to breathe. When they try to move around, the transport workers whip them brutally to keep them in line and to keep the vehicle stable.
"In developed countries, livestock carriers are specially designed with fans and fitted with fodder cases. We don't have those vehicles in Bangladesh. We advise the farmers to maintain 28 square feet of space for each of their full-grown cows. In Bangladesh's reality, it is not possible to maintain this space in a cattle truck. So the sufferings of these cattle seem to be inevitable at present," says Dr Abdul Halim, Chief Veterinary Officer at Central Veterinary Hospital. 
"A full-grown cow can remain standing for a maximum 3-4 hours. If it takes longer, it will certainly affect its health," he adds. 
Even after reaching the cattle market, these animals do not get any better treatment. The environment is dirty and unhygienic, and food and water are scarce. "The cattle market is full of thick mud and the pens are so dirty that I have to buy separate dishes to feed my animals. Water supply is not at all adequate. I paid the owner of the market an additional BDT 7000 to manage two electric fans for my two bulls but those fans never arrived. Now, my bulls are suffering due to extreme heat and mud," says Abdul Gani, a cattle dealer who brought two bulls from Mymensingh to the Mohammadpur cattle market. 
However, many cattle dealers are feeding their cattle in those dirty pens increasing the risk of infection. A medical team of two veterinary doctors with three compounders are supposed to be present in every cattle market. However, their presence could hardly be seen in the Mohammadpur cattle market. 
According to renowned Islamic scholar, Shykh Al Mansur, "Cruelty towards animals is strictly prohibited in Islam. It is deplorable how we treat animals in Bangladesh, particularly the animals that are meant to be sacrificed for Allah. Sacrificial animals should be treated with great care and love. We should remember that these animals are embracing death for the cause of our service to Allah."  
It has been mentioned in Al-Furu Min-al-Kafi Lil-Kulini (6:230) that Prophet Muhammad (PBUH) said to a man who was sharpening his knife in the presence of the animal: "Do you intend to inflict death on the animal twice—once by sharpening the knife within its sight, and once by cutting its throat?" Again, Hazrat Ali (RA) one of the righteous caliphs of Islam, says, "Do not slaughter sheep in the presence of other sheep, or any animal in the presence of other animals."
However, the way we treat these poor animals, from the perilous journey to the cattle markets to the very end of their lives, it seems that most of us have completely forgotten the message that Islam had preached through this great religious rite.   
---
Md Shahnawaz Khan Chandan can be contacted at [email protected]