Where are the women in the manifestos?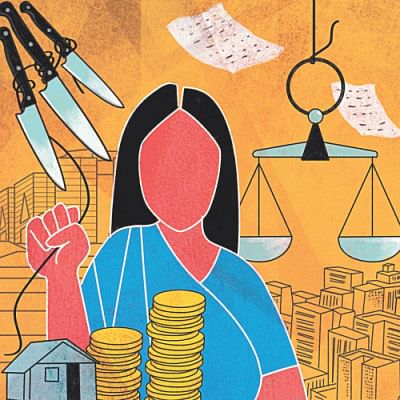 The manifestoes of different political parties came one after another over the last three weeks, and to the dismay of women's rights activists, promises made ahead of the 11th general elections lack any determination to even try and establish a fair, equal society for women.
The big two political parties—ruling Awami League and its major political opponent Bangladesh Nationalist Party (BNP)—are brushing aside key issues that require the most attention for women's empowerment.  
One of the pledges by the ruling party is banking and credit facilities for women entrepreneurs. While this undoubtedly necessary gesture is meant to encourage more women into economic activity, analysts say it is more important to remove the obstacles to equal property rights, which will automatically widen women's access to wealth.  
The Awami League also promises to eliminate gender-based wage gaps. This commitment was the cornerstone of all the action plans for women's empowerment made by this government over the last 10 years. If implemented, it will go a long way towards eradicating gender-based inequality. However, activists say that the efforts were not holistic enough because they did not acknowledge the crucial threats to safety that women face when commuting to their workplaces, or in the workplaces themselves.
AL is also pledging to build daycare centres at government-run institutions while "encouraging" private organisations to do the same. This pledge is administrative at best—and barely deserves place in a political manifesto meant for the general public. This means nothing for the majority of the women who need actual laws promising day-care facilities in all workplaces.
The AL also pledges to ensure recruitment of more women to higher positions of the administration and other institutions. This, if fulfilled, will embolden women in policymaking. But to free rural woman, especially those in agriculture, from the slavery of unpaid day-to-day toil is something that the party ignored.
Remarkably missing in the AL manifesto is the political will to bring changes to the policy-level to address the root causes for discrimination, deprivation and gender violence.
Meanwhile, the BNP says it will ensure significant representation of women in all constitutional organisations and direct involvement of women in all activities. Moreover, women will be given legitimate property inheritance if the party is voted to power.
The words "significant", "all activities", "legitimate" are vague and fail to explain what exactly the voters should be expecting from them.
Both the AL and BNP manifestoes go silent on major issues like reforming or repealing laws discriminatory towards women, and political empowerment of women through direct election to reserved seats in parliament.
What is interesting is that these issues had received priority in the AL manifesto of 2008. They curtailed it to some extent in 2014, and completely crossed them out of the book this time. 
In 2008, the AL assured that it would amend discriminatory laws having impact on women, increase reserved seats in parliament to 33 percent and ensure direct voting to the seats. Yet, one of the biggest deceptions happened in July this year when the government decided that the existing reserved seat system for women in the parliament will stay as is for 25 years. On the surface it seems like a good move—it will make sure there are 50 reserved seats for women for the next quarter of a century. But women in these reserved seats are not directly elected by the general public—rather they are selected from the political parties by existing parliamentarians themselves. Therefore, their participation in parliament is limited by the fact that they are accountable not to their constituencies but to the political leaders who chose them.
The political parties also haven't kept their commitment to developing at least 30 percent women leaderships within their parties, said Sultana Kamal. This issue does not make an appearance in this year's AL manifesto either.
However, this year Jatiya Oikyafront and its component Jatiya Samajtantrik Dal-Rob are pledging direct election to reserved seats. The JSD-Rob committed to 33 percent reserved seats and direct voting to the posts while the Jatiya Oikyafront said it would reduce reserved seats and make it mandatory for parties to nominate women for 20 percent of general seats.
The AL political manifesto this year also does not mention any of the promises they made in 2014, and couldn't fulfill. In 2014, the AL pledged to implement the Women Development Policy 2011 and end use of religion against women. This is the first policy of its type that holistically approached the issue of discrimination against women, with rather revolutionary provisions like recognising women's informal work and access to wealth. This, has, however seen little implementation.
And then there are the issues that have never made it to any of the political manifestoes of any year.  The state still refuses to change its position on withdrawing its reservation from two key provisions of the UN Convention on the Elimination of all forms of Discriminations against Women (CEDAW).
One of the two CEDAW provisions obliges signatory states to ban discriminatory laws, rules and traditions influencing women's lives while the other is about ensuring equal rights of women in marriage and divorce.
According to rights activists, as long as Bangladesh maintains reservations to these CEDAW provisions, they are not fulfilling the obligations of CEDAW itself.
When the state refuses to strongly condemn discriminatory laws and traditions, it is not acknowledging the fact that the lives of millions of Muslim women are governed by religious familial laws that give them less property than men, while Hindu women have no familial and marital rights at all.
In an analysis, the Citizen's Initiatives on CEDAW Bangladesh, a civil society platform of 56 women and human rights organisations in the country, said, "Almost all the governments have provided similar excuses… that Bangladesh is a Muslim country and anything that goes against religion is not doable."
Ayesha Khanam, president of Bangladesh Mahila Parishad, in a recent interview with The Daily Star regretted that "religion now has a greater role in politics, which is a threat to women's development".
Even if these issues do not make an appearance in the manifestoes, there is no visible restriction to keep the next government from doing more than fulfilling its pre-election pledges—but a precedent is hard to find.
In fact, the scenario is quite the contrary—even when the political pledges were actually implemented, they were done so half-heartedly.
Rights bodies had been pushing for laws banning underage marriage, and were elated about the formation of the Child Marriage Restraint Act 2017—except to their dismay, they discovered that the law has a provision allowing marriage below 18 years "under special circumstances" thereby negating its very purpose.
The Domestic Violence Act when enacted was lauded by law practitioners and rights organisations as a law distinct from other laws, because it is focused on protecting children and women from abuse, rather than punishing the accused. However, an effective system is yet to be put in place for women to seek help and shelter under the law.
Likewise, the Domestic Workers Protection and Welfare Policy 2015 was made and was considered a step towards recognising their labour rights. This still remains on paper years later.
The government also drew up a national action plan for implementing the Development Policy 2011 and five-year policies recognising women's rights, participation and inclusiveness. But at the root level there is little implementation, said the Citizen's initiative on CEDAW in a statement.
Sara Hossain, a lawyer at the Supreme Court, pointed out the necessity of training of responsible persons in charge and awareness.
"We need a much more urgent effort to train all those responsible for making these laws work–including judges, social workers and kazis–and at the same time ensure women and girls know not only what remedies they can get under these laws but also where they can go and who can assist them," she said in an emailed response.
Bishakha Devnath is a senior staff reporter at The Daily Star.