What does architecture have to do with child development anyway?
Mariam, a four-year-old, enters her new school for the first time. She takes a look around the new place and at all the unknown faces in her new world. A series of questions arise in her mind. How is this place? Is it friendly? Will she make friends here? Will the teachers be nice? Can she play here every day?
One-third of our population are children. Neurologists confirm that the first eight years of human life is a significant period for brain development. Young children develop physically, emotionally, intellectually as well as aesthetically only when there is an effectively designed environment around them. A child spends many hours in a school or a day-care center. But schools in our country are all designed in a similar way—L-shaped and U-shaped buildings, classrooms arranged one after another in a long corridor, with a playground to the fore of the structure. Few other building patterns are recognised; but how these structures are perceived by a child is a matter of concern.
Major dissimilarity between a child's conception of geometry and that of an adult has been assessed in the current years. In terms of scale, proportion, texture, colour, formal expressions and all other related elements, the visual images formed in a child's mind have no similarity whatsoever with an adult's vision. Yet, this is not reflected in the design structures of our country.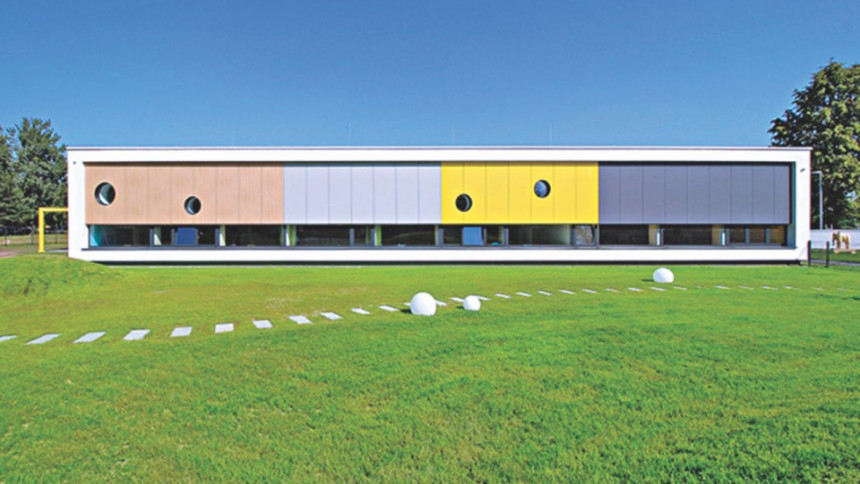 Young children can reach an improved psychological state and maximise their intellectual potential only in an appropriately planned structure. Growth rate and age-group analysis play significant roles here. Child educators confirm that a child goes through a number of changes in his/her state of mentality; from 'close to earth' to 'emotional', from 'shy' to 'interactive', they pass through a complicated journey of behavioral transformations. The role of natural settlement around him/her plays an important role here. Children's perception of all objects, movements, sound arrangements, colour, lighting etc. stimulates various portions of their brain. This results in development of their skills in music, vision, emotion and logical thinking. Again, a child with his restlessness and wonders would love to explore his surroundings. A long monotonous pathway would never fulfill his expectations and a sense of displeasure would arise. One straight and one curved pathway may produce completely different impacts here.
Psychologist Oshin Vartanian, from the University of Toronto, along with his research team, conducted an experiment (2013) to study brain activities in the arrangement of different interior architectural forms. Between 'rectilinear' and 'round styles', roundness was accepted as the most comfortable feature by the participants. Elliptical rugs, round couches and curved walk spaces seemed to create near-absolute human pleasure while a rectilinear interior only created monotony. According to Vartanian, "We prefer curves because they signal lack of threat, i.e. safety". Another study (2006) by Neuroscientist Moshe Bar (Harvard Medical School) and collaborator Psychologist Maital Neta indicates that 'pointy and sharp' surfaces activate amyglada (a part of the brain that stimulates sense of fear). According to the study, sharp lines form a feeling of threat and increase fear, while curved surfaces are harmless. Hence, visual images create huge differences in every mind.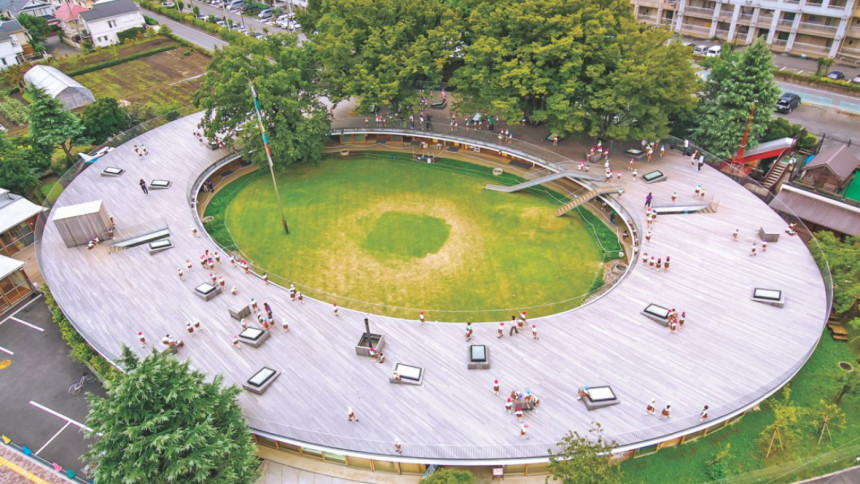 Child educators confirm that child growth is very rapid from age 5+ to age 10+(Nursery-Class 3). The growth after this certain period depends on the physical activity of the child. Physical movement is undoubtedly very important for child growth. Invisible restrictions, access to making discoveries and open playgrounds integrated with nature invite young children to respond in every way with their potentiality. Fuji Kindergarten (2011), situated outside Tokyo, designed by the Tezuka Architects have changed the idea of common design patterns of schools we observe today. An endless playground, circular walkway in the roof, open classrooms, play areas and certain details in the furniture are good examples of a better space for children in today's world.
The space in which a child grows is crucial to their development. The stronger a root grows, the stronger a tree becomes. Mariam and her new school friends look forward to enjoying their days and growing into a life full of wonders. It's time for us to stop imposing our world onto theirs.
Murchana Madhury has a Bachelor of Architecture from Chittagong University of Engineering and Technology.