Taxing Periods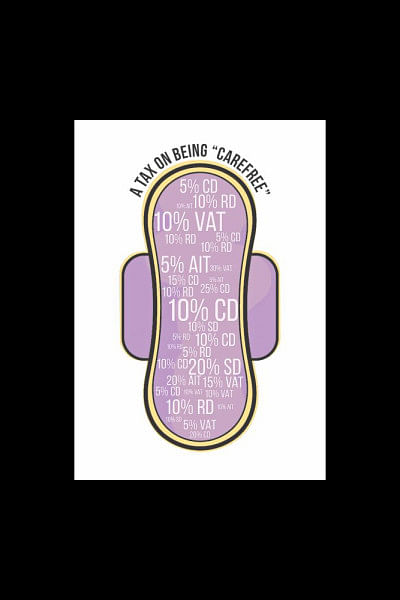 Like other remote villages in Bangladesh, in Barapushia, a small village in Gazipur, having your period is something to be kept a secret. Eighteen-year-old Shahnaz Sharna recalls how her mother cut up an old petticoat, folded it and gave it to her to wear on the heavy-flow days of her periods once she entered puberty. From then on, Sharna has used old rags, scrubbing them with soap at dawn when nobody else was up, and drying them behind the alna inside the house so that nobody could see them. Even today, in her college years, the practice has not changed.
"Most of the time, the rags don't dry properly. Sometimes, I need to dry these under the sun, but my mother doesn't allow me to do so as my younger brother is growing up in our house. If he comes across the rags, it will be quite shameful," says Sharna. "In the winter or during rainy days, the cloth takes one or two days to dry properly. But since I need to change, I'm forced to use the wet ones," she adds. "It is quite uncomfortable and causes itching and irritation."
"Why don't you use sanitary napkins?" I ask.
"It's not that I don't want to use sanitary napkins. My father is only a mason by profession, and he fulfills all the responsibilities of our family. I cannot ask for money for such extravagant things," says Sharna. "Sometimes, I try to save from my pocket money, but most of the time I need to spend my savings on essential study materials such as notebooks and pens," she says.
Thirty-year-old housewife of the same village Morshida Akter, whose husband is a migrant worker, believes that she can spend the Tk 100-150 per month for buying pads on other items—a dress for her five-year-old or some good food for the family, for instance. "If the price was lower, I would think of buying it. Otherwise, these are just luxury items and not for a woman like me," states Akter.
According to a report of SNV Bangladesh, Sharna and Akter represent over 89 percent of Bangladesh's 78.4 million women, who still use rags instead of sanitary napkins. This practice also compromises their health, productivity and dignity, with the risk of embarrassing leaks and harmful infections. To them, sanitary napkins are a luxurious item—beyond the affordability of women who belong to lower-income families. The 2014 Bangladesh National Hygiene Baseline Survey showed that sanitary napkins that are available in the market, ranging between Tk 60 to 200, are only used by 10 percent of the female population.
But why is the price of sanitary napkins so high?
Manufacturers say they need to pay different types of taxes while importing raw materials for producing sanitary napkins. Thus, the price of the product, once in stores, remains beyond the purchasing power of women like Sharna and Akter.
Square Toiletries Limited, producer of the leading 'Senora' brand of sanitary napkins, informs Star Weekend that they mainly need to import nine raw materials—pulp, air laid, PE back sheet, silicone release paper, individual wrapper, adhesive tape, and others—to produce the sanitary napkins. For these, they need to pay custom duty (CD), regulatory duty (RD), supplementary duty (SD) and government imposed advance income tax (AIT) and value added tax (VAT).
The category itself has around 15-16 percent market penetration according to the latest report. According to the company, if the duties are relaxed, it would decrease the price of sanitary napkins by 8 to 10 percent; the price would go down another 15 percent if VAT is excluded. Although there's still a long way to go, the company says that they are working with different bodies to pursue the issues with government.
However, according to the calculation of Bashundhara Group, which markets 'Monalisa' sanitary napkins, if VAT and other taxes related to import can be eliminated, the price of pads can be reduced by at least 40 percent. Either would make headway in making the price affordable for women of lower income groups.
The chairman of the National Board of Revenue, Md Mosharraf Hossain Bhuiyan, informed Star Weekend that the current system is set to continue. He refused to talk any further about the pros or cons of imposing such a tax, adding that if anyone has a problem, they can raise it prior to the next budget. 
"This is not just a menstrual hygiene issue. Rather, it's a fundamental health issue," comments Ayesha Khanam, President of Bangladesh Mahila Parishad. "Since the government is committed to the health issue of adolescents, they must work on the high price of sanitary napkins and subsidise the prices so that they can maintain their menstrual hygiene properly."
"While pricing, companies manufact-uring these items must keep in mind that this is an essential for half the population and there is already a lack of awareness and access. The price must be at a level at which it isn't a luxury for economically deprived groups," adds Khanam.
The 2014 Bangladesh National Hygiene Baseline Survey also shows that 40 percent of absenteeism of school girls is due to lack of access to menstrual hygiene products. On the other hand, the RMG sector has been losing significant hours every year due to absenteeism on period days, which affects factory productivity and profitability as a whole. 
Although low-cost reusable sanitary napkins should be the ultimate solution, pads are still seen as an essential item and hence, highly taxable. "Ensuring menstrual hygiene products at a low cost to all women and girls of reproductive age can be a good political commitment in upcoming election manifestos. More than 30 million women of reproductive age are going to vote next month, but their urgent issues are not addressed by the major parties," says Mamunur Rahman, founder of the low-cost reusable sanitary napkin 'Ella Pad'.
The high price of pads does not just affect the financial statuses of women, it affects their reproductive health and well-being as well. "Cloth or rags used frequently and unsafely can easily cause bacterial infection, itching, and discomfort if it is not cleaned, washed, and dried in a hygienic way. Also, if someone has already developed an infection or laceration in the vagina and use such unhygienic rags, it will aggravate the problem," says Dr Firoza Wazed, Associate Professor at the Department of Obstetrics and Gynecology at Dhaka Medical College Hospital (DMCH). "I believe the only solution is to reduce the price of pads to make it accessible for everyone; the government must take necessary steps so that women can use it without being worried about their financial condition," she adds.