Social media and fake news: The beginning of the end?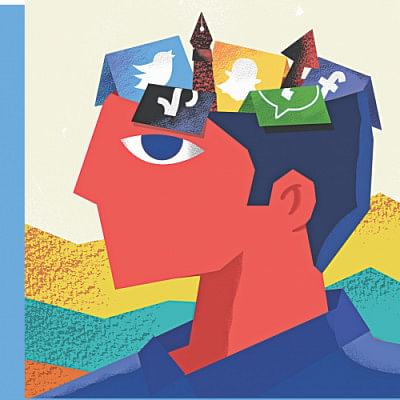 When the Internet came, media outlets were faced with two contrasting choices: provide a web version for people to read content freely or risk descending into irrelevance. In other words, they had no choice other than coping with a rapidly changing circumstance. Almost every media outlet in the world subsequently chose to operate a website, and then share articles on Facebook and Twitter. 
What ensued as a result was a love-hate relationship with social media. On the one hand, Facebook and Twitter likes can provide an enormous amount of traffic to news websites. On the other, they take away a large chunk of the latter's revenues, partly by using content generated by them.
For instance, a study by French multi-national media agency Publicis forecasted last month that the global advertisement spending on social media in 2019 will overtake print media for the first time in history. Similarly, a The Daily Star report from February 2018 estimated that Bangladeshis had started spending up to Tk 10 billion on advertisement through Facebook and Google every year. Clearly, a huge portion of these revenues that could have gone to news media went to two companies in Silicon Valley, California.
And then there are digital-only platforms that do not have to bear the expenses of subsidised print circulation, unlike most newspapers. Even then, not many of them succeeded. In the US and the UK, with the exception of BuzzFeed, few digital-only outlets made a significant difference, Dean Baquet, the New York Times executive editor, recently noted.
However, the biggest damage caused by social media to the press is that it forced digital news outlets to produce or generate as much content as possible. The incentive is obvious: the more the merrier. This obsessive battle for eyeballs has turned media outlets into content machines.
Last month, a Columbia Journalism Review article by Daniel Tovrov, a former World page editor of the International Business Times, described in harrowing detail how Newsweek instructed its staff writers to produce new stories every hour, and then measured a reporter or writer's worth by how much traffic their articles attracted. Like an objective set for a sales executive, journalists were given a minimum target to generate content that attracted at least a million unique page-views per month. Since re-writing previously reported stories was what drove revenue, senior and experienced journalists were let go and replaced by new interns desperate for entry.
As a former journalist who still keeps close tabs on what's happening in the media, I can safely say our media industry is no different. Many existing TV stations and newspapers are not paying staff salaries for months. We hear new interns, coming out fresh from universities, are paid as little as Tk 5,000 a month—that too, not regularly, and without any certainty that their jobs would be made somewhat stable, let alone permanent.
What makes our situation worse is that anyone with an investment worth as little as USD 50 can set up a WordPress-based website and start copy-pasting news items produced by mainstream news sources. And search engine and social media's algorithms haven't yet learned Bangla well enough to downgrade these websites. With a bit more decent investment, these websites could hire few writers and translators to run weird, sensationalised click-baits or outright lies as news items, and share them on a Facebook page, which could be "boosted" to reach hundreds of new audience members with few hundred dollars, or some other unethical strategies.
Google and Facebook have occasionally modified their algorithms to rank higher original, investigative, and long-form pieces than rewritten news items. But for that change to affect Bangla content may take years.
What is scarier is that online versions of many reputed news outlets—both newspapers and TV channels—have adopted similar strategies. Many of these websites churn out stories based on gossip, or they translate articles from discredited sources or even satirical websites.
A newspaper in our country, for instance, translated a story from the prominent satirical website Onion back in 2009. The report claimed that the moon landing had been faked. It triggered so many reactions that Time covered the incident, quoting an editor of the paper as saying, "We thought it was true, so we printed it without checking." Numerous newspapers get away with publishing such ludicrous stories on their websites regularly, that too, perhaps knowing that they were untrue.
It is these trends that necessitated the conception of BD Fact Check, a fact-checking website that debunks atrocious articles from mainstream news sources. Its recently debunked fake stories include: Cristiano Ronaldo, the Portuguese football star, decried Jews to express solidarity with Palestinians; Islam recognised by UNESCO as the world's most peaceful religion; Turkey set up "army of Islam" to invade Israel; Bin Laden is alive in the Bahamas, claims Edward Snowden; etc.
BD Fact Check's co-founder and editor, Qadaruddin Shishir, tells me that in terms of numbers, discredited websites run more fake or click-bait articles than mainstream ones. But, he says, in terms of impact, the fake or click-bait articles published in the mainstream media websites garner far more reach because mainstream news sources have more credibility and prominence, and much larger Facebook audiences. Such articles are also more difficult to debunk: if a fake news item coming from a mainstream source fits one's preferred narrative, it is difficult to make them believe otherwise without compelling evidence.
But as Kalev Leetaru, an internet entrepreneur, argued in Forbes earlier this year, the "fake news" phenomenon is not a technological problem but an information literacy issue. Surely, social media or the Internet does not ask you to lie or run stories without verifying them; but if it was not for the social media, "fake news" could not have proliferated to the extent it does today. Perhaps it is in our instincts that we spread rumours faster than truths. But social media stimulates that urge, just like it convinces us to post every moment of our life on its platforms.
This is the real damage that social media has inflicted on Bangladeshi journalism. This is not to say that the quality of our journalism used to be much superior than it is today, but that social media has certainly added to its woes. Sadly, there is little the media can do to reverse the situation, except for changing its own behaviour.
Nazmul Ahasan is a commentator and communications executive.