The journey for a home
Anthropologist James Clifford says that the term travel can be understood as a form of 'global contacts' in a post-colonial word. I realised that a genuine traveller is reflective, moving across a landscape where things are in place. To me, movement is always a kind of travel in a particular time and space. I thus prefer to use the word 'travel' instead of the old-fashioned 'recreational journey' metaphor.
Here, I am talking about experiential authority, which was based on a "feel" for the foreign context, a kind of accumulated savvy and a sense of the style of a people or place. To know who I am means knowing where I am. I am in a centre which I carry with me. For me, Jahangirnagar University at Savar, Dhaka, once formed the centre of my world. I had to leave my Dhaka residence, and my son's schooling had to change to California as well. A big dislocation took place in my life. I learned that wherever I am can be the centre of the world. Centres and borders, homes and other places, are already mapped for me. Let me explain my migratory experiences in Los Angeles (LA) along with my family members.
It was on September 27, 2011, I flew into LAX airport. I went to pursue post-doctoral study at the anthropology department at the University of California, Irvine (UCI). My host gave me a ride to my on-campus housing. It was an hour's drive from Los Angeles (LA) to UCI.
UCI is located in Orange County, a close neighbour to LA.  I could see the Bangladeshi areas on Third Street. I stopped in a deshi restaurant-cum-grocery store for a while. After coming to downtown LA, one enters the Orange County freeway. I could easily see the ocean on my right as we passed through the Long Beach communities. I had heard earlier that a Bangladeshi community resided here, and that they had a long history of settlement. Bangladeshis here are now involved in businesses and factory-based employment. After I stopped in central Long Beach beside the Pacific Ocean, some Bangladeshis were visible in a halal butcher shop.
We started for Irvine, soon passed Disneyland in Anaheim, and entered Orange County. The freeway led us to a city called Irvine that was marked by ostentatious and posh buildings. I was told that living in Irvine indicates a prestigious way of life because of its architecture, its location near beaches, a major university, expensive housing tracts, and a booming high-tech industrial area.
 On our way, I noticed the vistas and huge farmlands on both sides of the freeway. These instilled strange feelings in me. Eventually we entered the university campus and went to the housing office to pick up the key and contracts for Gabrielino Drive at University Hills. University Hills is the castle-like on-campus accommodation.
My family joined me three weeks after my arrival. Ethnographic and travel writing texts are thus connected by my accompanying family members: one of the basic paradoxes of anthropological habitus analysed by anthropologists. We used to walk around University Hills, and we enjoyed the manicured landscape, the lovely parks, the nicely-kept walking paths that were well-lit for evening strolls. My two little kids played in nearby parks and, of course, in the closest little yards. There really were some nice paths to walk on, providing views of unknown trees.
Along with my family members, I often walked the winding paths along the rolling grass. My sons played hide and seek with sparrows. We had to stop for the sound of chirping birds. Pushing Eshan, my younger son, in his pram, we napped in the shade for a while. On our way back in the evenings, we witnessed how beautifully the sun's last rays illuminated the tops of trees and reached into the park.   
Though surrounded by university housing for students and faculty, shopping centres and vibrant vehicles, we felt isolated, distant from, and unnoticed by the larger Bangladeshi community. I shared these initial shocks with my colleagues at UCI and I became 'in need of dire help'. My colleagues introduced me to the wider community as 'a new person in town'.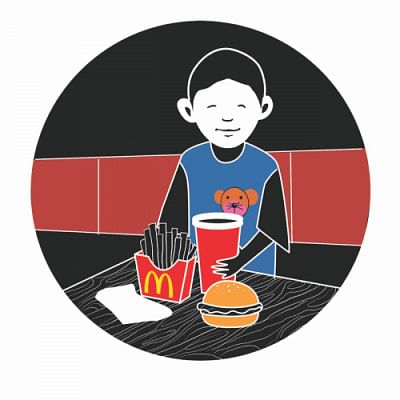 Almost every day my family used to go out to see all the new things around us. The new environments quickly attracted him. In central campus, there are signs for Jack in the Box, In-N-Out and an Indian take-away.
For my elder son Ifaz, the immediate dreamland was Disneyland and the broader dreamland was America. At the domestic level, my house turned into a site of indoor games where the little one joined in as well. My elder son became a 'model minority' who was the centre of his multi-racial friendship group. He immediately became comfortable with American icons such as McDonalds, Coca Cola, Jack in the Box, and In-N-Out. Visiting Indiana Jones or riding Splash Mountain, Transformers or roller coaster in Disneyland made my family crazy. Maybe he was under tremendous assimilative pressure to Americanise.
Before landing at LAX airport, Eshan had lived for six weeks in Dhaka after he was born. The centre shifted to the Pacific coast. His migratory map was like this: His first home was in Dhaka, then California. He travelled to and from across the world by push chair, passport, health insurance, videos, photos and genealogy.
How about my wife Asma? Our campus life was in many ways close to the episodes of Jhumpa Lahiri's great novel, The Namesake. Like Ashok and Ashima, we were a young couple who having had an arranged marriage in Dhaka, moved to the US and had two children. Asma in some ways is close to The Namesake's young woman Ashima (the two names are similar as well). Ashima's mother-in-law gave her many tips on how to survive in New York, living far from home. Unlike her, Asma was fortunate to have two first cousins, Bani apa (sister) and Dipu apa. Whatever Asma needed to know, she hit Skype and got all the solutions from these two apas in a minute. Through making close ties with other Bangladeshi women, she learned to trace Indian cuisine from the 'wholesome' shop and got familiar Bengali fresh vegetables from farmers' markets.
So, we had a 'home' as long as we stayed there, because it had a set of practices, relations, memories and events. rather than a particular geographical place. We had our own telephones, security numbers, bank accounts, offices, schools, neighbours, relatives, well-wishers, and legal identity of the prestigious Fulbright scholarship sponsored by the State Department. For this reason, Gabrielino Drive at University of California, Irvine campus was our 'home'—a sweet home.
Dr. Zahir Ahmed, Professor, Dept. of Anthropology, Jahangirnagar University, Dhaka And, Former Fulbright Senior Visiting Fellow (2011-12), Dept. of Anthropology, University of California, Irvine. This is part of Ahmed's forthcoming book entitled Little Bangladesh: Voices from America.