Murder and Love Scenes
Wending My Way Toward Ray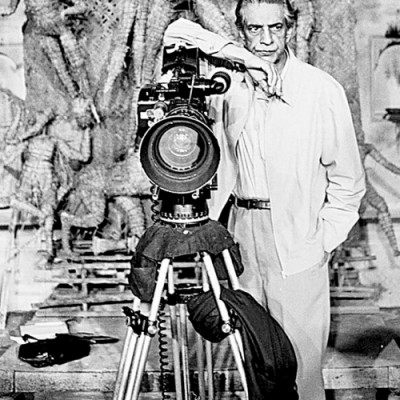 My father taught us to wear our Bengaliness with pride. It was impressed upon us that we, by being born Bengali, had inherited a rich intellectual and artistic tradition. Our very own Tagore, after all, had been the first South Asian Nobel Prize winner for literature. Even more significantly to my father, his creative voice had rung clarion-clear and urgent amid the cries for independence from the Raj. My sister learnt Rabindra Sangeet and Nazrul Geeti while I memorised their poetry. My father read us Sukumar Ray's stories and fairy tales from Thakurma'r Jhuli at bedtime.
Sukumar's famous son, whose patrician profile was outlined on hardbound Feludas occupying pride of place in the "showcase" where my father kept his books, was chief amongst the examples that my father cited to prove the cultural greatness of Bengal. Satyajit Ray, he explained to me, was known all over the world. Film schools studied him! He'd won an honorary Oscar! He had made Pother Panchali, the finest film of all time!
My father had me watch Hirok Rajar Deshe one sleepy Friday afternoon. In all honesty, I would rather have been watching cartoons, but I remember being charmed by the rhyming verse dialogue and the genteel whimsicality of the film, so different from the noisier shenanigans of the English- and Hindi-language children's movies I was used to watching. But eventually I was overcome by the film's deliberate pacing and fell asleep to Utpal Dutt glowering while my father roared in laughter next to me.
I recall snippets of various Ray films playing in the background of my growing-up years: Shatranj Ke Khiladi (The Chess Players) on television, with a radiant and unhappy Shabana Azmi in its margins; Aranyer Din Raatri (Days and Nights in the Forest), perhaps, or Nayak (Hero) — one of those urbane vehicles where Ray employed Sharmila Tagore's arch, questioning gaze to such splendid effect.
But I finally sat down to watch one of Ray's movies from start to finish only in my early twenties. I was living in Chicago by then, films from the world over came to my door in little red Netflix envelopes, and I felt like I needed to get to know the cinema of my people better. Charulata felt like the right sort of reintroduction to Ray because I already had a bit of an acquaintance with it, courtesy its source material. At about ten or so, I'd gone to a performance of "Shyama," at the Abu Dhabi Cultural Center and bought a translation of Noshtonir (TheBroken Nest) in the lobby after. I was a rapaciously indiscriminate reader as a child, and consumed acres of stuff I probably had no business reading. Of course, I had bumbled through Tagore's novella with little understanding of the proceedings, except that it seemed to end sadly. Charulata would bring me back to Tagore as well as Ray, and I could bring my adult understanding to bear on this heralded work.
If you've watched the film, which is perhaps my favourite of all time, you remember the opening credits, which are accompanied by a close-up of a pair of hands working on a bit of embroidery. A stately, almost sorrowful instrumental arrangement of Tagore's "Momo Chitte" scores this long, steady shot. As the credits end, Madhabi Mukherjee leans into the frame and cuts the thread with her teeth, and the camera pulls back.
This is as indelible an opening to me as "Mrs Dalloway bought the flowers herself." There is something perfectly quotidian about both beginnings, yet by looking straightaway at the prettily ordinary doings permitted within their protagonists' circumscribed femininity, both Ray and Virginia Woolf establish their concerns with an intentful economy.
Woolf, of course, was chatelaine of the Modernist movement in English literature, while film critics often situate Ray's films, particularly the Apu trilogy, in the cinematic tradition of social realism that feels more analogous to the Victorian novel of Dickens and George Eliot. But Charulata is thoroughly, wondrously Modern in its interiority, its attention to the chiaroscuro play of anomie and restlessness, desire and pain across its protagonist's mind. I still marvel at how Ray compellingly dramatises the inner life of his heroine with no voiceover, little expository dialogue; one feels as if one has an ear to her heart. He achieves this miraculous filmmaking feat by showing us what she looks at with her curious, half-hostile gaze—through the slats of windows, through binoculars, or as she cuts arcs in the air with her feet on a swing.
From time to time, I think of that scene of Charu swinging in that ruined garden, singing "Fuley Fuley Dhole Dhole." (She sits on that swing again later in the film, as images from the village she grew up in play across her face.) I think of the joyous contentment on her face as she sings about the flowers and the cuckoos, and it is precisely the expression I've felt on my own face as I've walked through streets singing and exulting over some particularly blue sky or particularly gemmed sunset on the lake. I think of that joy shading into pensiveness as she sings about not knowing what her heart hankers after. Ray watches Charu as she is looking at her own quicksilver self, considering her joys and longings. Ray makes his protagonist's stream of consciousness visual and legible to the audience. It is the most sublime moment I've ever encountered in a film.
I have gone on to watch several of Ray's films since that first viewing of Charulata, as you may have guessed, and I have admired them and excitedly noted their influence on the work of filmmakers who came after him. But of his work, I return only to Charulata again and again. Its intimacy still feels potent, its ability to make the ineffable and inchoate visible still astonishing. I am still struck by the film's mastery over light and space. The film is shot in black and white within one large house and its grounds, but it is suffused with light and air in a way that the more expansive and similarly themed Ghare Baire (The Home and the World), which came out decades later and was shot in color, isn't.
Ray was making films during the same period as Jean-Luc Godard and the other Nouvelle Vague filmmakers were putting out work that is now recognised as some of the most important and exciting in film history. Charulata came out in 1965, the same year as Pierrot Le Fou. Charulata is certainly less conspicuous than the cunningly edited, eccentrically performed Pierrot Le Fou, and Ray is likely less well-known by your garden-variety cinephile than his European counterparts. But I find his often quiet, unflashy films radical and incredibly important in their own way. It seems to me that Charulata's heroine, and the heroine of Mahanagar (The Big City) and of Ghare Baire, is a fully realised person in a way that the languid, fascinating women who entice and frustrate the men in the celebrated works of Godard or say, Rohmer often aren't. Ray was interested in his female characters as complex, interesting, irreducible people whose problems the men around them couldn't swoop in and solve.
My father and I don't talk very often, but recently I told him about watching Ray's films here in the United States, how much I loved Charulata, and how they were playing the Apu trilogy in the theaters. He responded positively enough but quickly moved on to subjects he was much more interested in discussing - my finances and his various ailments, gossip related to extended family, that sort of thing. He's changed a great deal, his passion for the arts entirely replaced by religious zeal, and we, having long had our differences, have reached a détente that precludes closeness. But even with thousands of miles and acres of silence between us, I'm rather glad he was the one who started me off, nice and early, toward Ray's cinema, films that have been such a windfall of meaning and beauty in my life.
Sal Salam lives in Chicago and works in HIV testing and prevention counselling.