Murders and Love Scenes
The Rousing, Troubling Spectacle of "Padmaavat"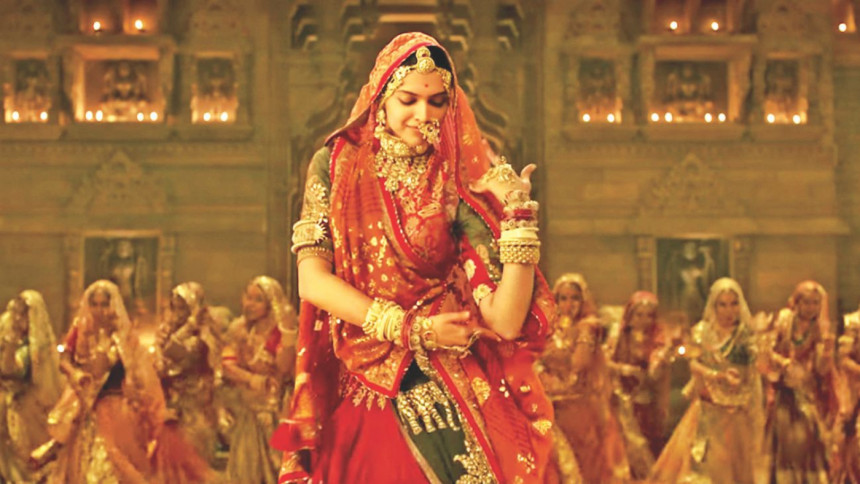 Sanjay Leela Bhansali's "Padmaavat", based on Malik Muhammad Jayasi's epic poem of the same name, was originally titled Padmavati after Jayasi's heroine, a queen whose famed beauty prompts kings and emperors to wage wars in order to win her. The title change, a placatory concession to the Indian film censorship board's ridiculous demands, better suits the film Bhansali has made, since the queen (played by Deepika Padukone) isn't its central figure at all. Padmavati may cause men to commit bigamy and wage wars, but she is merely a catalyst for a great deal of "Padmaavat". The movie is really about Ranveer Singh's Emperor Alauddin Khilji, whose appetites are Bhansali's chief narrative concern for most of the film.
Or perhaps it only seems that way because "Padmaavat" is at its most compelling when it focuses on Khilji, a Dionysian monster who invades Rajput ruler Ratan Singh's kingdom so he can possess his second wife Padmavati. Bhansali and co-writer Prakash Kapadia write Khilji as an irredeemable villain whose only motivation is a monomaniacal pursuit of self-gratification.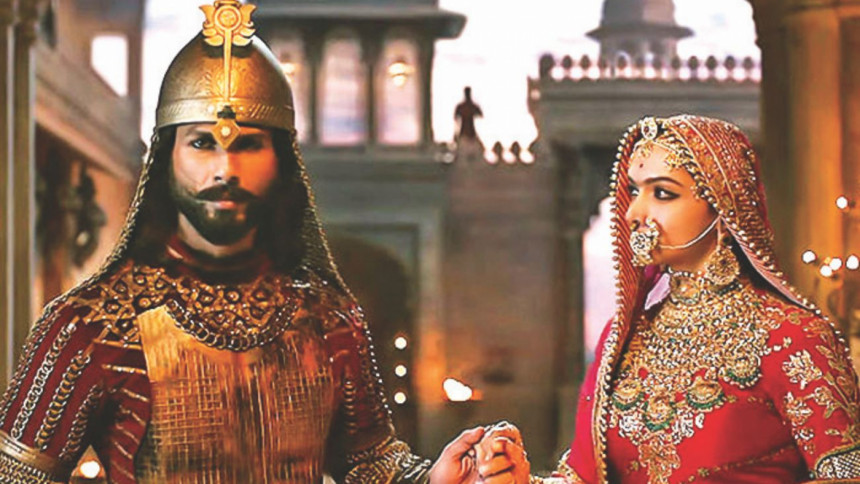 There is no way to play this character small or subtle, and Singh goes full Jack Nicholson, snarling and grabbing and hyena-laughing. It isn't as nuanced or profound a performance as his seignorial Bajirao or his winning Ram. But he finds a specific key for his work here, a place of canny psychological understanding from which to run the Khilji show. His Khilji is a sentient erection, the personification of the male id run viciously wild.
The other male lead doesn't fare as well, alas. Shahid Kapoor's Ratan Singh is the sort of character whose entire arc is composed of foolhardy decisions made in the name of honour (often despite the warnings of his much smarter wife). This thankless role needed an actor who could sell this sort of fecklessness with larger-than-life swagger and matinee-idol charisma. Kapoor, charming when he plays resolutely life-sized scallawags or scapegraces, does a weak Raaj Kumar impression here that stops "Padmaavat" in its tracks every time he appears, which he does unfortunately often. His is a leaden overreach of a performance that nearly sinks the film.
It doesn't help his case or the Rajput-centered parts of Padmaavat that Kapoor doesn't spark at all with Padukone. Despite Kapoor's frequent shirtlessness, they just don't sell us on the kind of grand passion the Bhansali-composed score tries so plaintively to convince us they share. In their scenes together, Kapoor and Padukone also don't look very … human. This may have something to do with the CGI Bhansali has developed such a regrettable fondness for (some of the visual effects in this very expensive film, especially in the war scenes, are hilariously bad), but the two are uncanny-valley smooth and waxen in their scenes together.
Khilji and his people, on the other hand, are a sexy bunch, from his bard Khusrao (who did travel with the historical Khilji) to his majordomo Kafur (played by a sly, sinuous, scene-stealing Jim Sarbh, whose theatre-honed maximalist performance style is the perfect match for Bhansali's cinema). Khilji may be a beast, but he's also a connoisseur of rare beauties. One of the reasons he intends to acquire Padmavati is because he is a collector of objets d'art, convinced that he has a divine right to every priceless thing in creation.  Khilji's sleet-coloured, fur-lined environment is perhaps meant to seem less civilised than the Rajputs' tawny, inlaid, perpetually lit-up halls. But it is also more alive, more tactile and seductive in its textures and design. The greatest of all the visual pleasures in Khilji's world is his beleaguered, quietly wilful wife, Mehrunnisa, played by the lucent Aditi Rao Hydari. The actress looks like stained glass and possesses a rare ability to wear increasingly elaborate headpieces with regal insouciance. Padukone and Kapoor, on the other hand, have trouble holding themselves aloft in miniature-embossed, varq-covered Rajput regalia that is astonishing in its craftsmanship but just about drowns the two.
Padukone seems much more at ease in the clinging, earth-toned costumes of Padmavati's native Singhal that look like something Bhanu Athaiya might have designed for a more covered-up version of Amrapali. The actor is at her best in this brief prologue; hunting deer and parrying with Kapoor, she plays, for a short while, a person rather than some sort of serene, (literally) unblinking feminine ideal. Padukone is a major star known for her poised, majestic beauty. This has misled Bhansali into casting her in these grand, stylised, period-drama parts that aren't characters as much as stylised archetypes. Here, as in Bajirao Mastani, she is perfectly solid. But Bhansali envisions his Padmavati as the Goddess Queen, and he needed an actor steeped in the rasas, with the dramatic grace of the trained classical dancer, with crisp, bright articulation and a near for the plangent truth and transcendence in Bhansali's pageantry. Padukone, with her invariably current-sounding cadences and affably down-to-earth mode of performance, is not that actor.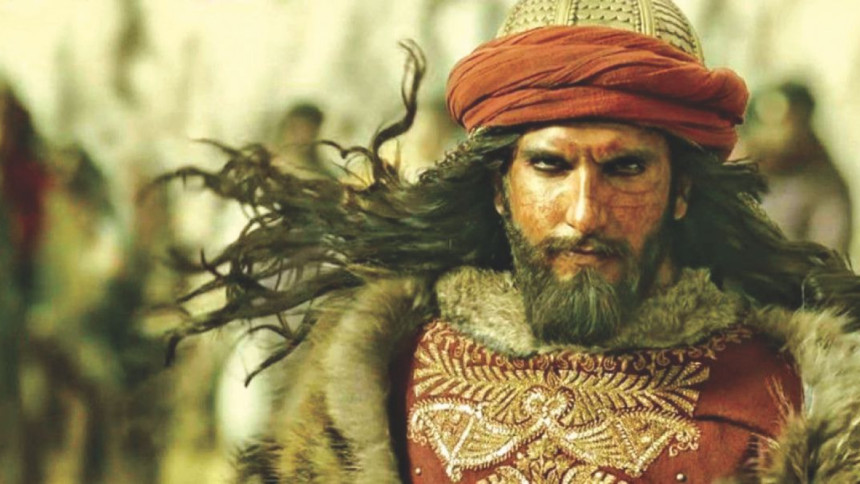 She does try valiantly enough, especially in the jauhar set-piece that you know the entire film has been building up toward. I suppose this denouement is what attracted Bhansali to film the Padmavati folk legend in the first place, before he realised he couldn't do much with her story and switched attention to the more interesting Khilji (or perhaps Singh's more interesting performance is what swayed him as he worked on the film). Figurative self-immolation in the name of love and honour has been a concept in several of his films, and he finally literalises that notion. And, of course, this climax gives him all the thwarted lovers and would-be lovers his heart could desire. The gates of Chittorgarh even shut in Alauddin's scorched, despairing face as resoundingly as the gates of Parvati's palace prison did as Devdas died outside them. It is, in a sense, the Bhansali ending taken to its spectacular extreme.
And it is a spectacle all right—a gorgeous, sickening provocation that borrows from both "Mirch Masala" and, as I've mentioned, Bhansali's own "Devdas". It also reminded me of last year's (much less entertaining, somehow even more daft) Mother! A scarlet cascade of women and little girls, irradiated by the numinous, lunatic conviction of their leader, walks into a wall of flames. Why? Bhansali has taken enough liberties with the source material. (Ratan Singh, for one, dies at the hands of a—wait for it—rival Rajput ruler in the poem instead of being felled by Khilji's dishonorable army, which is the frankly baffling route Bhansali takes in the film.) So why does he see no other ending for his heroine, especially after insisting that she is resourceful, strategic, learned in warcraft and showing her thwarting Khilji and his army in a variety of ways?
Well, "Padmaavat" spins Padmavati's suicide as an act of agency and self-determination. Padmavati asserts that denying Khilji of herself permanently is the greatest defeat she can mete out to her unrelenting pursuer. But perhaps the filmmaker, whose take on masculinity is unmistakably gloomy (it is a rickety, myopic enterprise constructed of hubris and gluttony), cannot see for his Goddess Queen a world without her man, sadly lacking in sense though he may be, to adulate honourably and in perpetuity.
Bhansali's gilded worlds are steeped in a sort of sacral masochism, regardless of whether those worlds look like a baroque-amusement-park version of early 20th century Bengal or fourteenth century Rajasthan viewed through gold-flecked opera-glasses. All through his oeuvre, Eros and Thanatos are twined like the lovers in his beloved Ajanta frescoes. You love and you die, you die because you love, you love because you maybe want to die. When you buy what he's selling, you walk out bludgeoned but sated by the lapidary madness of the man's vision.
This time around, I wasn't quite sold. Perhaps he needed to have arrived on a different iteration of this story, one that relegated Ratan Singh to the background, or one that busied itself even more fully with Khilji, aesthete, seducer, and conqueror, at home. The few glances—covetous, envious, heartbroken—his disillusioned but still in-love wife and the even more in-love right hand man cast at him have more frisson than all of the anodyne romancing-in-the-Rajputana business that has earned the filmmaker only persecution for his trouble. As it stands, though, "Padmaavat" has plenty of beauty and a memorable beast, but I'm not sure it has much else besides.
Sal Salam lives in Chicago and works in HIV testing and prevention counselling.