MURDER AND LOVE SCENES
Fashion in Film: A Love Story
My father didn't look like other people's fathers when I was a young child. He was tall and fit and square-chinned and took great care with how he dressed. He wore Italian velvet blazers and Lanvin ties and Persol sunglasses. Other dads' polos, tucked high and tight into dress pants, could barely contain their cheerfully ample selves at dinner parties; my father would be dressed with casual, throwaway stylishness in a camel sweater, a Kashmiri shawl thrown casually over his shoulder. "Your dad looks like a movie star," my sister's friends would tell her. "Salam-bhai is one hundred percent Vinod Khanna," various aunties would coo. Indeed, my father had paid close attention to matinee idols of his youth. He could tell you which of his suits looked like Clint Eastwood's in Dirty Harry and which of his broad-buckled belts was like Robert Redford's in Butch Cassidy and the Sundance Kid. I learned early that style came from the movies.
Dad didn't just dress well himself; he made sure my mother, entirely unworldly, did so as well. He practically curated her sarees, nixing colors he deemed unflattering and frowning on cheap poly-blends. There is one saree I remember in particular, a feather-light chiffon thing spangled with sequins that delighted my six-year-old magpie heart. I thought of it as my mum's Chandni saree; it was the sort of thing Sridevi wore with such glamorous demureness in Yash Chopra's Chandni.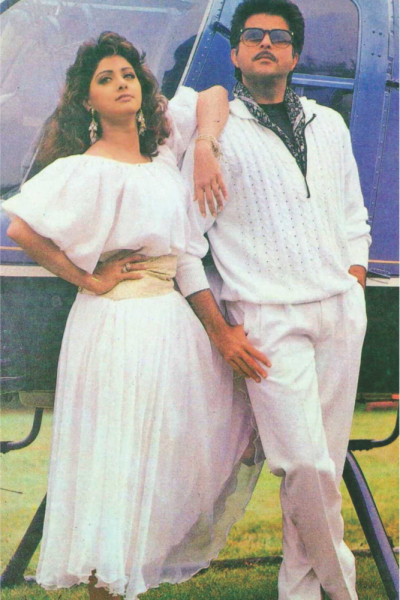 Sridevi was my earliest style icon. When she shot up like a giant flower against a blue, blue sky in a big, off-shoulder white dress sashed with gold, her curls askew, in a song from her 1991 film Lamhe, I fell headlong in love. I couldn't tell then if I wanted to be around her all the time or just be her, but there was no evocation of grown-up life, with its attendant romances and its not-fully-comprehensible allure, more satisfying to me than Sri in Lamhe.
The attraction of her look in the film to a child is not hard to understand; she wore big billowy pastel-colored stuff that moved wonderfully as she romped and danced, and she had the coyly elfin face of a child herself atop her grown-up body. But I was already a budding aesthete and a dreadful snob, and I found myself responding joyously to the unflashy, Western-feeling costuming, very different from the look of most mainstream South Asian cinema of that time.
Sri's garden-party-ready frocks signified class and elegance to me before I knew those words. They were of a world that looked cool to the touch; where the sounds and colors were appealingly muted in contrast to the noise and heat and scheduled chaos of my middle-class Bangladeshi expat childhood; where one could be brown and still live large in the English countryside and ride in helicopters with men who looked like money and probably didn't wear lungis or burp at the dinner table. No other film or TV show I'd seen up till then had shown me that sort of sophisticated universe peopled by folks of color, and I wanted in. Perhaps I began figuring out, albeit in an inchoate sort of way, while watching and rewatching that movie, that class, race, societal aspirations—all that stuff was coded into what one chose to (or had to) wear.
My interest in both fashion and film only grew with the passing years. But as a fat, unwittingly gender-non-conforming adolescent, I wore in real life only the things I hoped would render me as invisible as possible. My sister, willowy and mostly willing, became the subject of my movie-inspired styling experiments. I sketched short kurtas with flared salwars for her to take to her tailor so she'd look like Kareena Kapoor in some hit song of the early 2000's. (Kareena Kapoor also inspired the clothes of the heroines in the stories I wrote; they inevitably wore little leather minis and fur stoles like the actress in that seminal celebration of cis-heteropatriarchal high capitalism, Kabhi Khushi Kabhie Gham.)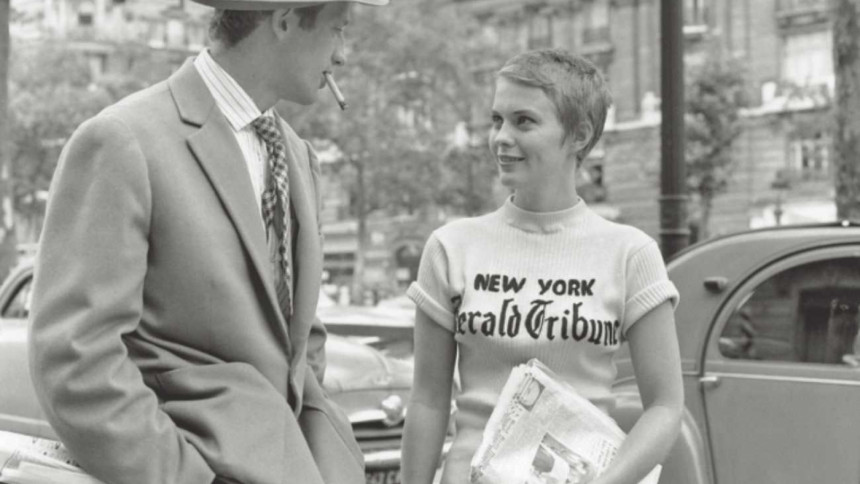 As a teenager, I became obsessed with Before Sunrise and the impossibly cool-seeming lead pair of Julie Delpy and Ethan Hawke who talked books and philosophy and love in Europe in what looked to me like the ideal version of young-grown-up-hood. Of course, I then tried to cajole my sister into a tank maxi-dress over a t-shirt (by then a dated look, now on-trend again). If people around me looked more like the beautiful, sensitive, hyper-intelligent characters in the movies I loved, maybe the world I lived in would be prettier and kinder and a little less brutal?
I wished the girls I knew dressed like Jean Seberg in her insouciant little outfit of slacks and that New York Herald Tribune t-shirt after watching (and barely understanding) Breathless; more acutely, perhaps, I, although I couldn't have articulated as much to myself back then, wanted my own timorous, unresolved self to look as cunningly gamine and androgynous as she did.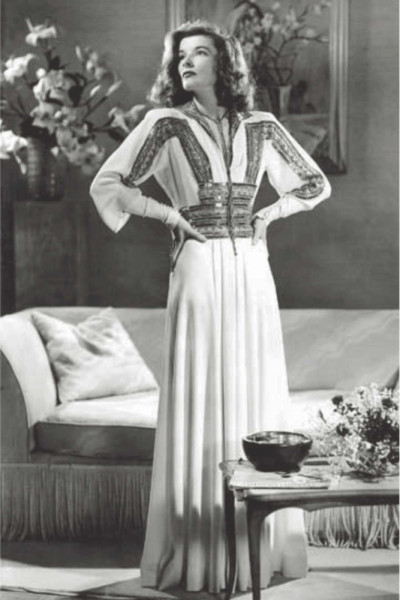 In college, I began a delirious, complicated love affair with Classic Hollywood. (The misogyny and the racism and the social conservatism! But also the wit and the style and the Great Faces™!) I also launched upon a new era in my relationship with myself, one that was much more candid now that I was in a new world (which was, of course, also the New World) and free of old constraints. I turned inward, navigating the shifting sands of my sexuality and gender identity with the curiosity and wonderment I'd previously felt only for art, and simultaneously outward, looking in those old movies for new ways to look like and be myself. Katharine Hepburn, straight-backed, high-cheekboned, flat-chested, and fast-talking, the lines of her gowns (when she wasn't, much to the consternation of the studios back then, wearing pants) somehow both squared off and fluid, became my idol. She wasn't just assured in her in-between oddness - she was positively and radiantly unquestionable in it.
I was learning a lesson about self-presentation from the movies and its icons once again, and this time it was one of self-determination and self-love through personal style. Tilda Swinton, who makes a sui generis kind of performance art in the liminal spaces between all sorts of identities both onscreen and on the red carpet, became another key inspiration. As Orlando in Sally Potter's exquisite adaptation of Virginia Woolf's novel-length love letter to her paramour, Swinton is an original as a beautifully avian Elizabethan nobleman in enormous sleeves and also as a powdered, startled eighteenth-century noblewoman in gorgeous rococo frippery. It is possible, I told myself as I watched her glide through the film, to be a new genre of person, a lovely new species, a story of one's own telling.
Now, when I walk out of my little flat in a big city, looking one day like Howl from Howl's Moving Castle (white shirt, wild hair, vintage cape, eyelashes that seem to listen) and another like something out of a Jacques Demy musical (candy-colored, mod-adjacent, nattily shod, ready to break into dance and bittersweet song), I feel sometimes as if I've willed myself into my own surreal little movie. I wonder, then, what it would be like to reach across fields of time gone by and tell a plump little six-year-old I know, agog as Sridevi whips her big white skirt around, that there may not be manor houses and helicopter rides in the future, but the clothes—and the adventures to be had in them—will be lovely in their own queer fashion nevertheless.
Sal Salam lives in Chicago and works in HIV testing and prevention counselling.