BOIMELA
Looking back at theatre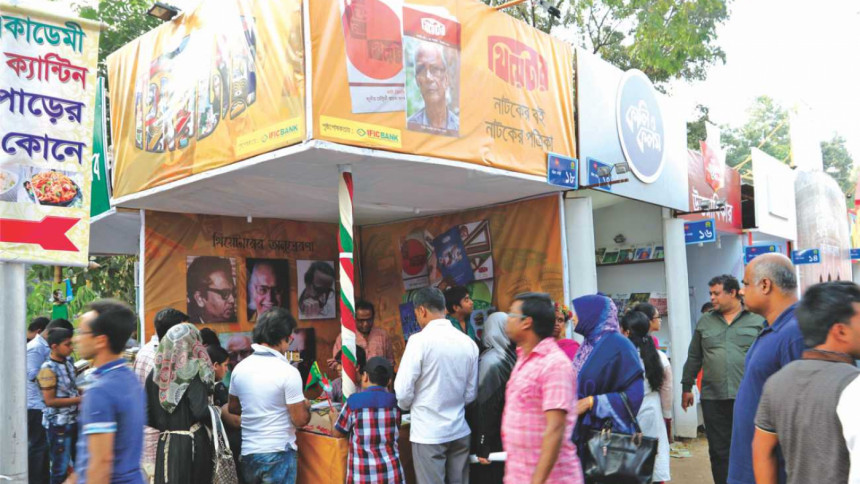 Photo: Prabir Das
A visit to Boimela invariably means strolling through the spot beside Burdwan House in Bangla Academy, a corner known to everyone as little magazine, better known as little mags corner-- a spot that advocates unconventional thinking practice. Rows and rows of stalls display little magazines appearing weekly, fortnightly, monthly and quarterly, carrying various types of write-ups including poems, stories, novels and articles, which are mostly non-commercial and experimental. The publications include Droshtobyo, Shidara, Ghugu, Loke, Choitonyo, etc.
Stall number 18 of this chattar plays an important role in the journey of little mags in Bangladesh. This is the stall where you can get all the publications of Theatre, a literary magazine that has a long history. 
Until 1947, the theatre of the urban elite in Bengal was centred in Calcutta. When Pakistan was born, Dhaka gained importance as the urban cultural centre of East Pakistan. Even then, the theatre of this newly born country was mostly polarised between two opposing camps - the religion-based nationalists and the language-based nationalists. Religion-based trend, that was particularly dominant in the urban areas outside Dhaka, sought to glorify Islamic history through historical plays on Muslim rulers of the Middle East, India and Bengal. The second trend was dominant mainly in Dhaka city, and playwrights belonging to this trend were also linked with Dhaka University-based play productions. Some important playwrights from this trend include Shawkat Osman, Nurul Momen, Askar Ibne Shaikh, Jasimuddin and Munier Chowdhury.
From its first issue in November 1972 up until its latest issue, Theatre magazine was hailed as one of the most informative and well researched magazines on drama, dramatics and the ever growing, vibrant theatre culture. The bible for a generation of radicals and freethinkers, Theatre confronted and challenged every kind of unfairness that Bangladeshi theatre faced during that time. February 1972 - right after our independence when the war-torn country was going through a politically and socially tumultuous time, the idea of having a magazine dedicated for theatre was born.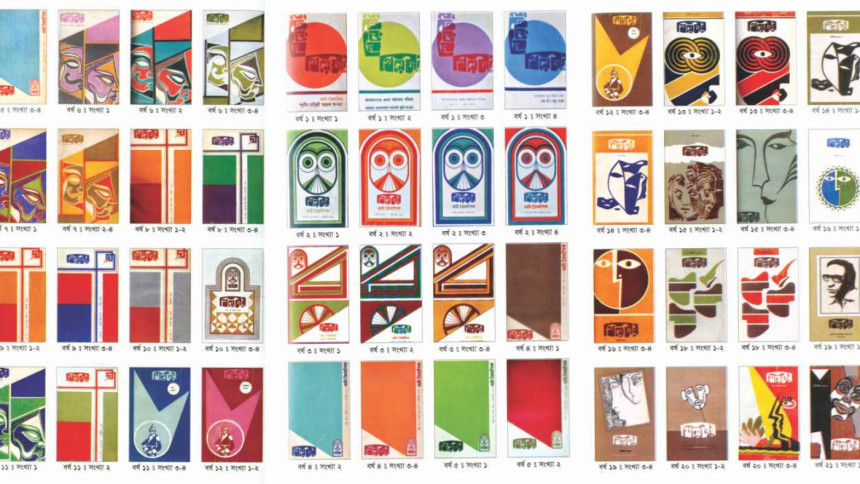 Since its first publication in 1972 till 1976, this quarterly magazine was published regularly. During the initial two years, a total of four issues used to be published every year. From the third year onward, there used to be three issues per year while from its seventh year, there were two issues per year. The first issue was a commemorative issue featuring the legacy of martyred intellectual Munier Chowdhury. For only Tk 2, readers could get an interesting retreat into Munier Chowdhury's contribution in the world of playwrighting. At first glance, one could find a beautiful sketch of Chowdhury done by famous artist Kamrul Hasan, while Nitun Kundu did the dual-coloured cover illustration. Ramendu Majumdar was declared the editor of the magazine which remains unchanged even today. For the first issue, Ramendu Majumdar was both the editor and publisher while Abdullah Al Mamun was selected the publisher for the rest three of the issues for the first year. Apart from having a set of established writers, the magazine also encouraged young writers as long as the content could bring critical minds and creative imaginations together. 
After our Liberation War, not only did we achieve political independence, but it also gave us the liberty of practicing our native culture more independently. Theatre activists also started exploring the greater concern of how performance and theatre can contribute to social changes. 
Theatre, the group was born with two goals - one was to produce powerful dramas and the other was to publish a literary magazine of the highest quality on a broad range of subjects. It informed its readers about significant issues affecting theatre art and practice through its descriptive and analytical articles written by a group of intellectuals and artistes. It offered original plays and play translations, reviews and reports of current theatrical activities in Dhaka and outside Dhaka. Bringing out a literary magazine apart from holding onto a day job and with zero commercial gain was a tough job to do. Yet, the dedicated Theatre team did just that in the face of an acute financial crisis. Due to the lack of advertisements and high printing costs, the price of the magazine increased a few times. But Theatre always persisted nevertheless. 
The variety of content that Theatre promised to offer, helped it earn a special place in the world of little mags. Its particular aesthetic and the editor's straightforward and bold editorials made it a favourite to all the readers. For everyone involved in drama, playwriting, theatre production- Theatre, the magazine, became one of the most powerful platforms to express their viewpoint, to exchange ideas, to know and learn more about their beloved theatre scene.