Unheard, Unseen, Unrecognised: The Plight of Dhaka's Waste Collectors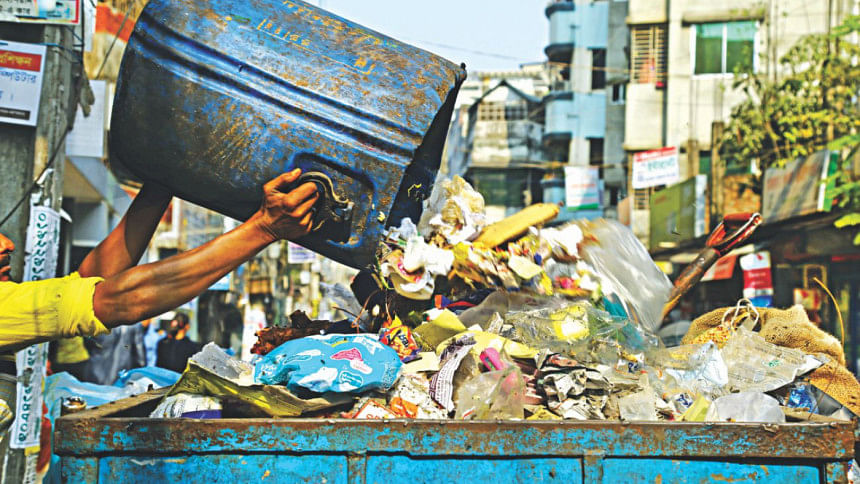 Every day at 7am, Limon (not his  real name), a boy of around 15, gathers a group of eight teenagers at a tea stall in Rayerbazar slum. In the tea stall, where they have a quick breakfast of a banana and a bun each, they are not particularly welcome.
Limon and his friends have been told not to sit on the benches and take away their food immediately, only because of what they are forced to do for a living. Many of these kids are from single-parent families, some of them are orphans, others have to support their ultra-poor families and have been deprived of any kind of formal education. Most are too unskilled to do any other job. 
These boys collect waste from households and scavenge in garbage dumps in the Dhanmondi-Kalabagan area. Around 60 children in Rayerbazar slum alone have been working as waste pickers. According to the Bangladesh Labour Foundation (BLF), an estimated 100,000 waste pickers work in Dhaka alone—most of whom are women and children.
While hundreds of children and teenagers from the surrounding neighbourhoods go to school, teenagers like Limon leave their shanties with their bins and rickshaw vans to go collect garbage. Every two workers are given a rickshaw van and two buckets by their employers. With this rudimentary equipment, each pair has to 'cover a street' of the densely populated city. 'Covering a street' means the team of two have to collect waste from all residential buildings, shops, restaurants, and other sorts of establishments on the street. "At 8am we start collecting the waste and have to finish it by 4pm. Sometimes, we can eat lunch but most of the times, not. If we cannot finish collecting the waste by 4pm, we aren't able to pick out recyclable materials from the garbage," says Limon.
Limon, with the help of his 'assistant', 12-year-old Alamgir, (not his  real name) collect two tonnes of garbage from a street in Kalabagan every day. After collecting the garbage, they dump it all in an open container on Dhanmondi's Satmasjid road. There, they then scavenge with their bare hands for all sorts of recyclable material such as paper, plastic, metal, glass and collect them to sell in recycling factories.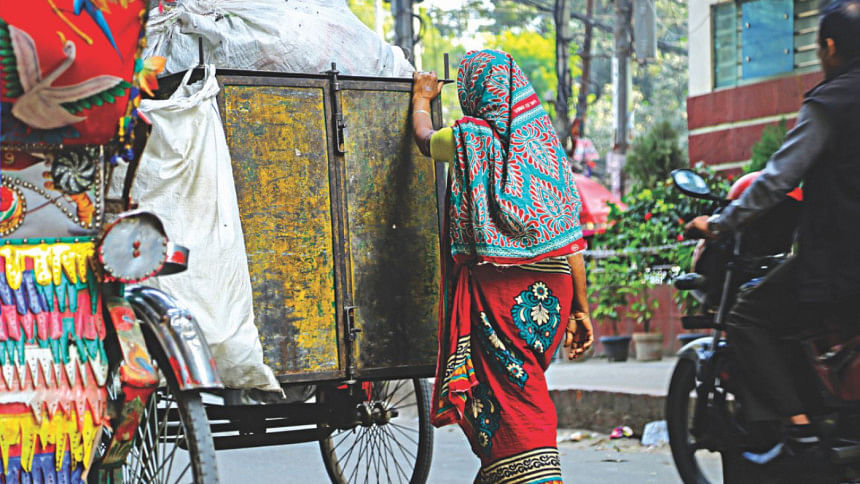 "While rummaging through garbage, my hands have been wounded many times by sharp objects such as glass or steel blades. The sores you see on my body are quite common among us. It is a kind of skin disease we have contracted from the garbage we work with," says Limon. "But, selling recyclable waste is a source of extra income for us. Every day, we earn around 200 to 250 taka by selling these goods and divide the amount equally between us," adds Alamgir.
By working for more than 12 hours at a stretch and working every single day of the week, these child workers earn only BDT 1,000-4,000 per month. After being recruited, a novice usually gets Tk 1,000 per month. After spending a year or so, he is paid Tk 2,000 per month. And, when he learns to pull the garbage van, he gets Tk 4,000 per month.
According to city corporation officials, these waste collectors or 'primary collection service providers' are not employed or managed by the city corporations. Rafique Hasan, a waste management officer of Dhaka North City Corporation (DNCC), says, "We have set up garbage containers in specified places as it is not possible for us to collect domestic garbage from every household. Local residents of many areas of Dhaka have arranged these services that collect garbage from households and dump it in the containers. These are entirely private initiatives."
DNCC has only 199 garbage containers of different sizes in the 82.4 square kilometres of its jurisdiction and Dhaka South City Corporation has 321 containers. However, the utility of these garbage containers depends solely on these untrained young workers who transport the garbage to these daily.
These waste collectors are recruited by mohajons (employers), most of whom are activists of local political leaders. According to waste management offices of the city corporations, around 6,000-7,000 of these employers are operating in Dhaka city. Some of these employers have established registered organisations, however, many are recruiting waste collectors and operating in different parts of the city without establishing any formal body.
To obtain the job of waste collection in a particular area, an employer has to first receive recommendations from the local ward councillor and ward commissioner. After receiving recommendations, these employers have to apply to get this job at the waste management office of the city corporation. Although one of the pre-requisites to get authorisation from the city corporation is that these service providers will not recruit any children, the practice of child labour among these employers is widespread.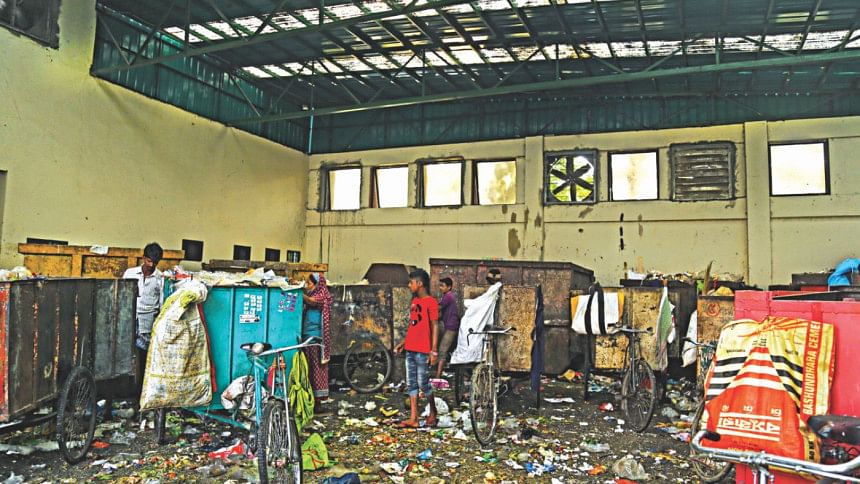 None of these organisations has ever been held responsible for this exploitative practice.
Shah Alam, owner of Dhanmondi Nagorik Shomaj Unnayan and general secretary of the Association of Primary Collection Service Providers says, "We cannot deny that many employers are recruiting child labour. Most of these are unregistered organisations who try to maximise profit by recruiting women and children who can be recruited with meagre salary."
Air Commodore Md Zahid Hossain, chief waste management officer at Dhaka South City Corporation, says, "Actually we only monitor whether these organisations are functioning or not. We don't monitor whom they are recruiting and how much they are paying to their workers. However, you have raised a very important issue. Next time, we shall try to monitor these issues too."  
On the other hand, waste collection and waste picking has created a means of livelihood for destitute children such as Limon and Alamgir. "At first, I got a job at a restaurant. The manager of the restaurant used to flog me mercilessly for the slightest mistakes. So, I quit that job and took up this job of waste collection. There is freedom and income in this job. However, mohajon often seizes the tips we get from the landlords during Eids. Other than this, I am okay with this job," says Limon. Shah Alam echoes similar sentiments, arguing, "By employing these children, we have been supporting hundreds of families. You should also take this issue under consideration."
However, AKM Maksud, executive director of Grambangla Unnayan Committee considers that these arguments stem from a sheer absence of accountability and utter ignorance about the rights of children. "In a densely populated city like Dhaka, waste collection has become a profitable business where they [child workers] are becoming victims of the worst forms of exploitation. Due to complete absence of monitoring, these employers can do whatever they like with their child workers. They pay nominal wage, they don't bother about health and safety facilities, and they don't care about job security. As a result, the workers, most of whom are illiterate women and children, don't even know what they are being deprived of," he argues.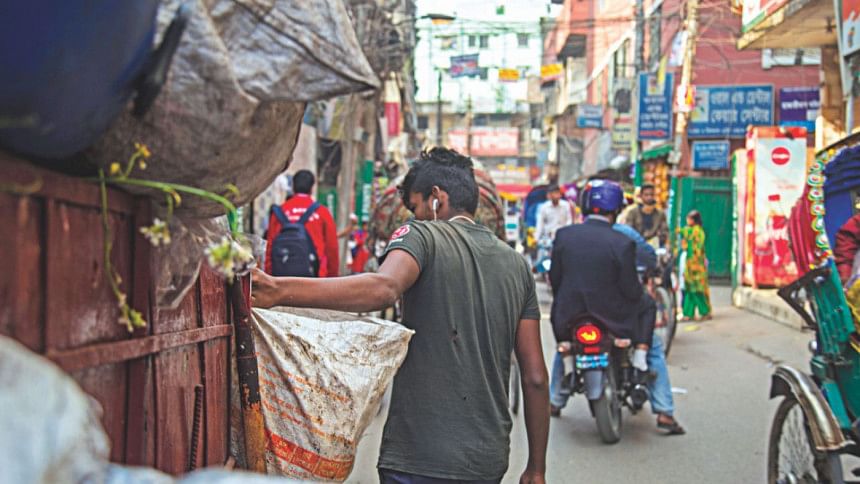 To make matters worse, in a list of 38 processes/activities declared hazardous for children by the Bangladesh government and the International Labour Organisation, waste picking or waste collection are not included. However, article three of the ILO convention 182 states, "The worst forms of child labour comprises…..(d)work which, by its nature or the circumstances in which it is carried out, is likely to harm the health, safety or morals of the children."
According to Mahmudul Hasan Khan, programme manager of BLF, "Neither the Child Act 2013 nor the ILO's 'Compendium of hazardous child labour lists and related legislation for Bangladesh' have any provision to address this—one of the worst forms of child labour in Bangladesh. To rehabilitate these children, it is necessary to provide livelihood support with education, and which needs a considerable amount of well-organised investment. Without formulating specific policy to address this issue, sustainable rehabilitation of these children involved in waste collection and waste picking will be very difficult."
Dhaka, a megacity of 180 million people, produces 4,700 tonnes of solid waste every day. Unfortunately, to manage this massive amount of waste, the country depends mostly on unskilled women and children. While Bangladesh is taking leaps in human development indices, this stark instance of widespread human rights violation will definitely taint our nation's image.
The writer can be contacted at [email protected]