Pulling the weight of the world
No services in sight for the rickshaw pullers of the country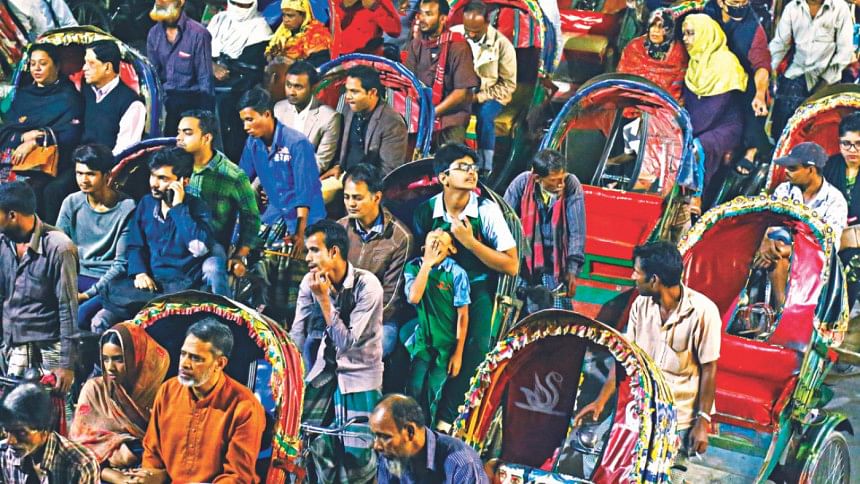 Fifty-year-old rickshaw puller Rafique Miah was struggling hard to peddle his rickshaw on the uneven roads of Mirpur. Looking exhausted, bearing testimony of his daylong hard labour, sweat trickled down his face on a winter evening in January. Still, he was doing his best to move forward, all the while wiping his brow with his torn gamcha (towel).
Hailing from a remote village of Nilphamari, Rafique took up peddling a rickshaw only recently, at the onset of his fifties. His only son kicked him out of his own house and fresh from having spent Tk 50,000 as dowry on his daughter's wedding, Rafiq was penniless. A security guard at a private company, Rafique's son refused to take any responsibility of his parents.
Rafique came to Dhaka as millions others have permanently, or seasonally, to make a living. He was able to manage a rickshaw rented from a mohajon (rickshaw trader). "It is so hard to accept that my son threw me in a situation where I have to live by pulling a rickshaw in my old age," says Rafique. "When a man fails to do anything else with his life, he goes to peddle a rickshaw. Nobody becomes a rickshaw-puller by choice. I've been peddling rickshaw in this city for the past five years, but till now, my family doesn't know about what I do here," adding in a sad voice, "If my daughter's husband knew that I'm a rickshaw puller, he might break up their marriage."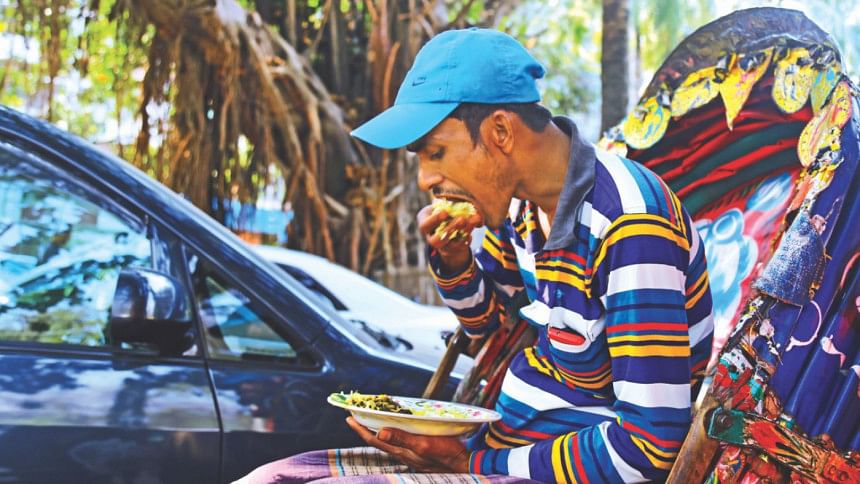 Rafique, after peddling a rickshaw for 12 hours straight, earns merely Tk 500 a day. From this, he pays Tk 100 to the mohajon who owns the rickshaw. Every day he also needs to pay Tk 20-40 to the police to cycle along roads where rickshaws are usually not allowed to ply. He spends around Tk 100-150 for his own food and other needs during the day. Rafique sends the rest to his wife in the village through bKash. With this money, Rafique's wife maintains herself and pays weekly installments of a loan they recently took from a local NGO to help meet family expenditures. After hard labour the whole day, he lays down in the garage to sleep—he cannot afford a rented room with his small income.
When asked how much money he earned as his highest income in a day, Rafique replies that when bus services are shut down, he made up to Tk 1300-1500. "Also, on election day, I made Tk 1500," he smiles.  
According to a 2018 study by the Bangladesh Institute of Labour Studies (BILS) 'Organising the Informal Economy Workers: A Study of Rickshaw Pullers in Dhaka City', there are around 2.2 million rickshaw-pullers in the capital.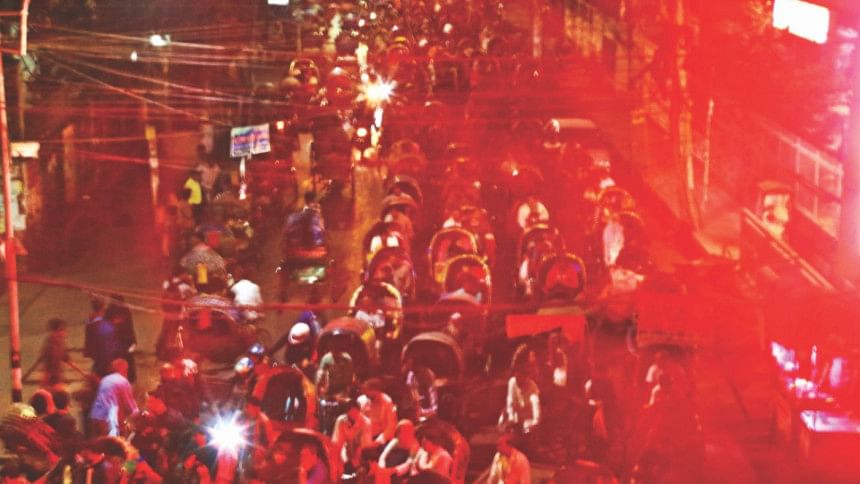 Like Rafique, they live hand to mouth while conveying hundreds of people from one place to another. As many as 94 percent of the 200 rickshaw pullers surveyed suffer from fever, pain, jaundice, weakness, but don't visit the doctor, preferring to go to a quack or simply to the dispensary for medicines.
An overwhelming majority of the rickshaw pullers are illiterate, coming from poor socio-economic backgrounds, according to multiple studies on their lives and livelihoods. Toiling heat or incessant rain, they need to go out for work. They are also at risk of violence from demanding passengers and overbearing police. They face social stigma and discrimination, which extends to their families.
Rickshaw pulling is the only occupation for most rickshawallahs; according to the BILS study, 89 percent of those surveyed earn their livelihood from the one source. However, it is difficult for them to continue peddling rickshaws over the years, as the job requires manual labour and endurance. It happens often that they need to carry heavier loads than they are capable of pulling. And so, most of the rickshaw pullers we interviewed only work 15 to 20 days a month. The rest of the month, they go to the village to work in the fields.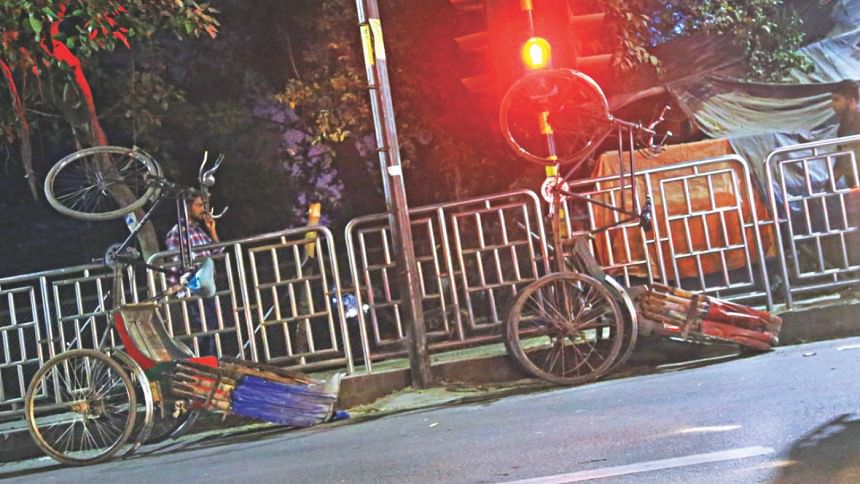 Ninety-six percent of rickshaw pullers rent their vehicle from a mohajon, according to the BILS study, as they lack the money or space to keep a rickshaw in the city. "Pulling the mohajon's rickshaw is helpful for us, because we don't have the money to buy a new rickshaw. When a rickshaw puller first comes to the city, he can barely manage his own food, let alone buy a rickshaw," says 40-year-old Islam Uddin, who has been peddling a rickshaw in Dhaka for the past 20 years. "The way the number of rickshaw thieves is increasing, no one actually dares to buy rickshaws anymore as we live in slums or shared rooms." Still, Islam has no savings. With his daily income of Tk 600-700, he provides for his family of six in the village.
"Besides, it is tough for us to go to the city corporation office frequently to get a license, as nobody pays any attention to us there or helps us," adds Islam.
Rickshaws, as three-wheelers, are prone to accidents, especially on main roads and highways, where speedy modes of transport dominate. Rickshaw pullers put themselves at risk for a couple of extra takas—at the demand of their passengers. Yet, in case of an accident, they tend to be ignored; rather, they often become victims of direct violence by the police or passengers in various ways.
"Everyone blames us in case of an accident. Drivers of CNG-run auto-rickshaws, buses, and private cars slap or hit us for minimal reasons. We are accustomed to getting beaten by the police. Our mohajon rebukes us for any damage to the rickshaw in an accident, but nobody cares about harm caused to us," says 30-year-old rickshaw puller Imrul.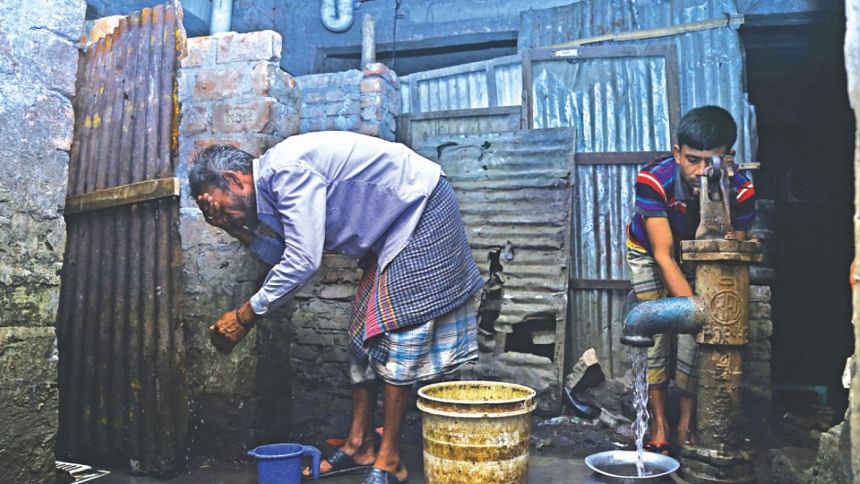 "Forget about the accident, the passengers sometimes physically harm us while bargaining for the fare. For example, due to the trade fair and metro rail construction, the road from Taltola to Zia Uddyan signal is always stuck and it takes three times as much time to reach the destination. But if we demand an extra 10 to 20 taka, passengers become very angry. Some even threaten to hit us—and actually hit us—as if there is no value of our time. But we hear that 'Uber' and 'Pathao' [ridesharing apps] charge money for their waiting time and people have no problem with paying that. People love to exploit the powerless, that's it," he adds.
Although rickshaws are one of the most necessary forms of transport for people to travel short distances, rickshaw-pullers are neither valued nor respected in society. "When our children go to school, they are labeled as rickshawallah's children. When there is a marriage proposal for our daughters, the bridegroom's family becomes unwilling to build a relationship with a rickshawallah's family. Even people use rickshawallah as slang, but nobody acknowledges our hard work, excepting a few," says Amir Hossain, a rickshaw puller in the Farmgate area.
'Rickshaw pulling' is specifically mentioned in the labour law as a profession. In fact, they have the right to unionise [according to 3 (a) of section 183] to fulfill their demands from different stakeholders, such as, the Ministry of Local Government, Ministry of Home Affairs, Ministry of Labour and Employment, the Dhaka city corporations and civil society. But rickshaw pullers are largely unaware of their rights. They are not organised and unaware of trade unions.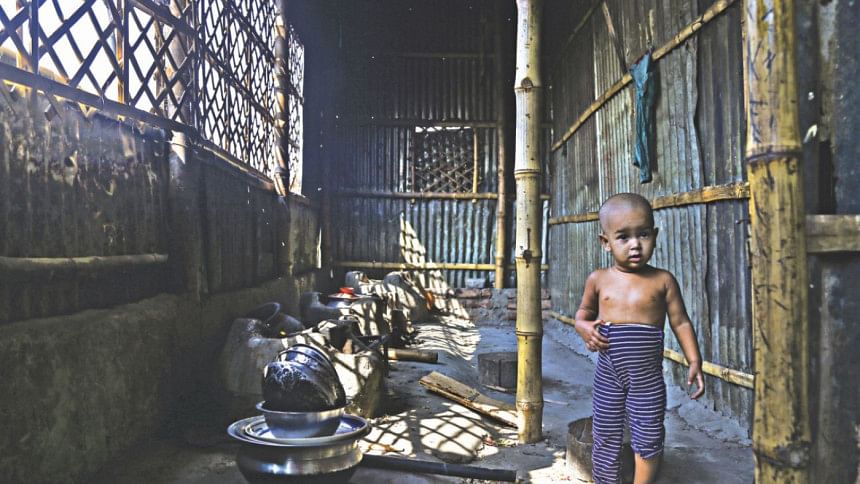 According to the BILS study, 54 percent of those surveyed had loans from a samity (rural cooperative societies), mohajons and their relatives, with interest. "The governments talk about development but that development doesn't reach the working class. We live hand to mouth, struggle to repay loan installments on time, and take more loans to pay our existing loans. Our fate actually doesn't change. We cannot save anything for the future. And that's why we need to take help from others to bury the dead bodies of our loved ones," says Abdul Kuddus, general secretary of the Rickshaw-Van Workers Union.
"We don't have proper healthcare facilities, the police harass us everywhere, and we don't have the ability to file a case against anyone. We can raise our voice, but nobody seems to care for our demands. In this way, we actually lose hope," adds Kuddus.
Last November, Sramik Karmachari Oikyo Parishad and National Workers Federation, which work closely with BILS, put forth a 16-point demand to different stakeholders about their vulnerabilities. They highlighted having driver's and vehicle licenses, health insurance, welfare funds, parking space, hygienic washroom facilities, and humane and dignified behaviour from passengers, and much more. Their demands however, have likely fallen on deaf ears of the policymakers.