Innocent until found protesting
Workers in Bangladesh's garment industry see no relief despite wage increases.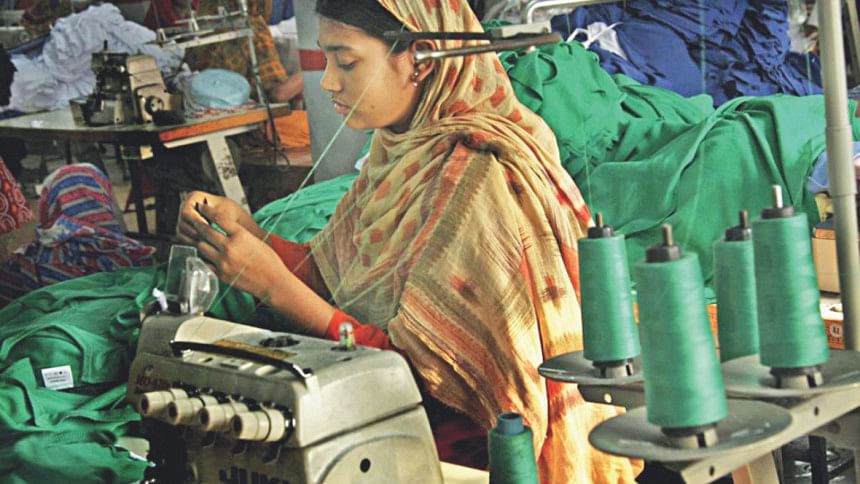 In December 2018 and January 2019, workers from Bangladesh's ready-made garment (RMG) industry went on spontaneous mass protests and strikes around major industrial belts in Dhaka. They were agitating against what they deemed insufficient wage increases, announced by a government-appointed wage board in September 2018, that would go into effect three months later. Garment-factory owners and the Bangladesh government responded with a tried and tested strategy: repression and attack.
As a result, more than 11,000 workers have been terminated from their jobs—many without termination benefits—and thousands more have had criminal cases filed against them. So far, over 50 workers have been arrested and many more live in fear of imminent arrest. At least one worker has been killed, while several others have been assaulted, tear gassed, and shot with water cannons and rubber bullets—sometimes in their own homes.
Unlike past struggles by garment workers, these protests were not organised by the major trade union federations. The government's crackdown on labour activists in 2016, and its handling of the movements for quota reform and road safety ahead of the December 2018 general elections, had sent out a clear message to potential dissidents. Unions got the memo loud and clear. The workers could not, however, be so easily appeased.
With the RMG sector earning over 80 percent of Bangladesh's export revenue in 2017, the government has used rhetoric of external 'infiltration' and 'instigation' to dismiss the legitimate grievances of garment workers. Commerce Minister Tipu Munshi has claimed that, "A certain quarter infiltrated the garment workers' movement and instigated anarchy… to damage the RMG sector." Meanwhile, in the absence of strong trade unions and in the face of brutal repression, workers have had little choice but to take to the streets.
Old demands
Bangladesh's garment workers are some of the worst paid among workers in major garment producing countries. Even with the pay increase in September 2018, to USD 95 per month, the country's garment-sector minimum wage lags behind those of its competitors China, Vietnam, Cambodia, India, Pakistan and the Philippines, for all of whom the figure ranges between USD 120 and 170. According a 2018 report by Centre for Policy Dialogue (CPD), a Dhaka-based think-tank, at least 17 percent of the country's garment workers sleep without a bed at night, 16 percent do not have ceiling fans in their homes, 86 percent have to share toilets with other families, and 45 percent are unable to save anything from their earnings. Another survey of 200 workers conducted in 2018 by Bangladesh Garment Sromik Samhati, a Dhaka-based labour-rights group, found that an average garment worker has the ability to spend BDT 1110 (USD 13) per person per month on food. However, the study found that a worker must spend at least BDT 3270 (USD 39) per month to meet the calorific needs, as determined by the Institute of Nutrition and Food Science at Dhaka University. This caloric requirement excludes food with higher nutritional value, like meat or fruits.
In light of these factors, garment workers and unions have been demanding a minimum monthly wage of BDT 16,000 (USD 190) for at least three years.
Long march
In December 2016, tens of thousands of workers in the manufacturing hub of Ashulia, an area near Dhaka, protested and went on strikes demanding a fair living wage. In the repression that ensued, at least 1500 workers were fired and 38 workers and union leaders were arrested. Nine factories – six of which were suppliers for the multinational clothing-retail company H&M – filed criminal charges against union leaders and unnamed workers...Read the rest of the article here: Innocent until found protesting.
This piece originally appeared in Himal Southasian (www.himalmag.com).