Are machines taking over the jobs of female garment workers?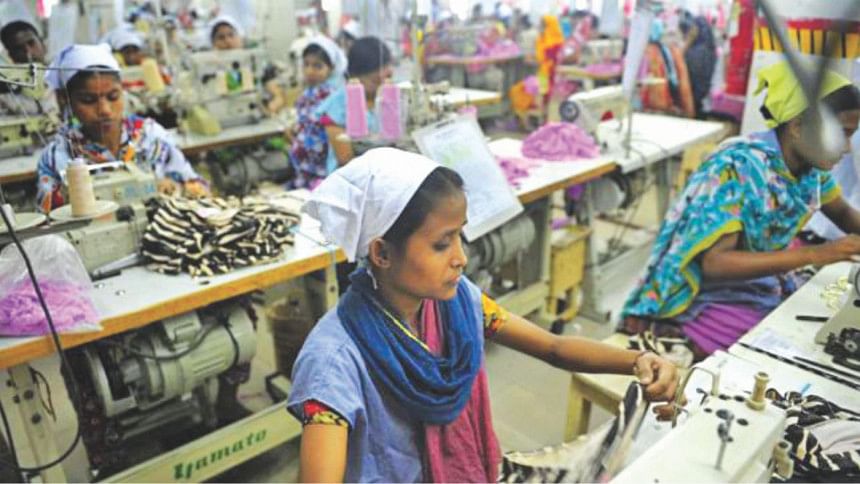 Last year Dolly Rani was working as a helper at a ready-made garments factory in Jiranibazaar of Savar when the advent of a machine made her useless.
"I used to cut thread," says Rani. She worked in the finishing section, and was one of the women who stood at the assembly line snipping away the loose ends of threads from finished products for hours on end. When the management invested in thread-trimming machines, the number of people needed to do this job dropped drastically. The machine was faster—with one swipe, the hand-held vacuum-like nozzle could trim loose ends quicker than Dolly Rani's scissors and tired hands could.
When she lost her job last year, the middle-aged woman was at a loss. "I have two sons in school and my husband does not do any work. I moved to Savar 11 years ago from my village in Bogura because I was the sole earning member of the family," she says.
"I know of at least four sweater factories that laid off workers in the last few months because they got (electronic) jacquard machines to do the knitting," says Abu Shama Aminul Islam, the organising secretary of labour rights organisation Bangladesh Garments Sramik Samhati. "Each of these machines do the work of eight labourers. One factory got rid of 50 of its workers, for example." He adds that there is actually no real analysis of how many workers lose jobs because of infrastructural changes in the factory.
Luckily, Dolly Rani recently found a job in another factory as a helper in the washing section but she had to endure her wages being cut by a third—she had spent a decade at her last job and was getting up to Tk 9,000 per month; having to start from the bottom again means she only gets Tk 6,000 now.
But at least she found a job. Thousands like her did not.
A recent study by the Center for Policy Dialogue found that 8.5 lakh exited the industrial sector from 2013-17. The study titled "Role of Women in Bangladesh's Middle-Income Journey" explores how women are faring in the workplace. There is more. Another ongoing study by CPD found that the proportion of women doing garments work dropped from 64 percent in 2015 to 60.8 percent, due to automation of the factories.
"There are two reasons why this happened," says Professor Selim Raihan of the Department of Economics at the University of Dhaka, "one being automation, while the other is the closure of factories that did not meet international standards for doing business."
"The usual life-span of a female garments worker in a factory is between 18 years of age until her middle ages. By then if they are not skilled enough to be promoted, they shed away to take care of family while younger workers treplace them," adds Professor Raihan. "The problem however is that new women are not entering the workplace."
He also points out that our RMG industry is dependent on producing clothes which are technologically less complex. "Clothes with variation in design or textures are usually sourced from Cambodia and Vietnam, which have now taken the place of China."
As the factories advance their technology, the cheap labour of the unskilled female garments worker becomes less and less competitive. The women wither away and out of the picture, but the factories keep running, as robust as ever.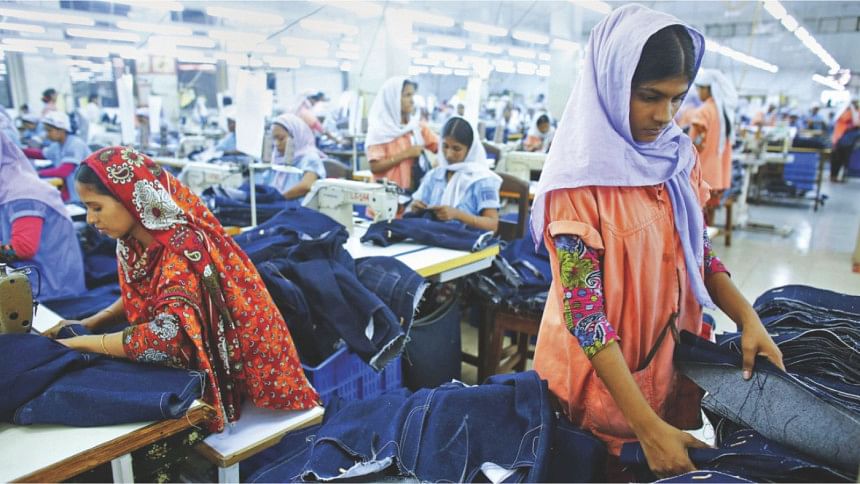 "Most women have not gone beyond eighth grade, whereas most men have done up to high school," says Rubana Huq, Managing Director of Mohammadi Group. Huq had earlier told Business Standard that her factories removed 500 jobs following automation.
"For every jacquard machines in sweater (factories), there are four jobs lost," she adds. "Unfortunately with limited educational exposure, they can at best become supervisors. This is not a position that requires skills of a rocket scientist. So it's easy to train them and on-job training enables them to volunteer for a supervisory role and accordingly the authorities select them and promote them to their next tier." Mohammadi Group's factories, along with others, also participate in a pre-collegiate programme at the Asian University for Women, where each year, a handful of RMG workers are helped to get back to university.
Sabina Yeasmin is one such student in the programme. This former worker of Simba Textiles is now pursuing higher studies and perhaps knows best what kinds of skills training women would need to play more decisive roles.
"I finished my HSC and so joined as a junior needlewoman. My job was to decide which machines need what needles, and keep stock of our inventory," says Sabina. Because of her educational qualification she held a higher position than assembly line workers.
"If women who have at least finished school are taken at entry, it becomes easier to move up the ranks. There are often women who have not even finished fifth grade," says Sabina. What she meant is that production positions in garments factories are not dependant on education levels—but having a minimum education from the get-go would ensure that the workers can stick around as the factories themselves change.
"Women are rarely promoted to become supervisors," says Sabina, "and while educational qualifications have a lot to do with it, the demands of the job are also another reason why they never become supervisors."
"A supervisor might have to stay till 10pm at night to sign off on the production. Most women are still the primary caregivers of their families and can rarely take on that role," she says. "Supervisors also have to ensure that unrealistic production demands are met by driving the workers to produce over their limits, so women are less likely to take, or be given, those roles."
Essentially what Sabina is saying is that whole systems need to change to make sure the growth of the RMG industry is inclusive of its women.
CPD mentioned in an ongoing study that only about 0.5 percent of managers in RMG enterprises are female. On the other hand, the admission list of Bangladesh University of Textile Engineering had around 330 women only out of the total 1525 students admitted.
Meanwhile, between 2013 till now the government closed down 39 factories in a national initiative to enforce safety standards in workplaces. On the other hand, the standards set by the global safety implementation bodies The Bangladesh Accord for Fire and Building Safety, and Alliance for Bangladesh Worker Safety could not be met by a total of 372 factories. What this means is that these factories can no longer do business with brands which are signatories of the Accord and Alliance.
"Stringent compliance requirements have forced factories to either scale up or close," says Rubana Huq. There is no data available on whether the factories blacklisted by Accord and Alliance have closed down or are working as informal subcontracting factories. The CPD study, however, points out that there are more people than ever in informal employment. In 2002-03, the number of people not holding registered formal jobs was at 80 percent—for 2015-2016 it was 95 percent, followed by 92 percent the next year.
It seems that that this is the beginning of the end, for the unskilled women whose cheap labour had become our greatest asset. Their labour took the RMG industry to the pinnacle of success, but as the scenario becomes more complex, and the contenders more in number, how do we make sure the women are not the ones being thrown out?