International
Stuck in limbo
Blamed of cheating on their English-language tests by the Home Office in 2014, thousands of Bangladeshi students' visas were revoked and their right to work and study in the UK suspended
An old Dhaka native, Sheikh Shariful Amin went to the UK as a student in 2008. He had already completed a master's degree but as it didn't count there, Amin then did one at the University of East London.
After that, Amin successfully applied for a post study work visa (no longer available since 2012) which would allow him to stay on to work for two years. In 2012, he applied for a graduate entrepreneur visa, which required him to show GBP 50,000 in investment funds, so he could start his own business.
Amin took an English-language test, the Test of English for International Communication (TOEIC), for this visa application. It was not required and he could have easily given another, the International English Language Testing System (IELTS), as had many other Bangladeshi students before departing for the UK. But at that time, IELTS test centres and dates were comparatively less and Amin found TOEIC centres more widely available. This decision was soon to become a source of grief for him in the years to come.
TOEIC, government-approved since 2011 for non-EU students, was administered by the Educational Testing Service, an American company known by its acronym ETS and which also administers the Graduate Record Examination (GRE) and Test of English as a Foreign Language (TOEFL) globally.
What happened next is the dreaded knock on the door by immigration officials that the student and then businessman who came to the country legally, never thought he would experience. Amin was arrested from his home in Stratford (in east London) at 8:05 on the morning of February 5, 2015. 12 immigration officials came to his home and said they would be sending him back that evening. 
"They said I had cheated in my exam by using a proxy for the speaking part [of the test]," says Amin. While he was let go after three days in detention, the papers he was handed were a shock—he had no right to rent a place to live, study, or do business anymore. His three-and-a-half year old driving license was revoked and his access to the National Health Service (NHS) partially restricted. He could only appeal from outside the UK.
Though he had been in the country seven years at that point, Amin's knowledge of immigration law was nil as he had only had to renew his visa twice till then. "I was devastated, wondering how this had happened to me," says Amin, "Then I set to find out which law was preventing my right to respond to this fraudulent allegation."
Others did not receive a home visit or experience detention. Waqar Hussain only learned of the allegation against him when, before his last semester as a computer science student, he enquired about his class schedule. He was informed that he had been withdrawn from the university because of it (he had taken the test before enrolling there). Waqar only received official notification from both his university (Glyndwr University in London) and the Home Office after already being withdrawn and his visa cancelled, respectively.
In 2014, he first heard about affected peers and was actively campaigning for them when he learned to his shock that he, too, was implicated. 
"I didn't get any support from my university. They had a responsibility to explain the legal procedures I could undertake to defend myself," says Waqar. He says Glyndwr had said that they would give affected students another chance, as they had to pass an internal English test before being admitted anyway. It didn't later, though Waqar knows of several universities which allowed affected students to retake exams and then, continue their studies.
"The university suggested I go back to Bangladesh and complete the course there, though I know that the distance learning option is not available.
I initially agreed but asked for this in writing. They refused."
So, he decided to stay on and fight. Till date, Amin and Waqar have to report in person regularly at an immigration reporting centre.
UK Home Office crackdown on foreign students
The start of this whole saga was a February 2014 BBC Panorama investigation that discovered fraudulent practices at two English-language testing centres. Undercover footage showed invigilators reading out answers to the multiple-choice portion of the test and others "sitting" sections of the tests for the applicants.
Following this, ETS tests were halted by the UK Home Office and the voice recordings of the tests of more than 50,000 foreign students who sat the exam between 2011 and 2014 to extend their visas, were re-examined using voice recognition software. ETS then deemed if these were 'invalid' (allegedly taken by proxy test-takers) or 'questionable' (if there was a large number of confirmed invalid results at the same test centre). Licences of multiple colleges, including Glyndwr, were suspended.
But the impact of this mostly fell on the students who had been accused—35,870 of whom had their visas revoked and 22,000 whose test results were found 'questionable'. Appeals were only permitted once these students had been 'removed' from the UK. More than 4,600 were deported by the Home Office—this number excludes those who left the country on their own. Many did, broke and daunted by the legal battle some like Amin and Waqar undertook.
The students had been subject to removal under section 10 of the Immigration and Asylum Act 1999. While there are no numbers of how many students of which nationalities have been affected, both Amin and Migrant Voice say Bangladeshis make up the largest group. Indian, Pakistani and Nepali students are also affected.
Critics and students have questioned the questionable evidence given by ETS, itself under investigation by the Home Office then. In 2016, an immigration appeals tribunal described the evidence, used by the Home Office to cancel the students' visas, as having "multiple frailties and shortcomings".
Students who say they were falsely accused see their predicament as part of what is called the Home Office's 'hostile environment' measures against immigrants, largely introduced by then-Home Secretary Theresa May (now Prime Minister) to limit net migration to below 100,000. They say a precedent for what is happening to them is the Windrush scandal, which affected Commonwealth citizens living in the UK since the end of World War II (arriving before 1971), who were harassed and some, wrongfully deported, over the last decade.
For the students, the only legal option available was a judicial review (where a court considers the lawfulness of a decision taken by a government department or official). Finally, in December 2017, the Court of Appeals ruled that the TOEIC accused could challenge the ruling from within the UK.
Now Home Secretary Sajid Javid, who the students are lobbying to clear their names, said on December 19 in Parliament that the Home Office was "still looking at this but we are taking it very seriously," in his last statement on the matter.
A British High Commission spokesperson in Dhaka told Star Weekend, "We do not routinely comment on individual cases, especially when there are ongoing legal proceedings." 
"The investigations in 2014 into the abuse of English language testing revealed systemic cheating which was indicative of significant organised fraud. The scale of this is shown by the fact that over 20 people who facilitated this fraud have received criminal convictions, with prison sentences totalling 68 years." He added, "We welcome genuine international students and there is no limit on the number who can come to study in the UK."
A report by Migrant Voice, a platform for migrants campaigning for the affected students, details the story of Shammi Aktar, a 34-year-old woman who didn't want to risk staying on in the UK illegally and was told that if she went back willingly, she could re-apply for a visa after a year. She did but cannot return now and feels "cheated by the government decision."
Even for those who won their legal battle in the UK, there is no end. "One student won his case in 2016 but still hasn't been able to start studying again as he was given just two months to find a university that would take him and the criminal allegation is still on his record," says Nazek Ramadan, director of Migrant Voice.
"We realised we couldn't win legally," adds Amin.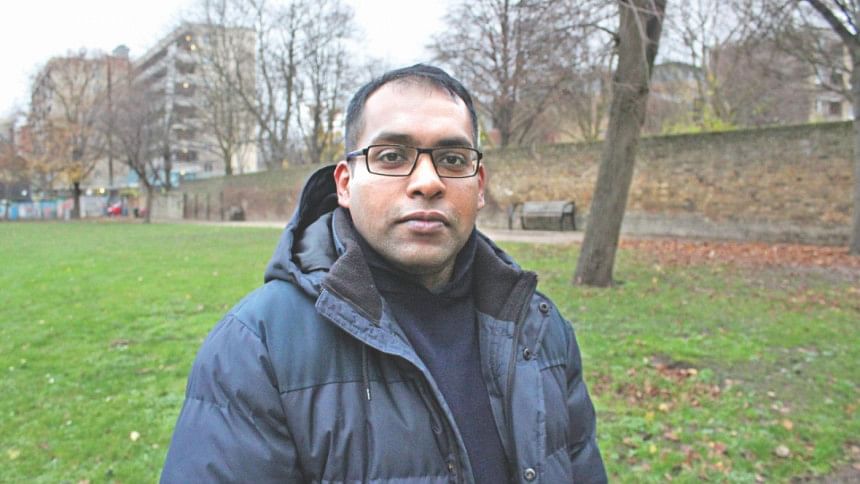 Stuck in limbo
Waqar's background is typically urban middle-class back in Bangladesh. He studied at Loreto and did his A Levels at ESS—both well-known English schools in Dhaka. "I came here [to the UK] because I had always studied the British curriculum and I have relatives here," he says.
Waqar has now spent almost a decade in the UK, where he came in 2010 only to complete a three-year bachelor's degree. He has also rung up about GBP 7,000 in legal fees, which he is yet to pay. He has bounced around, living with and borrowing money from his uncles in London. At one point, he was homeless because his aunt, scared by the constant letters from the Home Office, was worried for her family and told him to leave. Waqar is also suffering from mental health problems as a result of the stress and depression of the last few years.
Still, he is determined. "To protect my education, I have to fight this allegation."
"I was never introduced to other forms of education—other countries are more welcoming to international students. Here, we are considered immigrants and that is a big political issue. I came at the wrong time—I became a political tool."
Amin, too, has spent around GBP 16,000 in legal fees so far, with the help of his family and a friend. While Amin has told his family of his misfortune, "I couldn't tell my parents that I had been detained because I didn't want them to be embarrassed."
He did, however, consider throwing in the towel once. In 2017, he decided to leave and applied for a job in a multinational company in Bangladesh. Amin was rejected when he had to declare if had ever encountered any legal problems. He then realised that this cheating allegation would follow him everywhere—whether in trying to get a job or applying for visas elsewhere in the future.
"I've told my family that I won't come back until I've seen the end of this—that I tried my best to clear my name," declares Amin. He also wants to send a message to students who want to come to the UK to study and work—"Prepare and know the country's immigration rules and regulations that you will be subject to."
Taking on the Home Office
Amin is an admin of the TOEIC victims' group and along with Waqar, a leading campaigner in the students' fight to clear their names. The campaign is being led by Bangladeshi students. Amin teamed up with other TOEIC victims and contacted his local Member of Parliament (MP), Stephen Timms, who he has been working with for the last three and a half years now. Timms is now one of the students' most vocal supporters.
Amin and his lawyer Patrick Lewis, an immigration lawyer handling multiple cases of accused students, approached Timms and explained the gravity of what the accusations had done to the students and their futures.  After Timms began to bring up their cause in Parliament, so did other MPs with affected students in their constituencies. Amin and Waqar also started working with Migrant Voice, which Amin says focused their campaign and made their cause easier to lobby for in Parliament.
"A political solution is needed urgently. Many of the students have spent tens of thousands of pounds—often their families' life savings—trying to clear their name in court, but since they were denied the right to appeal the decision, it's an almost impossible battle," says Ramadan.
On Thursday, the affected students and supporters of their campaign, together with Migrant Voice, are set to demonstrate outside Parliament in London. Their goal? As evidenced by the hashtag on Twitter, #MyFutureBack, the students want to clear their names and be allowed to re-sit their English language test to pick up where they left off with their studies, and their lives, five years ago.
This story has been updated to include a statement from the British High Commission in Dhaka.