Migrants Rights
Held captive in one's own mind
Little help for migrant workers in need of therapy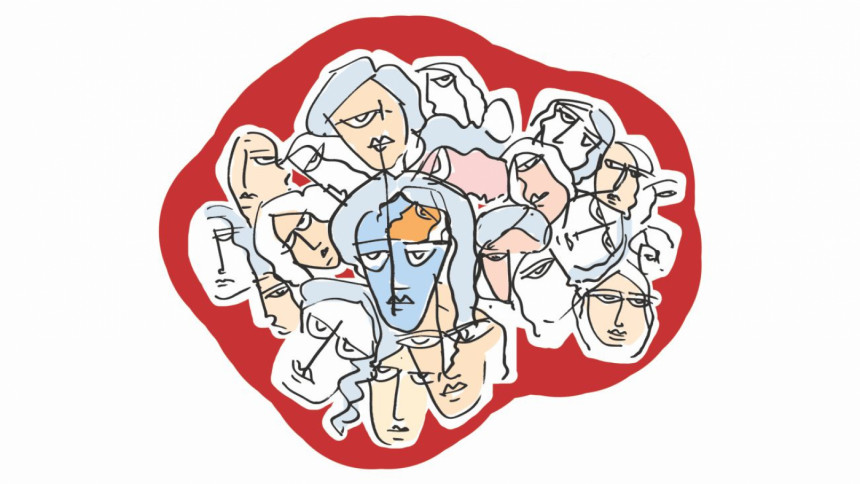 The last two years have witnessed thousands of Bangladeshi female workers, who were tortured, abused or cheated, return home from the Middle East with painful memories.
While the government does not seem to have an exact count of the number of returnees, various research-based agencies claim that at least 300 to 400 women have been coming back every month since 2017 because of ill treatment.
The Wage Earners' Welfare Board (WEWB) and the Bureau of Manpower, Employment and Training (BMET) are the government wings that are responsible for bringing back any migrant worker suffering abroad.
Today there are safe homes in a number of embassies in the Middle East where women can take shelter in case they are treated badly. Workers, both men and women, are given training on how they can contact the embassy if they are in any sort of trouble before they leave and are made more aware. The systems put in place to protect Bangladesh's migrants seem to have improved in the recent past. However, the support from the government, it seems, ends the moment a migrant worker steps out of the Bangladesh airport.
Till date, the government is yet to constitute a system that can counsel the workers and support them mentally and emotionally. Considering the fact that many migrant workers have been tortured and harassed at their workplaces abroad, researchers believe that the workers are in dire need of psychosocial counselling.
"One has to understand that these migrant workers return home with broken dreams. They spend a lot of money, take a lot of loans and then go abroad. Many of them are tortured and some are raped. In this kind of a situation one needs to give them hope and help them rise again," explains Kamal Chowdhury who is the Programme Coordinator at the Nasirullah Psychotherapy Unit in Dhaka University.
"After returning, many migrants suffer from trauma. Many can't sleep at night and have anger issues. Some of them have relationship troubles and aren't able to communicate properly," he adds.
In the absence of a government policy, a number of NGOs have come in to fill the void. The BRAC Migration Programme is one of them. The programme, which is a year old, has 10 counsellors who work with patients across the country.
Speaking to Star Weekend, Mahmuda Akter, the counsellor in charge of the returnees living in Dhaka, explains why they need more than just 10 therapists.
"The number of cases that we have to deal with from the Middle East are limitless and they are the most difficult to solve," says Mahmuda.
"I once met a woman from Saudi Arabia who used to be given sleeping pills and then raped after. She would wake up confused in the mornings, not knowing what had happened or how it happened. She got pregnant and was sent back. When she first came to me, she told me that she was from Ghana and that she had just come to visit Bangladesh. Her head was all messed up," narrates Mahmuda.
"Another patient of mine was tortured so badly that she could not tell the airport authorities anything. While all her co-passengers had left, she was roaming around aimlessly at the airport. That's when we got a call and brought her to us. She wouldn't speak in Bangla. She only spoke and sang in Arabic. The case was too severe and we had to send her to the National Institute for Mental Health and Hospital," says Mahmuda.
It's not just the female migrants who need help but men as well. SM AL Jubair, the programme manager of BRAC's Migration Programme, explains that they have counselled over 25 returnees from Europe.
"There was a 20-year-old man who had gone to Libya from Dhaka in hopes of reaching Italy. Unfortunately, he got stuck there because of the war. For the first one year in Libya he lived a decent life and that's why he asked his younger brother to join him. Unfortunately, the man was kidnapped there by terrorists and tortured for a long time before being sent back home by the IOM," says Jubair.
"His younger brother, meanwhile, had boarded a packed trawler to go to Italy. However, that trawler sank before reaching the European nation. When the man initially came back home, he wouldn't talk to anyone. He had lost his brother, he had lost all his money, he would just sit in a dark room inside his home. We had to go to his house and counsel him for days. After a while he started sitting in his father's shop and seemed better," says Jubair.
CR Abrar, a researcher on migration issues, points out that it's not just the battered migrants who need mental support, but even the ones who have tasted success.
"Even if a worker has been successful abroad, the worker needs counselling because the family dynamics at home changes. Whether or not you are successful abroad, reintegrating with your own family and society at home can be a problem.
"There have been several cases where husbands leave their wives soon after the latter go abroad. The men tell the women that they don't want to be with them because they suspect that the women were up to no good in the Middle East. Returning migrants are not necessarily better off than trafficked victims," opines Abrar.
He also believes that the safe homes in the Bangladeshi embassies abroad should have psychiatrists who can provide victims with immediate support. "The question is, are the shelter homes properly staffed? Unfortunately, psychosocial counselling is an agenda that is always at the bottom of the list," says Abrar.
Gazi Mohammad Julash, the Director General of the Wage Earners' Welfare Board, admits that the board is yet to create a proper system to counsel the workers.
"So far, what we do is we maintain the safe houses in the embassies. We pay for food and treatment there. Once the migrants are ready to come back, we pay for their return home. If they need medical treatment we get them admitted to a hospital. We also give them one lakh taka for their treatment. As far as mentally traumatised migrants are concerned, the number is far less," says Gazi.
"For them we have to institutionalise a system. After all, I can't just send a person to Netrakona randomly and counsel someone. We are doing a study and so is the International Organization for Migration [IOM]. The study is focused on reintegration. We are working on the different ways migrants can be better reintegrated into society," he adds.
For a country that is highly dependent on the remittances sent from abroad, it's a surprise that the mental woes of the workers have largely been ignored.
Time and again, there are reminders which prove that this issue is not receiving as much attention as it deserves. Just last week, a woman, who had recently returned from Saudi Arabia, tried to kill herself by swallowing insecticide inside a toilet at the Hazrat Shahjalal International Airport.
The question is, how many more such reminders will the concerned authorities need?