Human Rights
If Rohingyas were Hindu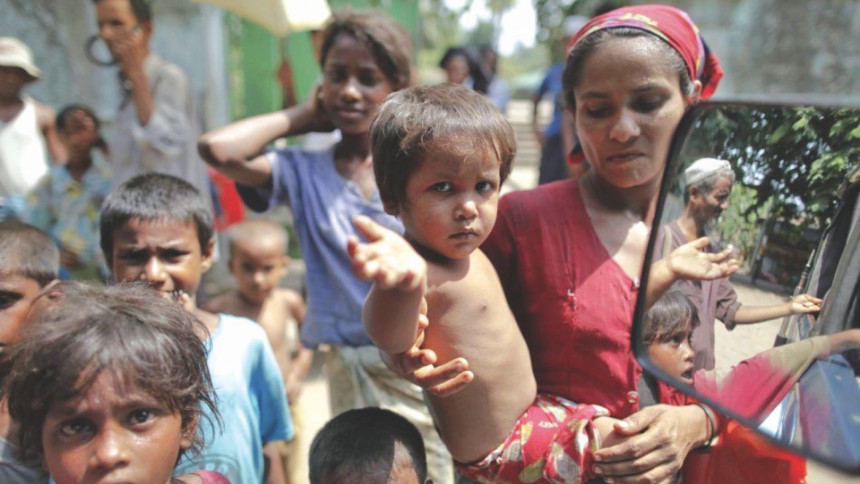 Narendra Modi, the Indian prime minister, likes to make his case by asking a question and letting his audience answer it. They never disappoint him.
"Is it unfair or not? Do you want justice or not?" Modi asked a raucous crowd of thousands of people on a campaign trail in 2012 at Silchar, Assam. As the crowd answered in a unified chorus, "Yes", he then promised, "Let me form the government in Delhi. Justice will start to be available."
Wearing a flowing white turban and kurta, he made a passionate case for Bangladeshi Hindus, who had escaped persecution in their home country, to be allowed to stay in Assam, where resentment was growing among locals against "illegal immigrants." The other Bangladeshis—essentially Muslim ones—living in Assam, Modi said, were the infiltrators who "steal your rights."
"There are two types of Bangladeshis. One type of Bangladeshis came here to fulfil some people's political agenda," he sought to explain. Lowering his voice as if he was sharing a secret with the audience, he went on to say, "And the second type are those whose lives have been made difficult in Bangladesh. Their lives have been shattered. The dignity of their sisters and girls is no longer safe."
And then, he asked: "Where would they go? If a Hindu, regardless of his passport, is persecuted in any corner of the world, where would he go?" Expectedly, the crowd roars: "Hindustan!"
Throughout his entire campaign to become Prime Minister, Narendra Modi often invoked the issue of illegal immigrants. And all his talks can be summed up in one short sentence: Keep the Hindus, deport the Muslims. But he wouldn't admit it. In fact, he carefully avoided mentioning the word "Muslims" in his speeches. But his implicit reference to Muslim immigrants was too loud and clear to be missed.
His ruling party BJP and its ideological parent RSS have long resorted to this simple mantra to ignite the kind of religious nationalism they promote: Hindustan is for Hindus only. If one challenges this narrative to ask where the place for a Muslim in secular India is, an RSS activist would cleverly reply that the word 'Hindu' doesn't necessarily refer to the followers of what we know as Hindu religion. Summoning a well-thought-out line of strategy, he would also say that the Muslims and all the people who have lived in the sub-continent for ages are basically "Hindus," because "Hindus" refers to those who live along the Indus River.
RSS used this argument to defend its grand plans for the unification of ancient India, consisting of present day India, Pakistan and Bangladesh. However, in reality, the hole in this argument is very clearly visible.
The recently amended decades-old Indian citizenship act paved the way for Hindus, Sikhs, Buddhists, Jains, Parsis, and Christians from neighbouring countries to apply for citizenship. Only Muslims, as it seems, remains pariahs.
If religions didn't matter in its Hindutva project, as any RSS politician would claim, why were the Rohingya Muslim refugees in India not eligible to claim citizenship?
Not only did Modi's India refuse to treat all the 'refugees' fairly regardless of their religious background, but it also failed to provide Rohingya refugees a sense of security. Enabled by the hatred and bigotry RSS have exuded since Modi's ascent to the throne, local Hindutva cadres have threatened to unleash lynch mobs on the street of Jammu to "identify and kill" Rohingyas if the government does not deport them.
Disturbingly, the Indian government appears to have paid heed to these bigots' demands instead of protecting the persecuted Muslims. A story by Reuters citing an Indian government spokesperson says that India is in talks with Bangladesh and Myanmar to deport 40,000 Rohingya Muslims, arguably one of the world's most persecuted ethnic groups.
These Muslims have lived in India for years, having fled bloody conflicts in Myanmar, their home, and crossed over a porous border into Bangladesh and India. Since the 1990s, hundreds of thousands of Rohingya have lived in Bangladesh. Last year, more than 75,000 Rohingyas have come to Bangladesh after a huge security crackdown in which troops committed mass murders, rape and inhumane crimes. However, in Modi's Hindustan, they are not considered 'persecuted enough' to be protected, let alone be granted citizenship.
India could have played the biggest role in putting an end to the Rohingya crisis, if it had pressured Myanmar in this regard. India instead showed no interest to solve this severe humanitarian crisis near its border, lest its important neighbour tilt toward China. If Rohingyas were 'Hindu', would Modi still have turned a blind eye to the crisis and tried to send Rohingyas back? I will let you answer this, and I know, as does Modi, what your answer will be.
---
Nazmul Ahasan is a member of the Editorial Team at The Daily Star. He can be reached at: nazmulahasan@live.com.