What legal action can a male rape victim take?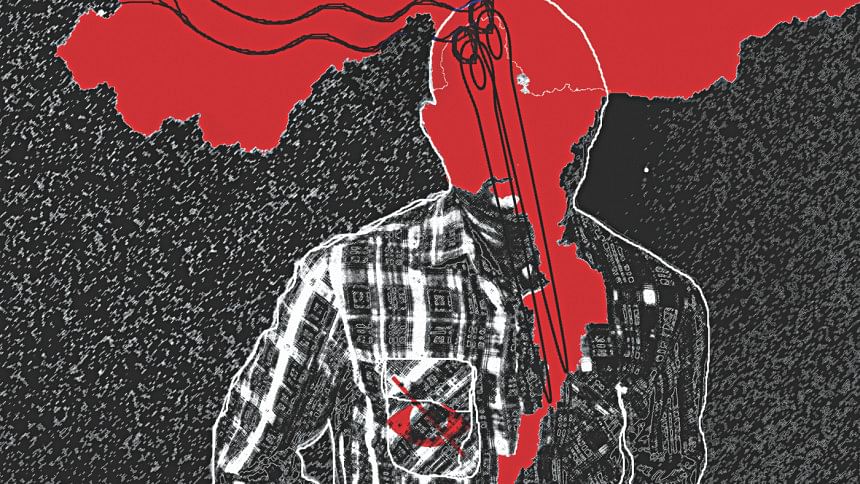 On August 19, 2019, Jamir Ullah*, a 45-year-old father of one based in Sreepur, hanged himself from a beam off the balcony of his home after being gang raped by 10 men.
The day before Jamir killed himself, the group of men had taken him to a nearby forest and gang raped him while videotaping it. They threatened to spread the video on social media if he failed to pay two lakh taka the following day. Before killing himself, Jamir had sent his wife and child to visit his in-laws' house, to ensure that they would not be home at the time of his suicide.
The local police sub-inspector told the media that, "Jamir informed his family, and locals about the incident, who suggested him to file a complaint. But he killed himself." (Dhaka Tribune, August 19, 2019). It is important to note even if Jamir had decided to take action, our law would not recognise him to be a victim of rape. This is because in our criminal laws (namely section 375 of the Penal Code and section nine of the Women and Children Repression Prevention Act 2000), rape by definition can only be perpetrated by a man against a woman or child. Therefore, there is no such thing as an adult male rape victim in the eyes of the law.
Some may argue that Jamir's case could have been filed under section 377 of the Penal Code, which deals with "unnatural offences" and criminalises the act of someone who "voluntarily has carnal intercourse against the order of nature". However, section 377 is quite clearly concerned with consensual sexual intercourse that falls outside the heterosexual norm and has been widely used throughout the South Asian region to criminalise same-sex relations. Therefore, section 377 would not have recognised an adult male such as Jamir as a victim of rape.
Ultimately, in an effort to seek some semblance of justice after his father's death, Rakibul Hridoy filed a case against the eight suspects under section 57 of the Information and Communication Technology Act (ICT Act) for blackmailing Jamir. Section 57 of the ICT Act criminalises the publication of any material in electronic form that is fake and obscene, defamatory or "tends to deprave and corrupt" its audience or prejudices the image of a person, among other things. However, Section 57 of the ICT Act proved to be so controversial that it was repealed last year by section 61 of the Digital Security Act 2018. That Jamir's son is seeking criminal charges under a repealed provision of the law, and that there are no charges being sought for the sexual violence that Jamir allegedly endured, epitomises the law's failure to protect adult male victims of rape.
Jamir's incident has been received with shock and disbelief. Some suggested that this is evidence of a pending apocalypse, therefore the most "unnatural" and "unthinkable" incidents are occurring. Implicit in our treating male rape this way is the notion that female rape is the only "natural" form of rape, making male rape altogether inconceivable. Our society often considers rape to be the inevitable outcome of carnal male desire provoked by female temptation. If women just dressed "modestly" and avoided travelling alone after dark, everything would apparently be fine. However, when a grown man gets raped by 10 other men for extortion, the fallacy of these long held societal notions on rape is exposed.
We must accept that the occurrence of male rape is not new or "unthinkable" in Bangladesh. A multi country study by the UN found that 2,374 men in Bangladesh had reported being raped by other men. Moreover, the rape and sexual abuse of boys in madrasas by their male teachers is highly prevalent across the country.  In September, the principal of Aramnagar Hafijiya Madrasa was accused of raping a male student of third grade. The student's father, a rickshaw puller, filed a case against the principal, who is on the run (Dhaka Tribune, September 3, 2019).
The legal position of minor male victims of rape is different from that of adult male victims. This is because section nine of the Women and Children Repression Prevention Act 2000 supplements the gender specific definition of rape found in section 375 of the Penal Code (which says that only females can be victims of rape) by stating that children can also be victims of rape. As the 2000 Act defines a "child" as any individual under the age of 16, it would include male victims of rape under this age limit. However, families of boys who are raped rarely file rape cases, either due to the stigma or due to the non-cooperation of the police, who have been reported to divert male rape complaints to be filed under section 377 (unnatural offences) instead. Moreover, the definition of a "child" in the 2000 Act conflicts with that found in the Children Act 2013, which considers anyone under the age of 18 to be a child. Therefore, it is unclear whether minors aged over 16 but under 18 could file rape cases under the 2000 Act.
While it is reassuring that certain newspapers in Bangladesh have labelled Jamir's ordeal to be "rape" instead of "sodomy" (as it is normally referred to in local news), it is unfortunate that Jamir's and his family's identity were not kept private. Generally, newspapers do not publish the identity of female and child rape victims as the 2000 Act specifically prohibits disclosing the identity of anyone who can be considered to be the victim of an offence under the Act. However, since Jamir falls outside the purview of the recognition of a rape victim, this safeguard does not apply to him.
Our lawmakers should treat these incidents as an impetus to rectify the serious gaps in our rape legislation by adopting a definition which is broad enough to cover all victims of rape who currently fall outside the existing laws, including those who are male adults and hijra etc. We must recognise rape in all its forms and treat all of them as being equally "unnatural". If social mindsets and the law are to change, our current discourse on rape must first be changed.
Taqbir Huda is a Research Specialist at Bangladesh Legal Aid and Services Trust (BLAST) and leads the Rape Law Reform Now campaign at BLAST. He can be reached at [email protected]
*A pseudonym has been used to refer to the rape victim from Sreepur to respect their privacy