five things
Effective charity
Five ways to stretch your money farther this Ramadan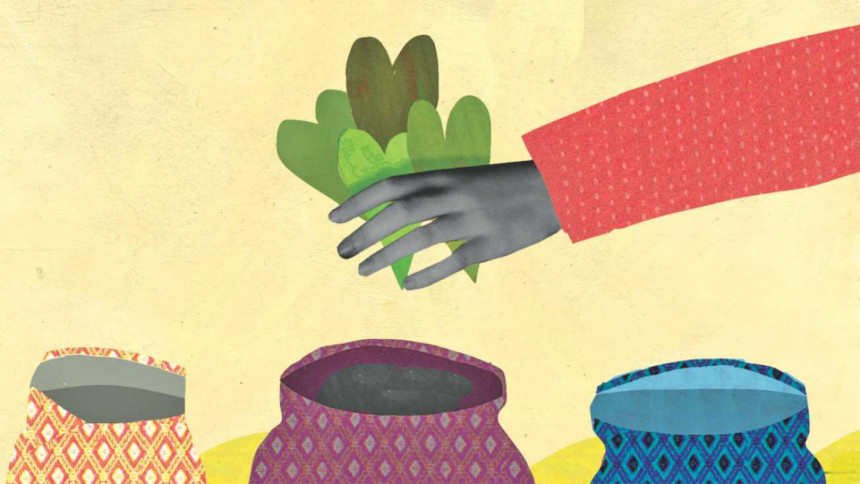 For Muslims giving charity is not only encouraged but also a religious obligation. Due to the possibility of earning 'extra rewards', Ramadan presents a happy occasion where we can make a 'profit' from our charity. So traditionally we give more in Ramadan, especially by distributing our zakah. 
In Bangladesh, there is excellent opportunity to make a real dent in poverty with zakah– one count, seven years ago, put our potential zakah at Tk 110 billion, or 1.4 percent of the GDP. As with all our actions though, we should try to do charity with ihsan (excellence)– hence this article based on my experiences as a development practitioner and researcher for nearly a decade. I hope to start a conversation on our charitable practices.
1. Plan

Unfortunately, when giving to charity, although we plan how we'll gather our money, we don't always plan the distribution. We end up giving to the first good opportunity that catches our eye, creating a mad rush in the last ten days of Ramadan to 'offload' zakah! This is an inefficient use of our hard earned money. My husband and I find it a good practice to plan who we will give our zakah to, and when, ahead of actually gathering the money. This way we're better focused on how well our money will be used. We keep the sadaqa fund for spur-of-the-moment donations because we can't plan for every eventuality.
2. Stop giving the majority of your charity in Ramadan

I fear this will be unpopular advice, but the logic is sound. Underprivileged people, who are zakah recipients, struggle with poor financial literacy. If you don't have money, you won't learn how to use money. Think back to when you were younger – how good were you at accessing safe savings schemes, prioritising expenditures, and planning for the long-term? You were probably really bad because you'd just started using money. It's the same for people with limited access to money all their lives. Plus, people have competing priorities: how do you choose between sending your child to school, paying for medical expenses, and buying food? So people spend on the most immediate need, without objectively considering the future. 
I remember a sincere man once handing me a good sum of money so I could transfer it to a very poor rickshaw puller. I advised him not to transfer in one lump sum, without a proper expenditure plan, but he insisted. It didn't surprise me when he called back, bewildered the recipient had spent the entire sum on just clothes for his daughters. This was not the rickshaw puller's fault. One-time large donations are like winning the lottery–great, but you can't plan for it.
If you still want the Ramadan reward though, I practice a Muslim charity hack: we make the intention for it in Ramadan, but distribute our charity consistently during the rest of the year. If you want to totally lock down the money, transfer it to an 'untouchable' account in Ramadan. Your money is safe, you hopefully get the reward, but your distribution has a more substantial impact than a yearly dump.
3. Consult the recipient

As donors, we must not dictate to our recipients how they should spend the money. One of the pre-conditions of zakah is that the recipient gains full ownership of the money. But how can we reconcile such independence with the poor financial literacy many recipients have?
Most people know what they 'need'. You can help them fulfill their need by discussing 'how' they want to do it. Suppose they say, "I really need my son to finish university, so he can earn." You ask, "How much does he need per month to continue studying?" It indicates how much money they should get from you, and the conversation will help them plan better how to spend. Don't hesitate to go into the nitty-gritties –transparent plans are better plans. 
This conversation isn't easy, especially with the silent poor whose dignity prevents them from seeking help. My parents once invited a family to lunch, and spent a long day hanging out with them, all so they could quietly offer a scholarship to the eldest child without hurting the family's dignity.A scholarship is excellent because education is a great tool for social mobility, and 'scholarship' is a much more dignified word to many than 'donation' or zakah.
4. Stop with the shari-lungi

This is a disease. Much has been written of the futility, danger, and un-Islamicness of this practice. Zakah is a tool for poverty alleviation. It is bizarre to think distributing substandard clothes alleviate poverty. A lady once complained to me of her "zakater shari" that was so thin, it became transparent after one wash. But are high quality sharis more useful? No. I have interviewed women in slums who have only one shari, so when they wash it, they stay inside till it dries. But even they won't suddenly stop being poor if you give them a jamdani. Instead pay the training fees so she can learn a trade of her choice, introduce her to clients, and buy her equipment to set up a business. Do anything but waste your money on shari-lungi.
5. Don't break up your money into little pieces

Unless your zakah is in lacs, it will be most useful to one or two recipients, not many. The temptation to help many is strong, and it is difficult to refuse people. But the quality is dismal. An organisation I work with, Community Action, has a scholarship programme that keeps children in school, and even funds them through university, with consistent sums of Tk 2000 every month. So a student needs Tk 24,000/year (in rural areas, it is less). Suppose Tk 24,000 is your annual zakah, and you divide it into tiny parts: it will reach a lot of people, but it won't help them achieve a substantial milestone like finishing school. Similarly, projects that randomly distribute food—while incredibly kind—are not effective. Childhood stunting is a real problem in Bangladesh, making reducing malnutrition a must. Try and ensure children in a family, or an institution, get nutritious food regularly, instead of feeding a thousand people one meal.
To distribute zakah well, it is a must to know the eight categories of recipients well, including how scholars explain them. Raising overhead costs for charities in Bangladesh is really difficult – people confuse it with corruption. But one of the eight categories in the Qur'an is "employees of zakah", which includes social service workers who identify eligible recipients, collectors of zakah, auditors of the accounts, those who do the secretarial work, those who distribute etc. This is overhead cost! Paying off someone's debts is also an amazing way to use your zakah .The potential harm prevented is enormous.
Charity needs effort and practice. Start with 'even a smile is charity'—If you're refusing a beggar, do so with a smile instead of a frown! My brother always pays rickshaw pullers extra because even a tiny increase makes them disproportionately happy. Inspired by him, I tried this one Ramadan. I was taken aback by how HARD it was to consistently do for a month – pointless bargaining with rickshaw pullers is a cruel art form in Bangladesh. But the result of deliberate practice meant by the end of the month, I had at least learnt to identify the hidden Scrooge in me. That is a win – try it!
Nabila Idris is a University of Cambridge student and the founding president of Community Action. A version of this article was first published in 'Fajr Lifestyle Magazine' (2016).