Combining Dancing and Direction
My first experience as a film's Dance Director
Photos: MD Ripon
"I'm nervous," were the first words that director and writer of the film Gohin Balu Chor, Badrul Anam Saud, said during the press launch of the cinema. While he said that, all I could think was, "YOU'RE nervous?? What about me???" 
About 4-5 days before the event, I received a call from the director with a request that I knew would change my life, would give me that big break I always wanted, that would let me soar to newer heights. With a lot of contemplation, encouraging words and a heap of risk and apprehension settled inside my heart, I took the leap. I began my first ever project as dance director for a film. 
I then learned that I will be working directly with one of the most talented composers of our time, who has even trained under the legend of music, AR Rahman,- Emon Shaha, son of another legendary composer- Satya Shaha. I was sent the first song and I had no idea how to go about it if it wasn't for the director himself. Director Badrul Anam Saud and legendary actor Suborna Mustafa, who also stars in the film, gave me some examples I could follow, showed me some videos of the kind of dances they want- and it was nothing like the general cinema dances that we see in Bangladesh.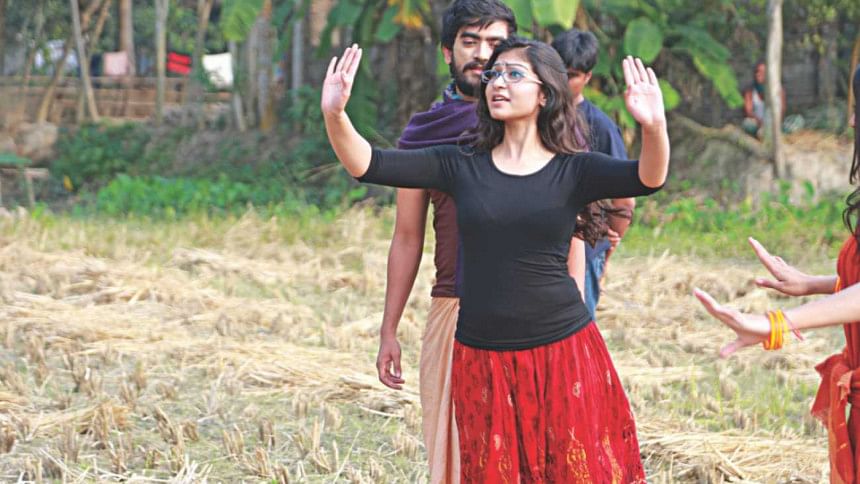 The crew, the director, the assistant directors- I've worked with these people for four years running, but all this time, I was an actor to them, one of the 'artists'. This time, I was one of them- behind the camera, not in front, and I absolutely loved it.
The one thing I had to first implement in the actors was a sense of rhythm, which was tougher than I had initially thought. The first piece was a love song and there was very little dance. It was more rhythmic expressions.
I began with directing lead actors Tanvir and Moon. The chemistry had to be perfect for the love song. I had never done a romantic dance, so I had to teach myself a lot of new things before I could teach them. How to make and keep 'romantic' eye-contact, how to get a little 'handsy' on-screen, bringing out the 'filmy' side of nritya- all of this was new to me, but watching old film songs gave me a clearer idea of what must be done. How fast I can learn was a skill I had newly discovered, among the many self-discoveries, through this project. 
The dances had to be easy enough for people who have never danced. That was perhaps the biggest challenge for me, considering that all I have ever done throughout my dance career was full-fledged Indian Classical.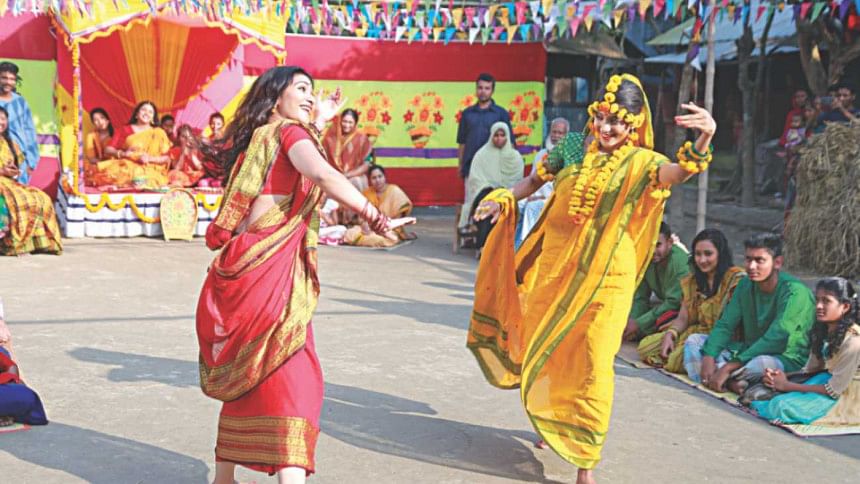 We moved on to another piece that would be performed by Neelanjona Neela, or who I endearingly call 'baby bird'. Her enthusiasm and willingness to do well was infectious. Shooting for this one, I got the real taste of dance direction- where I had the authority to call cut to a missed beat, discuss the shots, the angles and oh my, was it exhilarating!
The third dance was what they call an 'item dance'- the one dance in the cinema that was mostly dancing, very upbeat, and well, a little 'sultry'. While I was prepared to create a dance that was mostly folk, I didn't know who would be performing. I was having some trouble with it until of course I found out that I would be performing it myself! 
Shooting that particular dance was my favourite memory of the entire shoot. I was told that it usually takes 2-3 days to shoot an entire song. I knew I had little time on my hands and if I were to give a lot of time to each, I would not be able to cover. I took on the responsibility of finishing at least my piece in one day. We set off to shoot at precisely 11 in the morning. In seven straight hours, with no breaks, and a lot of enthusiasm, we finished it-- one whole song in one day with time to still shoot other scenes.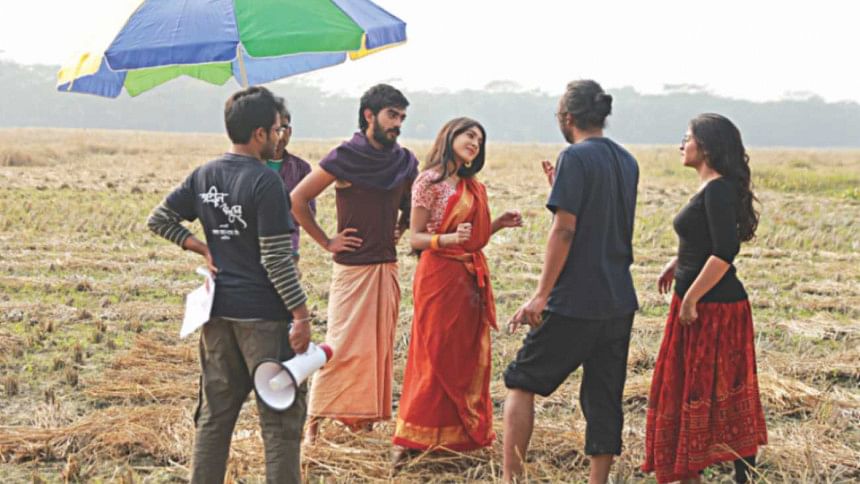 The final dance I made was that of festivities. I had the pleasure of directing talented artists like Shahadat Hossain, Shormy Mala, Suborna Mustafa herself, young actor MD Rasel, who were all cooperative. I unfortunately could not stay during the shoot of that particular dance but the amount of help that Neela and Rasel lended, from picking up the dance to teaching it to the others, is something I will never forget. 
The whole ordeal, going to Barisal, camping together with a unit of 40-50 members, gelling with them, communicating with each one, working together as a tight-knit team and creating magic, has become something to boast about. 
Gohin Balu Chor's shooting phase has ended, and it still feels like a dream. Up until the last day of shoot, none of us were aware of how fast time flew. Now that we're done behind the camera, we're all eagerly waiting to walk down that red carpet on premiere d

ay and proudly announce that we were a part of this masterpiece.