event
Tickle your intellect this Lit Fest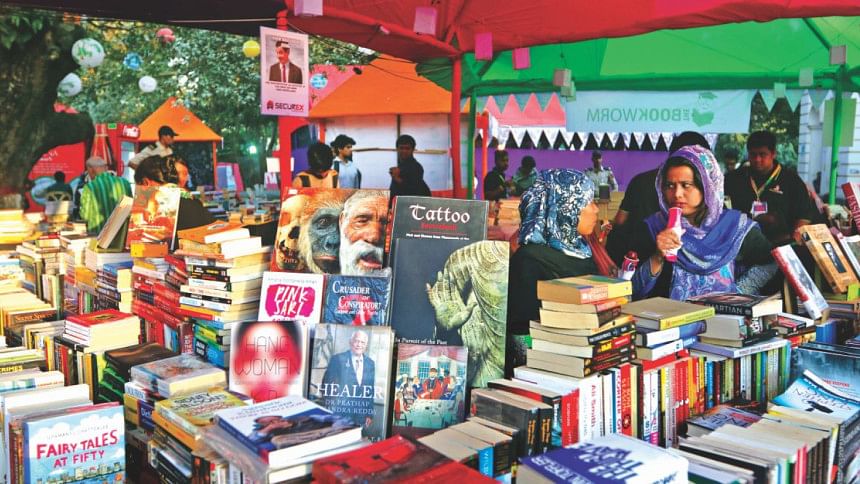 It's that time of the year again—to soak in the muted, winter sun on the dewy early-morning lawn, sipping shatkora and lotkon sherbets as you give up body and soul to rapturous lines of poetry, all eyes and ears for the literary luminaries and cultural icons who grace the grounds of Bangla Academy this weekend-and-a-half as Dhaka Lit Fest (DLF) returns for its third year.
This time, DLF will not only feature a star-studded retinue of over 200 writers, journalists, artists and directors from 24 countries, but will also have several book and magazine launches (including the official Bangladeshi launch of celebrated literary magazine Granta) and two literary award ceremonies—the prestigious DSC Prize for South Asian Literature and the Gemcon Sahitya Puroshkar.
In case you're not already convinced, here's our rundown of must-hear speakers and must-read new books at DLF 2017.
The stellar cast
Adonis
Touted as the greatest living poet of the Arabic world by The Guardian, the reclusive master of free verse will be making a rare public appearance in Dhaka this week. Adonis' vast oeuvre of work—which includes "The Songs of Mihyar of Damascus", "A Time Between Ashes and Roses", "Al-Kitab", "This is My Name", and "A Grave for New York"—is known for breaking with the traditional formal structure of Arabic poetry, with his brilliant experimentation with verse, metre and prose poetry. As he said in a 2010 interview with New York Times, "I wanted to draw on Arab tradition and mythology without being tied to it. I wanted to break the linearity of poetic text—to mess with it, if you will."
In case you missed yesterday's session with Adonis and Kaiser Haq, do attend his poetry recitation on Friday.
David Hare
David Hare, director and playwright extraordinaire, if not known for his 2011 spy thriller Page Eight, happens to be the man behind the explosive screenplays of The Reader and The Hours—both of which he received Oscar nominations for. Acclaimed for his stage work, Hare received the BAFTA for his play "Licking Hitler" in 1979 and the Laurence Olivier Award for "Racing Demon" in 1990 and was knighted for his contributions to theatre.
Theatre enthusiasts, aspiring screenplay writers and movie buffs will definitely want to catch his session "Staging Stories" with Asaduzzaman Noor.
Tilda Swinton
Where does one begin? Or does one even need to? The Ancient One, The White Witch, Orlando—what role hasn't Tilda Swinton played, perfected and shined in? Swinton is as versatile and iconic as living actors get (which is probably the reason why she doesn't have a speaker bio on the DLF website), but she will be attending DLF this year for the premiere of her documentary on John Berger, the beloved British art critic and author of "Ways of Seeing", on Saturday.
If you're disappointed at the thought of finding a completely different Swinton at Lit Fest, you will be pleased to know she will also be speaking about her life on the stage and acting as a form of authorship on Friday. Hmm, I bet that's piqued your interest.
Ben Okri
His work has been described as everything from magic realism to existentialism to post-modernism, but the 1991 Man Booker Prize winner rejects these categorisations. On the question of his written style, Ben Okri once stated, "I grew up in a tradition where there are simply more dimensions to reality: legends and myths and ancestors and spirits and death... Which brings the question: what is reality?" Indeed, his trilogy, composed of "The Famished Road", "Songs of Enchantment" and "Infinite Riches", blurs the lines between the real world and that of spirits and mysticism.
Catch one of the foremost African authors of the day in his sessions on magic in stories today.
William Dalrymple
William Dalrymple returns to Dhaka bearing a mysterious, new gift—a photo series titled "The Historian's Eye" that launches on Friday at DLF. Fans of "White Mughals" and "In Xanadu" despair not—the celebrated historian will also be appearing in two full sessions on both Friday and Saturday to discuss his works, which tell stories of the history and art of India, Pakistan, Afghanistan, the Middle East, the Muslim world, Hinduism, Buddhism, the Jains and early Eastern Christianity.
If you've already read "Kohinoor: The History of the World's Most Infamous Diamond", don't miss his Saturday session dedicated entirely to his newest book.
Nandana Sen
Nandana Sen adds to the list of stars from the movie world attending DLF this week. However, Sen, who is critically acclaimed for roles in Autograph, My Wife's Murder and Tango Charlie, will be here foremost in her capacity as a children's author and activist, featuring in two children's sessions over the weekend and another session on Saturday morning, "Women, art and politics" with "Hideous Kinky" writer Esther Freud, spoken word artist Bigoa Chuol and BBC2 reporter Bee Rowlatt.
Exciting new reads
To add to our excitement, DLF 2017 will be featuring a luminous line-up of book and magazine launched by local publishers. Bengal Lights Books (BLB), University Press Limited (UPL) and Bengal Publications are all bringing titles by Bangladeshi authors and poets we don't want to miss.
Lovers of poetry should keep an eye out for Nausheen Eusuf's debut collection "Not Elegy, but Eros", which takes on the twin themes of life and loss in bold verse, and Kaiser Haque's extended edition of "Pariah and Other Poems" at the BLB stall. BLB is also unveiling "Two Novellas" by well-loved writer Imdadul Haq Milan—a translation of his Bengali works by Saugata Ghosh and edited by Arunava Sinha. And the cherry on top—the new edition of Bengal Lights will also be available for connoisseurs of Bangladeshi literature.
At the UPL stall, readers will find a second Kaiser Haq title—the new enlarged version of "Published in the Streets of Dhaka", as well as seminal works by scholars, namely Ananya Jahanara Kabir's "Partition's Post Amnesias: 1947, 1971 and Modern South Asia" and Niaz Zaman and Asif Farrukhi's enlarged edition of "Fault Lines: Stories of 1971".
If you're looking for more works on the Liberation War, check out Bengal Publications for Niaz Zaman and Razia Sultana Khan's anthology of war narratives, "Stories from the Edge: Personal Stories of the Liberation War". Bengal is also bringing out a series of literary journals, including Six Seasons Review (edited by Fakrul Alam), the international arts magazine Jamini, and a non-fiction/art catalogue, EMMZine.
With a cornucopia of speakers and endless literary works to explore, DLF 2017 is sure to tickle your intellect.