The Creative Career
"How can I learn more about my career opportunities?" - a question that arises among all students near the end of graduation. Established in April 25, 2009, Dhaka University Career Club (DUCC) has been providing solutions to this question thanks to its wide range of events and activities. 
One of their most successful endeavors has recently been held on May 17, 2015. It was a workshop and contest on Feature writing and building career in media. It was an amazing programme full of information, enthusiasm and inspiration. One of the participants, Afsana Islam from Sociology department of Dhaka University says, "I did not know about the many opportunities in the fields of feature writing and translation, which exist in Dhaka. This workshop conducted by renowned media professionals and journalists has given me a lot to think about now."  
The facilitators with their interactive sessions were very effectual and successfully spread the spirit of creativity. In the very first session, Anjali Sarkar, Executive Editor of campus2career24.com, Sozib Mia, Joint Secretary, Prothom Alo Bondhushava and Zahid Hossain Khan explored the looming opportunity of career in feature writing and translation. "Start writing from tonight, don't stop and one day you will feel the improvement yourself," says Anjali.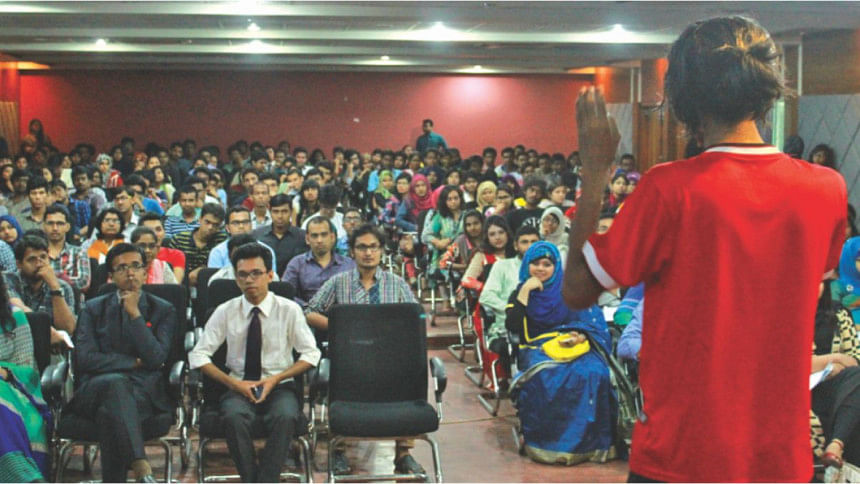 "Being 'successful' is a life style and one needs to acquire it," says Zahid Hossain Khan, Campus Ambassador of Wikipedia.  Later on, three separate panels were conducted. Panel A was moderated by Prito Reza, CEO of Wedding Diary, Bangladesh including Actress Quazi Nawshaba Ahmed and Paula Rahman, Creative Head of this renowned photography outlet.  Their  thematic discussion on creative career and aim of life inspired the participants. Producer of Jamuna Television Manjur Morshed moderated the second panel session where students learned about journalism and working opportunities in electronic media. HM Shuja, Admaker and Golam Rabby, Senior News Presenter of Somoy TV joined the panel discussion and shared their experience and insights with the participants. 
The final session of the programme was about mentoring students to build a resourceful and creative life by overcoming all obstacles.  Syed Abid Hussain, RJ, Radio Bhumi moderated the session with Shathira Jakir Jessy, Cricketer, Bangladesh National Women Cricket Team. After the event, representatives from DUCC informed the participants about the contest rules of feature writing. The workshop was a grooming session for those who participates in the "Feature Writing Contest". Top three write-ups from the contest were published in the national dailies and top 10 writers got the opportunity to work in in various media sectors.
DUCC is the only career club of Bangladesh which has a network of around 30,000 students where they are provided career oriented solutions. To date, DUCC has successfully arranged four job fairs, 100 seminars, 30 workshops, Business plan competitions, career weeks and many other events. Its founder Abid Hassan Khan hopes that it will continue its journey by providing more pragmatic solutions to the dynamic young generation of our country.
The writer is a student of Economics Department, United International University.