Event
AAA: Awarding Excellence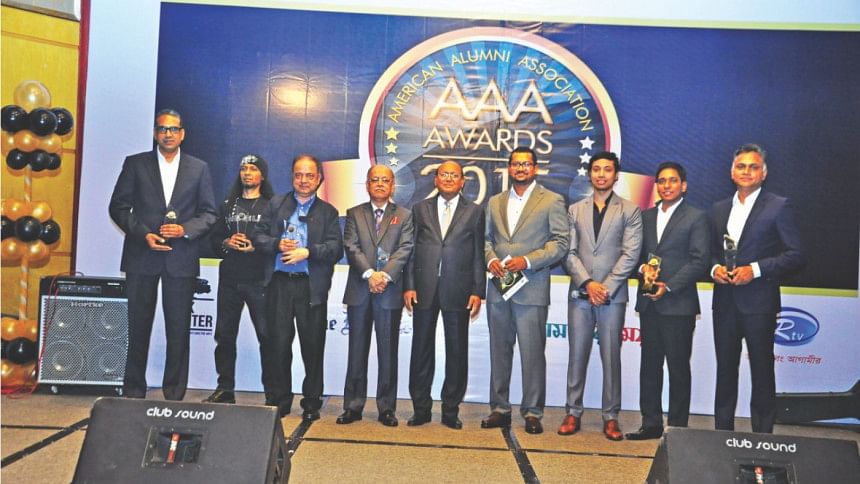 Bangladesh is filled with graduates who have learned from developed countries, who are now assets to the development of our own nation. Recognising and awarding them will only help them take their work further. With such a strong initiative; the American Alumni Association (AAA) of Bangladesh hosted their fourth Awards Night to recognise the Outstanding American Alumni in our country. The ceremony took place on November 20, 2015, at the Grand Ball Room of The Westin, in Gulshan, Dhaka. Commerce Minister, MP Tofail Ahmed graced the occasion as the Chief Guest. Distinguished guests, such as Tahsin Aman, President of AAA, Arefeen Syed, Secretary of AAA, Rita Lohani Treasure of AAA, among others were present at the event. 
The American Alumni Association is a society of graduates of American colleges and universities who are living in Bangladesh and are currently contributing and serving to the advancement of the nation as active citizens. AAA's objective is to encourage association among American graduates; to aid members to pursue careers that make good use of their abilities and majors in their academic life, and to preserve a record of skills that can be delivered to domestic and international users. AAA recognises members of noteworthy accomplishments, presents awards and scholarships, assists delegates of American Colleges and universities, and provides assistance to Bangladesh students exploring prospective possibilities for quality education in the United States. AAA also runs Computer-Based Testing (CBT) examinations in Dhaka, such as TIBT, GRE, IIBA and other professional examinations that candidates need in order to be eligible to apply to American universities and other foreign universities, and to serve their professional credentials purposes. AAA also runs a Learning Centre for GRE and TOEFL exams which prepares potential and interested candidates to take the mentioned exams. 
The event, after the award ceremony, ended on a beautiful note with the tunes of Pentagon, the band. The awardees for the fourth American Alumni Association Award were: In the field of Entrepreneurship and Innovation- Abdul Muktadir, in the field of Business and Industry- Syed Nasim Manzur, in the field of Education- Professor A Mannan, in the field of Public Affairs- Ejaj Ahmad, in the field of Science and Technology- Dr Abed Chaudhury, in the fields of Arts and Culture- Ibrahim Kamal Ahmed and lastly, in the field of sports- recently titled adventurer of the year, mountaineer Wasfia Nazreen. 
Photo: Courtesy