When teens of the world unite for Planet Earth
As climate change chips away at our only home, it is the teens who have united to launch one of the largest movements in the world calling for climate action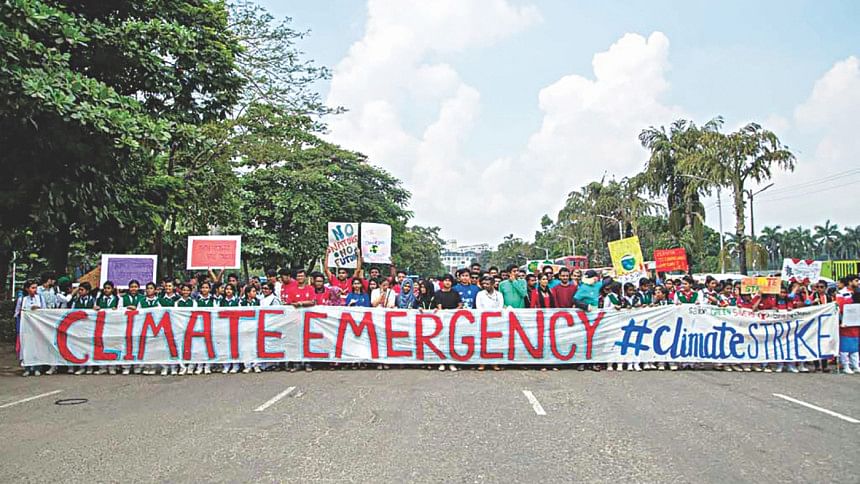 Just a day after teenagers around the world skipped classes and gathered on the streets of Dhaka, Warwick, Hamburg, London, and New York to stage strikes demanding urgent action on climate change, I had a quick chat with my sister, a teenager ravaged by anxiety about climate change herself.
While I tried to talk to her about what I thought were the usual teenage problems aka heartbreak and fear of failing her A Levels, she came up with a terse reply, which went something like this: "Bruh, the planet is dying, the Sundarbans will be over, the tigers are gone and I have eco-anxiety. So trust me, you should start suffering from this kind of anxiety because it really puts everything into perspective and stop worrying about other things."
She was right, eco-anxiety is a real game changer. It moves you from worrying about many a mundane worry and makes you take a long hard look at the future and realise that action needs to be taken, and it has to be quick. There is really is not much time; 12 years to be precise. Twelve years is how long the Intergovernmental Panel on Climate Change (IPCC) has said the planet has before irreversible damage is done to the environment.
This wave of eco-anxiety and rampant exploitation by corporations is what fuelled teenagers around the world to take to the streets, chanting, joking, holding placards showcasing the "punny, sometimes witty" slogans, all demanding the same thing—that governments and corporations take note.
In Dhaka, on a Friday (September 20 to be precise) when most of us were sleeping in on a weekend, thousands of children, many donning their school uniforms, decided to take to the streets urging world leaders to act against climate change.
They gathered with messages such as "There is no planet B", "Ekta ee prithibi, ekta ee shujog", and "We cannot save the planet alone".
That children are marching in Dhaka, in a country which has already started to face the first shocks of climate change, is a special kind of irony. Bangladesh, through no fault of its own—only contributing 0.3 percent of emissions causing climate change—is at the crux of this global calamity.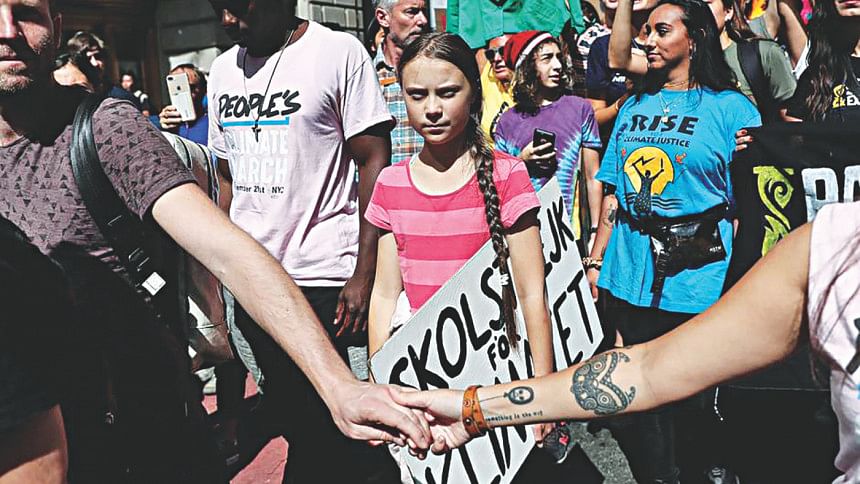 The climate strike in Bangladesh was part of a global movement across the world that took off last year after Swedish teen Greta Thunberg, now the face of the global climate strike, sat outside the Swedish parliament on Fridays urging adults to take note, calling them for action against climate change.
While internationally there is a movement waging, Bangladesh in particular stands to lose a lot if decisive measures are not taken, internationally and nationally.
A three-feet rise in sea level would submerge almost 20 percent of Bangladesh and displace more than 30 million people. Some scientists have projected a five-to-six feet rise by the year 2100, which could displace around 50 million people. Climate migrants have already been documented as moving inland or coming to the cities for years now.
The number of climate refugees continues to rise in Bangladesh as new calamities hit the delta country with a renewed intensity each year. In many of the southern districts, the intrusion of saline water has already made groundwater unusable for drinking or for any other purpose such as showering or cooking. In Sathkhira and other coastal districts, intruding saline water has degraded farmland, rendering it less fertile and eventually, barren.
Not just the people of Bangladesh, rising seas and poor decisions on the part of the government has also put the Sundarbans, the largest mangrove forest in the world and a World Heritage Site, at risk. The forest plays a crucial role in protecting the coastal areas from storm surges caused by cyclones, which, thanks to climate change, will only become more erratic and more extreme.
Just last month, the High Court gave permission to establish LPG bottling factories within the Ecologically Critical Area of the Sundarbans. This is on top of the ongoing construction of the Rampal coal-based power plant going on just around 14 kilometres from the periphery of the Sundarbans.
The densely populated nation will also face an acute food crisis owing to the impacts of a warming globe. The IPCC estimates that Central and South Asia can expect a 30 percent drop in yield by 2050. For a country that depends on rice for survival, a major loss of production could translate into a widespread nutrition crisis.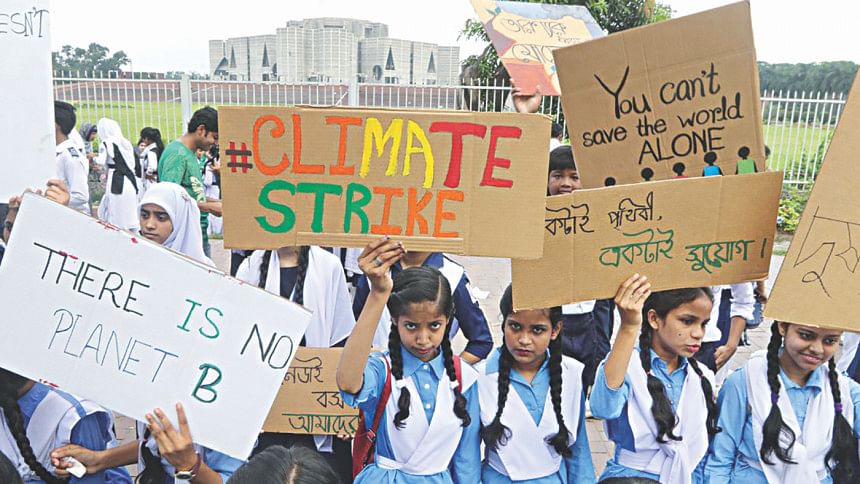 While the Bangladesh government has established a Bangladesh Climate Change Trust Fund, independent of the international funding it has access to, recent research shows that rural families in the country are spending an average of USD two billion a year due to climate change. On the other hand, the national budget allocated for climate change in rural areas last year was USD 1.46 billion and international funding was a further USD 154 million, according to a study by the International Institute for Environment and Development. This money is spent on repairing damaged homes or raising houses above flood levels—money diverted from spending on basic needs such as food, health, and education, or being borrowed at high interest rates from moneylenders and pushing these families in further debt.
Pages upon pages could be written on the impacts of climate change on Bangladesh, but the fact is the science is already there and it shows that we really did not contribute much to this crisis. Yet, the burden of the climate crisis is disproportionately on our shoulders. For Bangladesh, it is yet another wake up call to try and find localised solutions to a crisis essentially fueled by the West and the developed world.
It is essentially the poor, the indigenous communities, and those who are forced to leave places where rising temperatures and sea levels have already begun to affect life, that will have to bear the brunt of the crisis. It is also the youth and children of the country who face a future in an uninhabitable planet who are now taking on the fight. While they have risen to the occasion quite magnificently, it is difficult to predict what the movement will boil down to.