The dust-laden air of Dhaka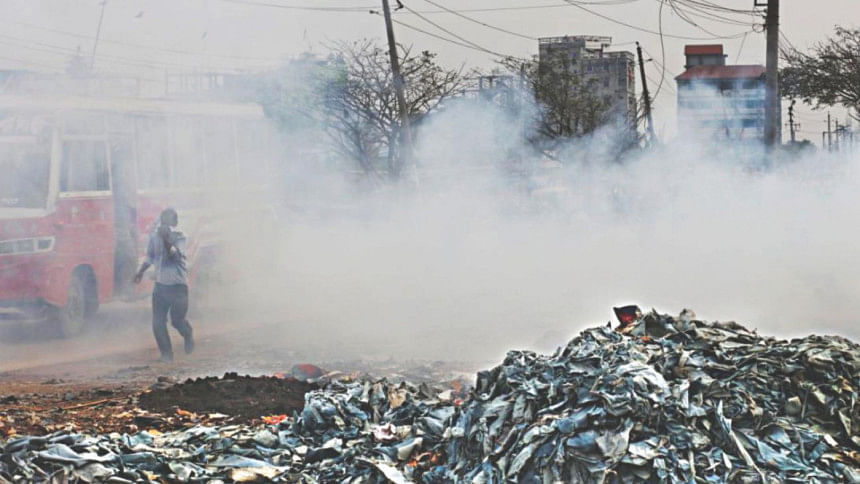 We all know Dhaka's air is bad. Yet it is never more visible than now, in the drier months of the year. This is only compounded by the constant construction that unfolds across the city, not least the metro that is being developed to ease congestion and pollution on the roads.
Early last month, the world air quality report by the nonprofit Greenpeace and IQAir AirVisual, a website visualising real-time air quality data worldwide, ranked Dhaka as the second worst capital in terms of average annual PM2.5 concentration, at 97.1 μg/m³. Delhi came first worldwide and Dhaka is followed by Kabul in the rankings. "At a country level, weighted by population, Bangladesh emerges as the most polluted country on average," states the report.
On March 20, Dhaka was ranked the worst city in the air quality index (AQI) with a score of 179, or "unhealthy". A score in the range 151-200 indicates that health effects are expected for all but particularly for "sensitive groups" such as children and adults with respiratory diseases. The World Health Organisation (WHO) guideline for PM2.5 is an annual mean of 10 μg/m³.
Dhaka's air quality generally hovers around 150, rising higher in the months between November and March. According to the clean air and sustainable project (CASE) of the Department of Environment, northwestern winds in these dry months carry particulate matter from, for example, the brick kiln-heavy areas on the outskirts of the city to here, and which can remain in the atmosphere for a long time, especially when there is no rain.
PM2.5, or fine particulate matter, is a widely used indicator for air pollution as it has the most health impact of all air pollutants. These tiny airborne particles measuring only 2.5 macrons in size, can penetrate into the lungs and from there into the bloodstream, possibly leading to heart disease and lung cancer, among other cardiovascular and respiratory conditions. It is described as the greatest environmental health risk worldwide—leading to seven million premature deaths every year, with almost two-thirds in the Asia-Pacific region alone, according to a 2016 WHO estimate.
It shortens lifespans by between three to four years in Bangladesh, according to a global report on the air quality life index. Worldwide, air pollution has been shown to be deadlier than smoking, alcohol and drug use, and road injuries. An analysis of data from the government's air quality monitoring centre showed that Dhaka residents suffered air pollution 197 out of 365 days last year, compared to between 120 and 160 days in previous years.
A 2019 study published in the journal Science of The Total Environment assessed the risk of heavy metal-contaminated street dust in Dhaka to human health. All the metals identified had toxicological effects and some such as arsenic, chromium and cadmium are carcinogenic. It found dust in Dhaka contained 200 times the cadmium considered acceptable in soil. The presence of zinc, arsenic and nickel was also higher than expected.
If compared to data modelled by the US's environmental protection agency (EPA), "The presence of these metals in dust is potentially toxic to human health," says one of the authors of the study, Abdus Salam, professor of chemistry at the University of Dhaka (DU).
Professor Salam was involved in two further studies recently, one of which assessed the risk of air pollution to schoolchildren. "We studied 10 schools and 250 young students where we tested air pollution, PM 2.5 and PM1, in their classrooms and the fields where they played. We also tested their lung efficiency."
"We found 55-60 percent of the school children had lung function efficiency below the standard value. The impact on lung function was most where pollution was higher," states Professor Salam. The children studied showed symptoms such as coughs, shortness of breath and asthma, and migraines and headaches.
Outdoor pollutants also come inside our homes. The other study, one conducted in four residential areas of the city, found indoor air pollution was inversely linked to lung function. The density of particulate matter, indoor too, was found to be higher than WHO standards. This had the same overall finding as the previously mentioned study—where pollution was more, the researchers of DU's chemistry department found reduced lung efficency.
All these seem to confirm that Dhaka's air quality has a measurable impact on our health.
Dust can, and has, been tackled in Bangladesh. The city of Rajshahi was lauded internationally for significantly reducing dust pollution by paving or planting trees on any available loose soil and introducing cleaner transport options to battery-powered rickshaws.
Since the world air quality report came out last month, talk of air pollution in the city have arisen yet again. A parliamentary standing committee, led by MP Saber Hossain Chowdhury, gave a recommendation that a public health alert be given if the AQI hits 300 (classified as hazardous), which would mean serious health effects for the entire city.
On January 28 this year, the High Court ordered the Department of Environment to conduct mobile drives twice-weekly against bodies causing air pollution. On March 13, the High Court once again asked for reports from the environment department and the city corporations as to what steps they are taking to combat air pollution.
But a look at the city shows that one of the major sources of air pollution is not being tackled sufficiently, if at all.
The leading cause of ambient air pollution are brick kilns around the city which, according to the Department of Environment's CASE data, are responsible for 58 percent of air pollution. Modernisation of the industry has been underway since the 1990s to be cleaner and more efficient, including phasing out fixed chimneys for cleaner and more efficient kilns.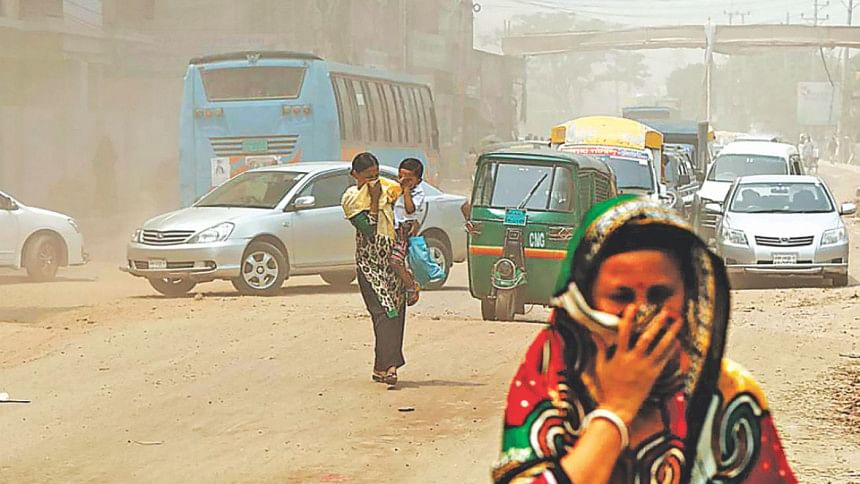 Next, vehicle emissions which make up 10.4 percent or air pollutants, too, have been addressed with compressed natural gas (CNG) and lead-free gasoline being introduced and two-stroke engines removed from the roads over the last two decades.
Fighting the public health impact of air pollution in Bangladesh has also tended to focus on indoor air pollution, such as introducing cleaner cookstoves to the traditional lakri-burning stoves. But what most affects indoor air quality has been found by researchers in Dhaka (and worldwide) to be outdoor air quality.
Road and construction dust account for 15.3 percent of air pollution.
Dust on the roads originate from unregulated construction sites and are constantly stirred up by moving vehicles. "Dust pollution is a major problem now. Addressing constant roadworks and building construction across the city is challenging. For one, there are thousands of buildings and high-rises being built by both public and private bodies," says Md Ziaul Haque, director of air quality management at the Department of Environment.
Norms which are supposed to be followed include covering under-construction sites and materials being transported, and that sprinklers be periodically used at construction sites to control dust. But, says Haque, "There is a serious lack of coordination in this regard, especially poor coordination among government agencies."
What this means is that the department of environment can take little action beyond trying to engage powerful government bodies and agencies such as Rajuk, the city corporations, the mayor's office, WASA, and Titas gas. The last two, for example, constantly do roadworks which means stretches of the city's roads are perennially in a state of being dug up.
One case in point is the biggest and most visible work, the construction of the metro and elevated expressway by the Dhaka Mass Rapid Transport Authority. Spanning across the city, sites where the work is ongoing such as Mirpur and Uttara have regularly been clouded in a cloud of dust since construction began. "We set several conditions when issuing clearance to the metro authorities," says Haque. On the other hand, the metro is touted as an environmentally-friendly solution to the city's pollution and traffic congestion.
These, though, have not been fulfilled. "We have sent multiple legal notices, instructed the authorities to come to our office to explain why these are not being fulfilled and requested that they send compliance reports." These have not yet come in, he says, the latest notice having been sent two weeks ago.
"We all realise that when it comes to government projects, there is a lack of coordination," says Haque. The environment department has legal avenues open to it such as fining the companies and authorities involved or shutting them down completely. "But how can we fine or stop work when it is such a big, priority government project? It is a sensitive matter."
"We have some limitations—even if we want to, we cannot."