Sazeda's story of breaking chains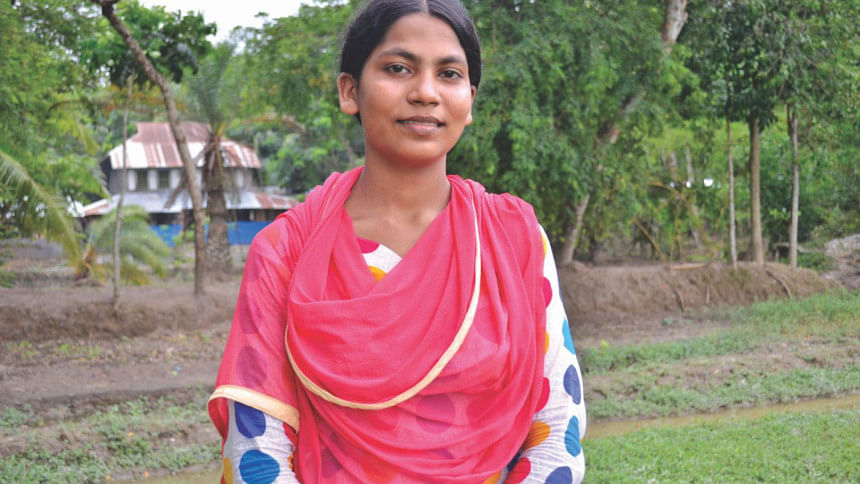 "In our village, we used to marry off our daughters between the ages of 11 to 13. If a girl was still unmarried at 15, her parents would struggle to find an able bridegroom," says Abdur Rahman, a village elder of Maittha village of Barguna district, one of the most cyclone-prone coastal districts of Bangladesh. 
No more though. Sazeda Akhter, a student of grade 11, has single-handedly stopped 107 child marriages in different villages of Barguna, and has already become a well-known name in the district for her initiatives to prevent child marriage. 
"Sazeda visits every home in the village regularly and educates parents and other family members about the harmful effects of child marriage and the importance of educating female children," shares Rahman. "She has made a big difference in people's perceptions of child marriage." 
Sazeda began her journey of activism at the age of six, after her family fell victim to the devastating Cyclone Sidr in 2007. "I was so horrified to see how children were affected in the cyclone that I started singing jari gaan (folk song) for my community to make them aware of the importance of childcare during disasters like this," she remembers.
In 2011, at the age of 10, Sazeda, with some of her friends, formed a children's club to give her voluntary efforts a structure. In 2012, she joined Adolescents' Club, an initiative by a national NGO, and started to visit the offices of government officials and elected representatives to discuss how adolescents, especially girls, could have better access to healthcare and education. 
She also began to visit houses in her village and nearby villages with her volunteers to engage parents in discussions against child marriage. In addition to preventing 107 such marriages, she has helped 87 drop-out students to re-enrol in school. 
"Eve-teasing is one of the reasons behind early marriage in our area. For fear of sexual harassment, parents are forced to take their girls out of school and marry them off. So, we organised several sessions with the adolescent boys of our area and tried to educate them about girls' rights," says Sazeda. 
Thanks to Sazeda's efforts, she has managed to solve 72 cases of sexual harassment cases by handing over the perpetrators to the village elders for punishment. She also supported the rehabilitation of 14 young boys addicted to narcotics. These boys are now under treatment at a safe home in Barguna town. Sazeda maintains close contact with the upazila officials and informs them about any child marriage and other forms of injustice in the area demanding immediate action.  
To spread her initiatives all over Barguna she has formed three organisations called Shurjo Shikha Youth Group, Shurjer Alo Youth Club, and Burirchar Youth Forum. Despite all these initiatives, Sazeda is successfully continuing her education. She is now studying at grade 11 at Barguna Government Girls College. Sazeda wants to become a development activist in the future so that she can bring an end to harmful social practices in the villages of Bangladesh.   
Alim Bari is a communications specialist at Plan International Bangladesh