A paper card to save a baby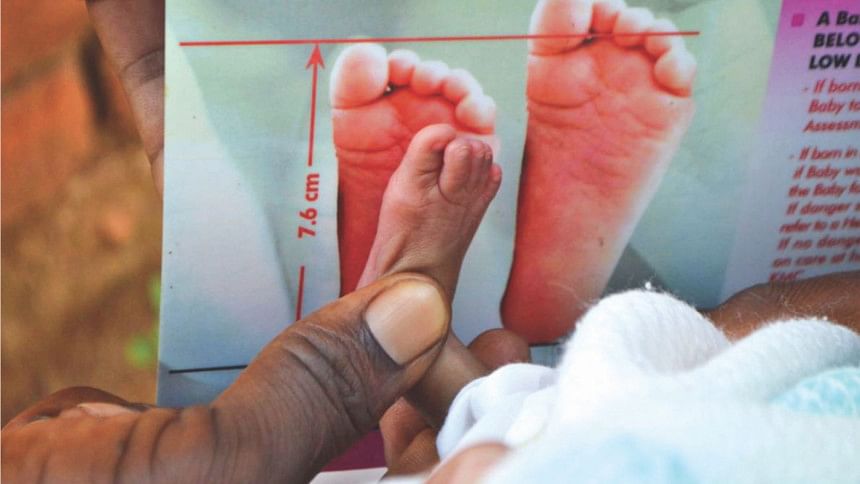 Hospitals being too far away is probably the single-most common problem that health sectors in the developing world are dealing with, and this contributes majorly to infant mortality. Children are rushed to the hospitals when it becomes necessary to save their lives—but often it happens only when treatment is long overdue. Because many babies fall out of the spectrum of routine medical screenings, mothers miss out early warning signs. Just as common are home deliveries, with the resultant babies staying out of the health system until much later in their lives. 
So when a researcher in Uganda invented a technique to detect malnourished babies from the comfort of homes, the genius lay in its simplicity. She made a card—a simple laminated card—with a picture of a foot on it. If the baby's sole is smaller than the picture on the card, then the baby needs medical help.
No fancy weighing scales are needed. A baby's growth can simply be measured by placing the foot on a card.
"A considerable percentage of the babies who die, do so in the first seven days, so early screening and intervention is necessary," says Dr Elizabeth Nabiwemba, one of the researchers from Makerere University School of Public Health who invented the card. According UNICEF statistics from 2015, 20 babies out of every 1000 die within the first week of their birth in Uganda. 
The university is located in the capital of the country, Kampala. About 120 kilometres away, in a village beyond the river Nile in a district called Iganga, her words could not ring truer.
Nabirye Amina had delivered a pair of twins on the roadside. One of the twins died almost immediately. The other is a healthy two-year-old today whose foot was routinely measured throughout infancy.
"I felt the labour pains come when I was only six months pregnant. I climbed behind a motorbike-driver to go to the hospital, but felt a membrane tear on the road. We had to stop the motorbike on the road," she says.
The mother described the harrowing day, seated outside her tiny, barebones, two-room house. The generous woman had offered all her sitting stools to the outsiders who came to talk to her, and was herself sprawled out on a couple of mossy bricks laid out on the damp earth despite being heavily pregnant.
"The baby came, and while a couple of women passing by were helping me with it, another followed," Amina says. Before the young mother could process what had truly happened, the second baby had died. She cut the cords with a sterilised blade she was carrying on her and waited by the road until the father came and took the surviving baby to the hospital. Amina quietly returned home, clutching her dead daughter.
The baby who was born three months premature would not have survived without community health workers popping by every so often with the foot measurement card.
"I had to take my daughter to the hospital where she was kept from December until February and given supplementary feeding," says Amina. 
There is ample scientific associating pre-term labour with poor nutrition and underage pregnancies, meaning those who are using the card because they cannot afford constant hospital care are statistically also the ones who are most likely to need the card. Amina, for example, is the second wife of a man who works as a labourer and is married to three women. Amina claims to be 30 years old, has four children already and wants seven in total. 
"My husband's first wife has five children. I want seven so that I can have more children than her," says a shy Amina confessing her yearning for marital bliss. What is alarming is that the twin that survived is barely a year old and Amina is already heavily pregnant. 
A research by Every Preemie-SCALE, a USAID project, stated that eight percent of pre-term births are caused by mothers having less than two years in between babies. The project also calculated that 9,830 pre-term babies die every year in the country that sees only 1,665,000 births annually. The percentage is similar to that of countries like Bangladesh and Nepal, while both India and Pakistan have double the rate. 
Fighting the many causes of pre-term birth is hard. Till then a card can save a baby.