Caught up in red tape
Fate of 5,200 model teachers, trained under the World Bank funded SEQAEP project, is hanging in the balance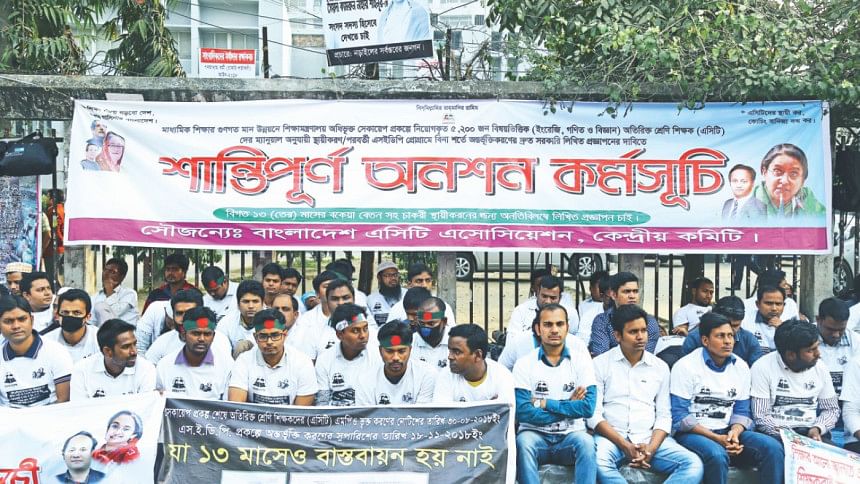 "Would you dream of being a model teacher? Are you interested to take teaching profession for career building? Do you take it as a challenge to work at rural areas anywhere in Bangladesh?"This was the call for applications for the recruitment of additional class teachers (ACT) in 2,100 disadvantaged secondary schools of 250 upazilas in Bangladesh to ensure quality teaching-learning of mathematics, science and English.
From 2015 to 2017, 6,200 teachers who have Bachelor's degrees in English language and literature, mathematics or science subjects (physics, chemistry and biology) were recruited based on their merit scores. Of them, 5,200 are still teaching in schools located in some of the remotest areas of Bangladesh.
Unfortunately, these teachers, who were trained and recognised as "model teachers" by the Ministry of Education (MoE), did not get a single taka as remuneration over the last 13 months. According to the Association of Additional Class Teachers, Bangladesh, these recruits were promised regularisation of their jobs on several occasions by ministry officials and instructed to continue classes. Those promises were never fulfilled.
As a result, 5,200 teachers, most of whom are young graduates of different universities, have had to leave their classrooms for the streets. Since November 2017, hundreds of them have been protesting in front of the National Press Club demanding regularisation of their job. Sultanul Muslimin, an English language and literature graduate of Begum Rokyea University, Rangpur is one of them. He used to teach communicative English at Pathanpara Alia Madrasa located at Joldhaka upazila of Nilphamari district. He says, "I was the only teacher of that madrasa who was a university graduate. Thanks to our training, I used to prepare daily and monthly lesson plans for my students. Besides taking regular classes, I used to engage my students in group activities where they had to practice communicating in English. In this way, I tried to cure their fear of English."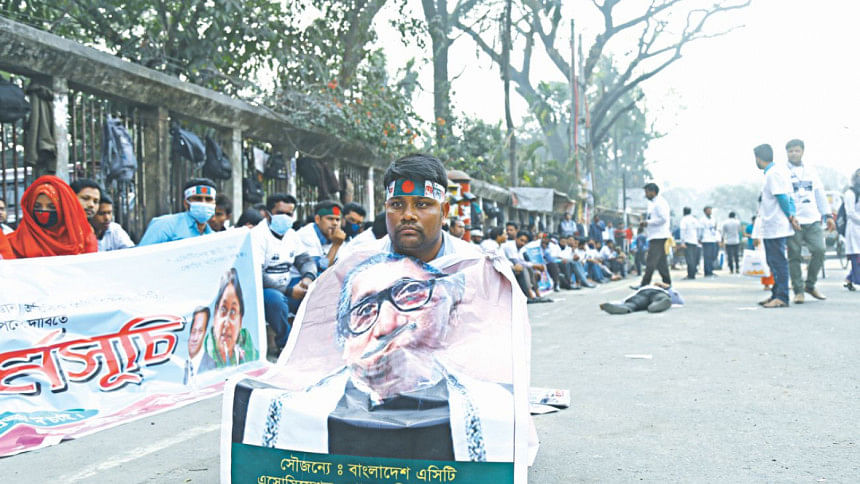 According to Maolana Tofazzol Hossain, principal of that madrasa, students were so impressed by the unique and participatory teaching methods of Sultanul that they would request him to continue the class even after the designated class time. "Our students, particularly of grades six, seven and eight, where Sultanul took regular classes, showed remarkable improvement in English. Even teachers of other subjects learned a lot of teaching techniques from Sultanul. Our students and us still miss him a lot. It is really unfortunate that he had to leave us."
Sultanul did not want to leave. He continued to teach them for six months without any payment. "Due to promises from the MoE, I hoped that I would get a renewed contract or be regularised. In Joldhaka upazila there were 78 ACTs like me. We were told by the ministry officials to continue classes and they requested our principals to give us some conveyance allowance until we are regularised. However, those were all oral promises. When nothing happened even after six months, I had to leave the institution. My father is a farmer. I am the eldest among my four siblings. I need to support my family."
However, for ACTs like Sultanul leaving their assigned institutions was not at all a desirable outcome of three years of dedication and hard work for underprivileged students.
From the very beginning of their job, they were promised by ministry officials that they would be recognised as MPO listed teachers after completing their tenure. Even the job advertisement circulated by the Ministry of Education's Secondary Education Quality and Access Enhancement Project (SEQAEP) states, "The positions will be purely temporary with a possibility to be MPO listed or recruited as regular Subject Teacher."
The promise of this 'possibility' is stated in several places of SEQAEP's operation manual for ACTs published by the Directorate of Secondary and Higher Education (DSHE) of the MoE. For instance, on page 20 of the operation manual it is stated in Section 12 titled 'Enlistment of Additional Class Teacher for Each Subject'—"It is expected that all qualified applicants except those who reach the age of retirement will receive certificate from the Non-government Teachers Registration and Certification Authority (NTRCA) by 2017." Certification from the NTRCA would enable them to get appointment as a regular subject teacher in their respective institutions.
Again, on page 25, section 36 titled 'Sustainability of ACT Programme' states, "It is expected that positive activities of ACTs and the success of the ACT model will be reflected on the government's Sector Wide Approach Program in 2018. Qualified ACTs can be recruited in their respective institutions as regular subject teachers. To maintain sustainability of the programme, activities of the ACTs can be continued even after the programme deadline which will help to transfer the lessons learnt by the fast learner students to the slow learners."
It added that two more steps would be taken to ensure sustainability of the ACT programme. The first step is employing ACTs in accordance with the existing pay scale of the government. This step was justified with the argument that it"would create options for DSHE to include the ACTs into the government's MPO system." It also states, "It is expected that by including the ACTs into the government's MPO system, sustainability of this program will be ensured."
Consequently, in the next step, DSHE was assigned to implement the programme. In section 37 of the manual, where DSHE's roles and responsibilities were described thoroughly, it is stated that DSHE will take necessary steps to include ACTs into the MPO system.
ACTs have repeatedly been given hope of regularisation not just on humanitarian grounds but because of their extraordinary performance. The World Bank, financer of the SEQAEP programme, published an 'Implementation Completion and Results Report' on June 11, 2018 where it evaluated the outcome of the programme. The report states, "The impact evaluation shows that the ACT programme improved the assessment score by as much as nine percent points for mathematics and 10 percent points for English." It further states that the ACT programme will be continued under the new Secondary Education Development Programme (SEDP) by retaining the existing ACTs and by recruiting new ACTs on needs and merit under the new programme. The Ministry of Education also boasts of the performance of the ACTs. In its report titled "Epoch- Making Development in Education Sector (2009-2018)" it states that 6,200 additional class teachers conducted 37,20,094 extra classes in english, mathematics and science in disadvantaged secondary level institutions.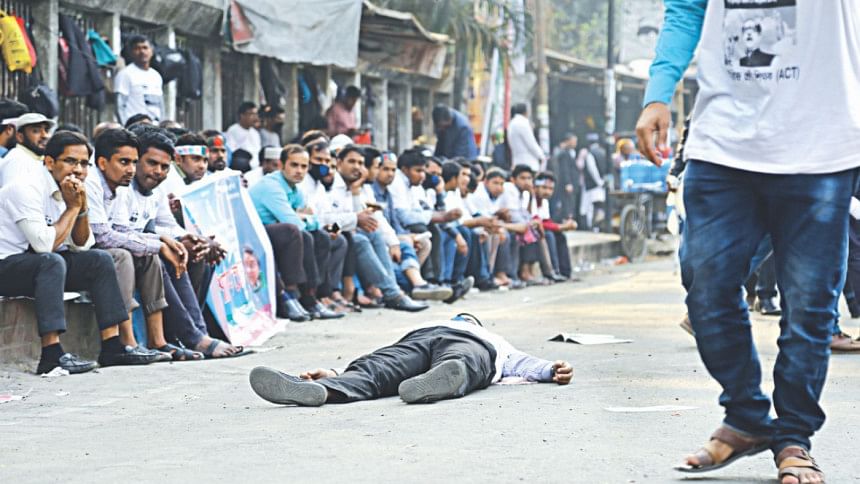 Again, we obtained the minutes of an inter-ministerial meeting on service continuation and salary disbursement of ACTs which was held on November 18, 2018. It is stated in the minutes that a confidential report was sent from the Prime Minister's office recommending regularisation of ACTs or inclusion of ACTs into SEDP or into the MPO system.
Despite all these recognitions and recommendations, no visible step has been taken yet to regularise or renew the contract of ACTs. According to the MoE, ACTs cannot be recruited as regular teachers in non-government schools without having registration from the NTRCA. Again, the age limit to obtain NTRCA registration is 35, which disqualifies some ACTs from obtaining the certification. As a result, the MoE concluded in that meeting that there was no chance to include the ACTs into the MPO system and they recommended to employ them through a special scheme under the SEDP. However, this decision has not yet been implemented either.
Md Sohrab Hossain, senior secretary, MoE states that legal bars and objections from different ministries are delaying the process "Under the new SEDP programme, we shall recruit 12,000 ACTs and resource teachers. We want to include the ACTs under this project to utilise their knowledge and experience. However, the finance division emphasised that the recruitment under SEDP should be open for all and in an open recruitment there is no provision of giving the current ACTs any priority. Again, representatives from the ministry of public administration states that we should follow NTRCA act and the high court rules to recruit ACTs and resource teachers under SEDP. Yet again, there is a legal bar on assimilating manpower of any project that started after 1997 into government's pay scale."
"We are actually facing obstacles from all sides; however, we are still hopeful that we shall be able to include them. But we need time," he adds.
When our educational institutions are plagued by shortage of quality teachers, it is really unfortunate that thousands of qualified, trained model teachers are on hunger strike demanding an opportunity to teach. Our civil servants should realise that such procrastination and complicated recruitment practices have been depriving not only these teachers of their employment rights but also depriving countless school students of quality education.
The writer can be contacted at [email protected]