Curing The Fear of English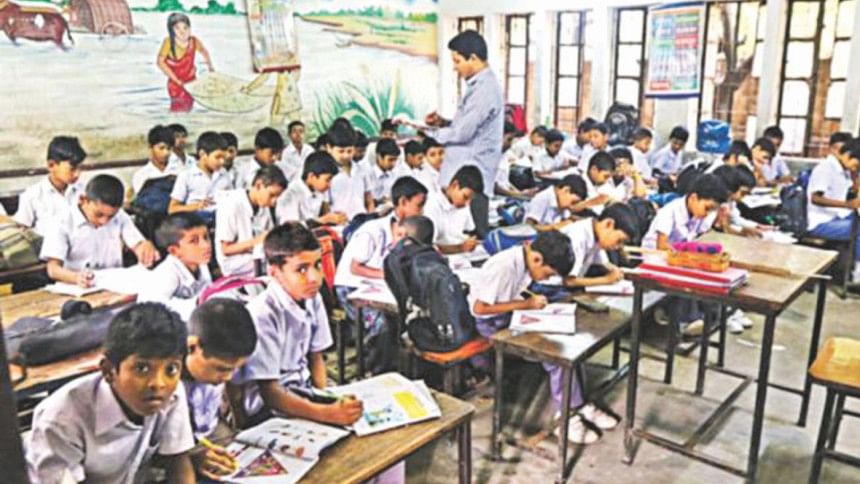 Photo: Prabir Das
A classroom of grade six with sixty three students crammed into a classroom which can accommodate hardly forty people. Their English teacher entered the classroom and made an announcement, "I will teach preposition today." He opened the English textbook and started a lecture (in Bengali) on the topic, which is, for those students, one of the hardest parts of English grammar. After the brief lecture, the teacher wrote two sentences, "My pen is on the table" and "I am in the classroom" and underlined 'on' and 'in' and told them that these words are prepositions. He then told all the students to solve some exercises. This is an everyday scenario of a 45-minutes long communicative English class in most of the secondary Bengali medium schools of Bangladesh.
The result of this traditional, ineffective teaching methodology has been reflected in the report titled "Learning Assessment of Secondary Institution 2015" prepared by the Monitoring and Evaluation division of the Department of Secondary and Higher Education. The report suggested that thirty eight percent of the students of lower secondary level are very weak in English. According to this brief government report, lack of monitoring and teachers' training are the reasons behind Bangladesh's students' poor performance in English. Students of different Madrassas have been reported weaker than the school going students.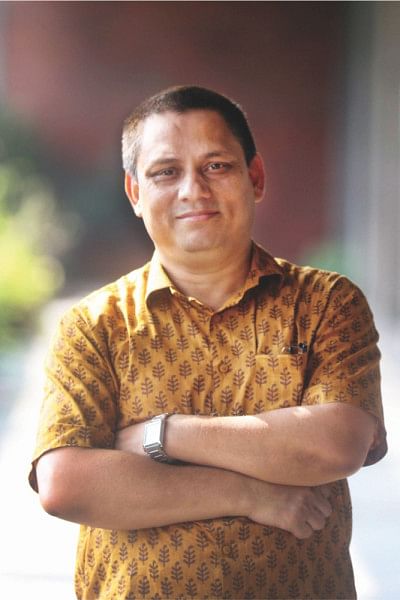 Institute of Education and Research, University of Dhaka (IER, DU), English in Action and Open University, UK, initiated a collaborative programme to evaluate the English teaching quality in Bangladesh to study the reason behind such poor performance in English, to explore the way to improve performance quality. Professor Md Fazlur Rahman of IER, DU, the team leader of the project, revealed some intriguing factors that has been contributing to creating such a bleak reality. "Communicative learning approach is a proven and effective method of teaching any language. According the new curriculum formulated in 2012 based on the National Education Policy, 2010, English textbooks have been designed in a very communicative way so that students can develop four basic skills of the language-- listening, speaking, reading and writing."
"However, the teachers are not at all trained to teach from these newly designed interactive books. They have been teaching communicative English with their traditional, non-participatory lecture method, where teachers teach English mostly in Bengali just to enable the students to score well in the exams," he adds. 
To add to that, the current examination system in Bangladesh's primary, secondary and higher secondary level education has no room to assess the listening and speaking skills of the students. "Although some schools have been assessing their students' listening and speaking skills in their own ways, there is no provision in our curriculum to assess these basic skills through national exams like PSC, JSC, SSC and HSC. For this reason, most of the institutions do not emphasise on learning these skills at all and our students remain very weak in English even after completing their higher education," he adds. 
With his twenty years of experience and knowledge on language education, specialising on English language teaching, Professor Md Fazlur Rahman suggested some ways to eradicate this cycle of barriers to learn English. He says, "Firstly, teachers have to be trained about the techniques of communicative language teaching. Then, for a successful communicative classroom, its size has to be reduced so that teachers can apply debate, dialogue, extempore speeches and peer learning techniques to teach English in an interactive manner. Seating arrangements should be circular so that students can communicate with each other using the language taught in the class. Finally, every aspect of the learnt language, listening, speaking, reading and writing, have to be assessed in the final examinations."
"And above all, teachers must create a friendly connection with the students to implement the communicative approach which is very rare in our institutions," he adds. 
Bangladesh is one of the few countries where a person can start teaching without any specialised training. Mammoth projects like formulating new curriculum, developing communicative textbooks and teachers' guide will prove ineffective if these teachers are not trained adequately to utilise these innovations. 
Still, language barrier is one of the greatest obstacles to generate skilled manpower in Bangladesh. Improving teaching-learning quality by creating a communicative environment in our institutions can be the way to create a linguistically skilled generation that will be able to interact and compete in this fast paced world.