EDUCATION
Are the students collateral damage?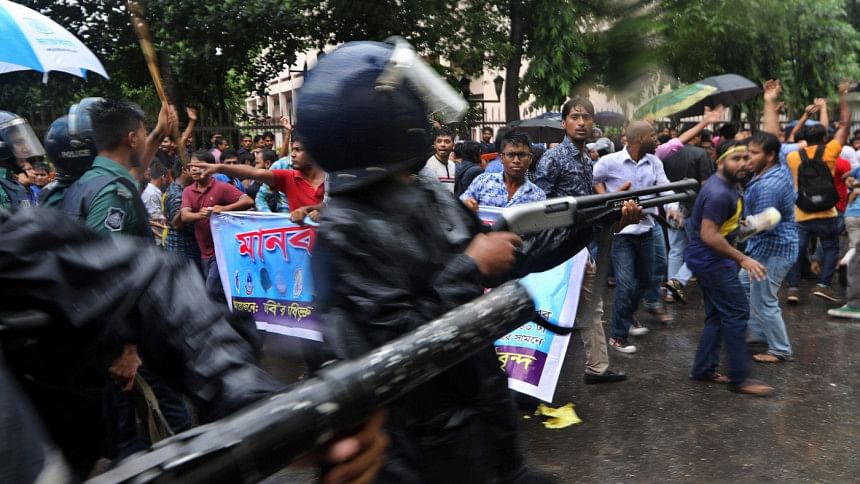 We are accustomed to an environment where students usually protest to postpone their exam dates. This time, however, students of seven government colleges previously under National University (NU) took to the streets demanding, among other things, the announcement of exam dates and timely publishing of their results. 
Since the colleges' affiliation with the University of Dhaka in February 16, 2017, students had been waiting for a decision about a new curriculum from the DU authorities. However, having failed to get a response either from DU or their respective colleges for months on end, the students finally staged a demonstration in Shahbagh on July 20. What began as a peaceful protest voicing the legitimate concerns of students soon turned into a violent conflict, when the police charged upon them with batons and tear gas. Siddikur Rahman, a third-year student of Titumir College, was the worst victim of police brutality—he has lost the sight in his right eye and his left eye is severely damaged.
But were the concerns of the student body not valid? The authorities seem to claim so. But in the process of invalidating the students' demands, are they attempting to hide their own failures to bring about the required changes to an ailing system? With the authorities blaming each other for the delay in instituting changes, is Siddikur—and the student body at large—collateral damage?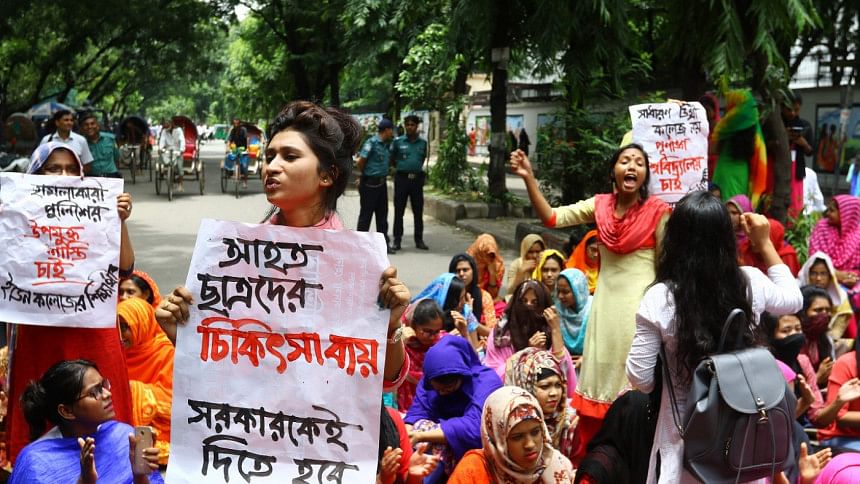 What drove them to mobilise?
According to AAMS Arefin Siddique, Vice-Chancellor of University of Dhaka (DU), the final decision to affiliate these seven government colleges first came from Prime Minister Sheikh Hasina in 2014 to improve the quality of these educational institutions. The final decision, adopted in February 2017, states that DU will work on changing the syllabus, creating question papers, publishing results, monitoring whether classes are being conducted regularly, providing training to the teachers, issuing class routines and so on.
"Since it is a transition phase, we are going through some trouble, especially in terms of collecting information of these students from the NU authorities. However, we have announced the date of the due exams and finalised almost everything in a meeting held on July 18, with the principals of these seven colleges," says Arefin. "I don't find any reason for students to protest when everything has already been solved. Without asking their own principals or me, why did they organise such demonstrations and involve themselves in a conflict must be investigated," adds Arefin, suggesting that the protest was a 'propaganda movement'.
However, Fakhrul Islam Fuad, a third-year student of Titumir College, who took part in the first day of the demonstration, informs that they didn't receive any notice about the exam dates. "My classmates and I kept on asking our teachers about what's going on, what DU's plans were for us, but nobody could give us an answer," Fuad says. "Besides, we didn't initiate the human chain with only one demand [fixing dates]. We have seven specific demands, including development of a proper curriculum and website."
The principals of Dhaka College, Eden College and Titumir College also admit that they didn't issue notices to the students, adding however that they informed the students if they came to their offices to enquire about the matter—that is, on an ad-hoc basis.
"It was so uncertain that we didn't even know what to study for the exam, as we were told that our syllabus will change. As such, we were waiting for a new one," says Sathi Akter, a third-year student of Eden College. "Now, we have been informed that, considering our convenience, our syllabus will remain unchanged. I don't see any reason why they took five months to declare that!" exclaims a frustrated Akter.
The students were preparing for a united demonstration for the past one month, and their principals were well aware of their increasing discontent with the status quo. Granted, they held a meeting hurriedly on the 18th of this month to fix the problems, but if they really did solve the problems as they are claiming, why didn't they let the students know that their concerns had been addressed? Why was the police involved to "resolve" a matter that was supposedly already solved?
The long delay
Md. Bahalul Haque Chowdhury, controller of Examinations, University of Dhaka claims that the NU is to blame for the prolonged delay in conducting exams and publishing results—it erased all the data of these seven government colleges from its website, right after they were affiliated with DU. The Office of the Controller of Examinations apparently repeatedly requested the NU authorities to provide the relevant data as soon as possible, but to no avail.
"The website is a national resource and it's not their property. How they can erase everything from the website is beyond me," says Chowdhury. "I requested them several times to send me the tabulation sheet that contains the marks of the written exams of final year honours students, but they haven't sent it yet. Without these marks, how can we calculate a final result? We are done with the viva and waiting for the tabulation sheets," explains Chowdhury.
The NU VC Prof. Harun-or-Rashid could not be reached by Star Weekend for a comment, despite frequent attempts. However, the NU authorities, through a press statement, declares that they sent over the required data—registration data, college table, course data, old syllabus and other information—as soon as they received DU's request. They are also in the process of sending the tabulation sheets which was requested by DU on July 4, said the press release, as they need time to gather the answer scripts from the chief examiners throughout the country.
However, Chowdhury argues that NU didn't provide the integrated data, and labels the authorities as 'vicious'. "It's a conspiracy. They are delaying the results of the final year so students cannot sit for the 38th Bangladesh Civil Service (BCS) examination and get disappointed with the activities of DU," he claims.
With authorities caught up in this blame game, it's the students who keep suffering. They are, instead, being made into scapegoats. "Most of the students, especially the female students, of NU, fight hard to pursue such a long period of education.  Even after that, if we need to wait an added five months to get the results, where will we go then? Who is to take our responsibility?" asks Sumona Akter, a final year student of Begum Badrunnesa Govt. Women College.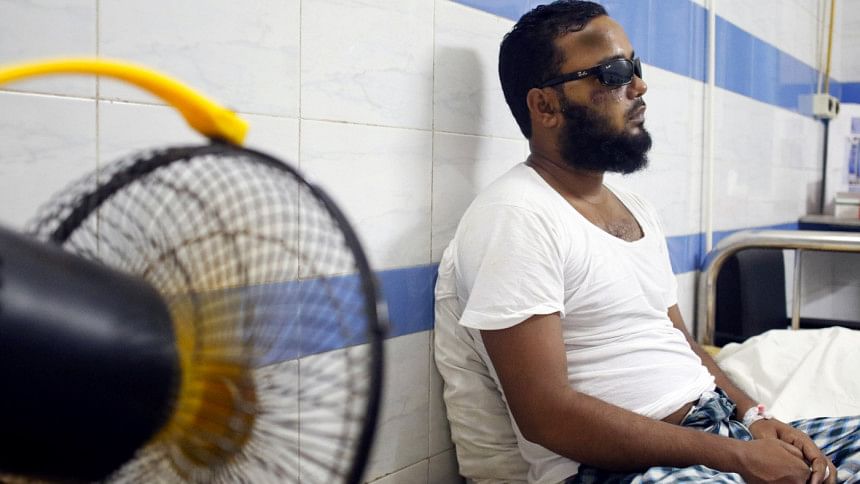 Police brutality
Although the students took to the streets to put pressure on the authorities to resolve the issue  the government, rather than quell the concerns of the student body, decided to retaliate with violence—firing tear gas shells and charging batons. Ironically, although Siddikur was allegedly injured by tear gas shells, the police filed a case against 1,200 unidentified students of these seven colleges on charges of attempting to kill policemen, rioting with lethal weapons and damaging property.
 "Look at the video clips that are available on social media. We didn't throw any brick chips or take any sticks, let alone any arms. We didn't go there with the intention to create any chaos or conflict. We formed a human chain and took a position demanding a solution to a protracted problem," says protester GK Sanjid, a third-year student of Titumir College. "We have almost two lakh students in these seven colleges, and if 20 percent of them attend the protest, it is natural that regular movement will be hampered," adds Sanjid.
Advocate and policy analyst, Syed Mahbubul Alam, who is also the secretary of Centre for Laws and Policy Affairs, argues that it is unfortunate that the universities don't have any political counsellors. "In situations where students are dissatisfied and take to the streets, the police should try to solve the issue mutually and inform the respective authorities, so that a fruitful decision can be taken upon discussion," says Alam. "Here, the demands of students are not illegal; they are not in any way responsible for the irresponsibility of the authorities. They don't even have an effective complaint mechanism, so what options do they have instead of coming out to the streets?" opines Alam.
Jyotirmoy Barua, a Supreme Court lawyer, argues that there are very specific circumstances under which the police can use physical force to normalise a movement. "Physical force can be used depending on the nature and character of the assembly. If it is not an unlawful assembly, the police don't have the right to interfere. However, if it seems that the protestors are very violent and are about to cause serious injury or damage to government property or any person or government official, the police can use 'necessary' force."
However, Barua highlights that what constitutes 'necessary' cannot be determined by any rank below the police inspector and, even then, the inspector has to take permission from the highest-ranking official.
"In Bangladesh, though, the police don't feel the need to take permission beforehand. They attack as they wish, remaining outside the purview of the law," argues Barua. There should be an investigation as to why the police took such an extreme step, and whether it was legal.
The students of these seven government colleges were initially hopeful that their status and educational experience would change once they became a part of Dhaka University. Little did Siddikur and his classmates imagine the fate that awaited them. The Prime Minister and Education Minister Nurul Islam Nahid has given assurance that they would look into the matter, but it remains to be seen for how long students continue to pay for the inefficiencies of its educational institutions.