The Beauty of Performance Arts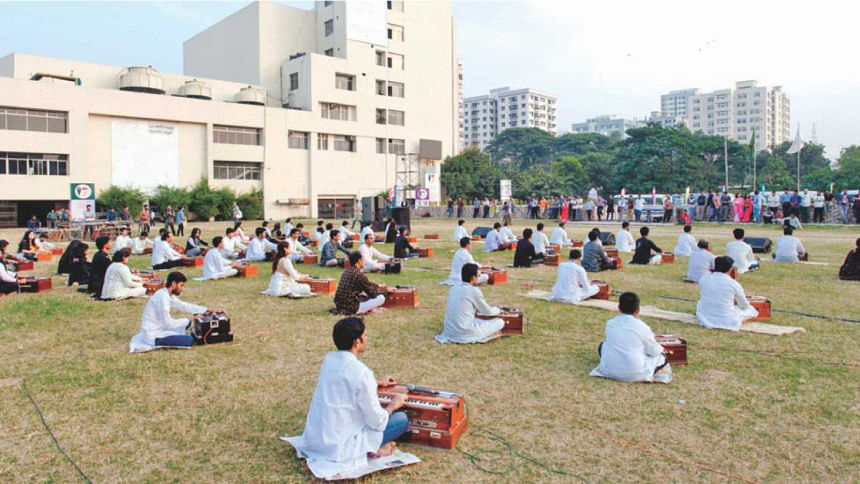 Is art a personal expression or very public? How have artists used their bodies as vessels for expressing social and political views while presenting stimulating and thought provoking contemporary art? Performance art, a form of ephemeral art, that incorporates and integrates a range of mediums, attempts to give all these answers. 
Dispensing with the rule book of restricting art to gallery, the art scene of Bangladesh has seen an emergence of a good number of performance artists, who have been aiming to take art to the general public.
Through their creative pursuits they are bringing people together while combining the diversity of different media by a multidisciplinary approach. Using strong body movements, their performances aim to engage the public who can interrogate their surroundings while celebrating art that opens up avenues for civic dialogue and social justice. While presenting their observation on a particular social or political issue, these performances can shape our sentiments and emotions, hope and despair through different elements that we have around us. 
An exhibition in a gallery might not be able to establish such a direct connection with its viewers and sometimes it becomes difficult for spectators to get a close, personal look and explore it independently. That's where these performances can play a significant role. 
Since 2007, Reetu Sattar, one of the leading performance artists, has been at the forefront of the country's experimental theatre movement and later she has expanded her repertoire to include durational performance, live art, video and digital media.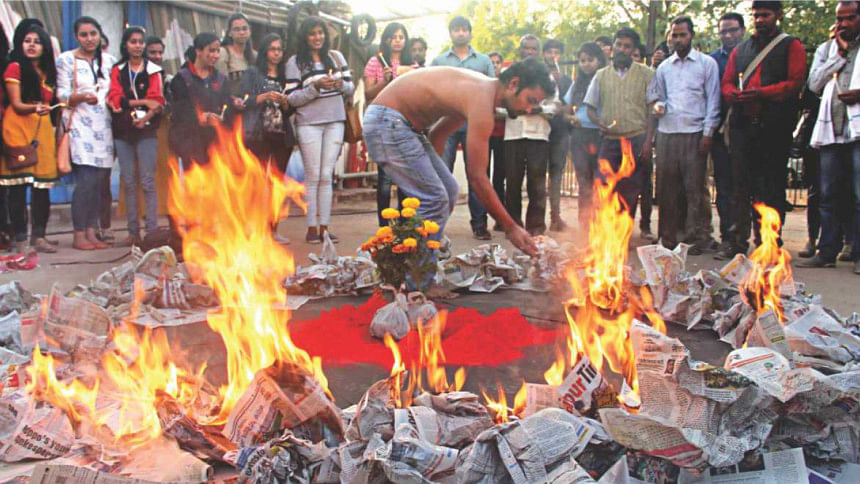 "In the 1950s and '60s, the performance arts revolution started worldwide when a growing number of artists initiated a form of dematerialized art that can make a direct communication with its audiences," says Reetu. "Artists started using a diverse range of practices like body motion, recorded sounds and spoken texts in live performances. The performances were temporary yet powerful. In many cases they were often planned in advance while many artists preferred leaving some scope for improvisation."
In Bangladesh as well, a group of talented artists are committed to a collective practice and have built a community that shares a skills base, and an equal involvement in the creative process while working with collaborators from various disciplines. 
When this boundary-pushing art form arrived in our country, it also came with a host of challenges, comments Reetu. "Traditionally most of the people cannot think beyond the idea of proscenium theatre. Given that circumstance, presenting an abstract art form like performance arts, where the artists are conveying the same conceptual ideas using their body movements was quite a challenge. As artists, our objective is not to make people "like" it or making it "popular" per se, rather it is more about making them understand how witnessing these stimulating performances of contemporary relevance can make them think deeply regarding different issues."
Performance art in Bangladesh is still a work in progress – and needs support along the way. Reetu is hopeful as during the last few years a number of artists have come up with performance arts that have the ability of exploring the complexities of modern life engaging with their audiences and creating a space where they can ask questions. 
Their works appear to be gaining a special place in a variety of contexts, which are appropriate to the individual projects, ranging from theatres to public sites and art galleries to art fairs. In recent years, art fairs such as Asian Art Biennale Bangladesh have dedicated special sections to performance art, which have found greater success in terms of public response. This year Asian Art Biennale Bangladesh has uncovered a whole range of new gifts for the performance art lovers where it featured a total of 12 performance arts using different medium like video, text and object. It was a fair representation of creative young crowd who has been vibrant in our contemporary art scene. Shown together these works have been able to draw the attention to the progress our art scene has already made and it also shows that there is much work left to be done.. The Visual Arts Programme of Bengal Foundation is also holding Performance Art Week 2016 where 20 artists from diverse background are performing in the event that will explore the multiple complexities of this ephemeral medium through discussions, performances and exhibition. Also many of our artists, Ashim Haldar Sagor for example represented our country with his wonderful performance in prestigious international festivals like Jaipur Art Summit.
While these exhibitions are taking place and people are getting more acquainted with this art form, a perplexing question also arises- can performance art be archived while maintaining its original message and ephemerality? How can a collector own a piece of performance art- something that is transitory and not tangible-once the performance is over? 
"We can take examples from the foreign curators and collections to create and asses an archiving plan that is scalable so that it can be implemented in our country as well," says Ashim Haldar Sagor, a performance artist, who started his career as a ceramics artist and the pioneer of the Japanese raku style in Bangladesh. "It could be done through archiving and documenting the outcomes objects that most performance arts leave as they finish, or/and by collecting the video footage, sound recordings and photographs of the entire performance, so they are available for research by future generations of artists and scholars."  
Performance art is transitory, and complex in its nature. It could be spontaneous. Or it could be scripted, and carefully planned beforehand. While it's often interactive, it could also be performed privately by the artist. While the viewers can not feel its tangibility like, a painting or a sculpture, the performances are bound to give them an experience, sometimes a magical, surreal ride into their surrounding- an experience that can not be reproduced, when the performances are run a second time. Be it life or artistic skills, this kind of exchange is going to enrich the learning 

process of those who come to see these performances
And that is where the beauty of this radical art form lies.